By Sydney Andersen of Tastefully Frugal
These no-bake key lime pies are quick and easy to make—perfect for St. Patrick's Day!
One of my favorite ways to celebrate a holiday is by creating a festive dessert or treat. With St. Patrick's Day right around the corner I wanted to create something green to share. We are big key lime pie fans, and because I can't wait for summer to get here, I knew these would be a fun way to celebrate our Irish heritage as well as get into the spirit of spring.
Being a mom of two very active boys, I am always looking for quick and easy ways to make our family's favorite treats. So instead of baking a whole pie, which would inevitably be devoured within minutes, I decided to make smaller, no-bake versions.
Not only are these super-easy to make, but they help with portion control, too. If you like thick, creamy pies you are going to love these! The limes give it the perfect amount of citrus kick and the graham crackers add a little extra crunch in every bite. So if you have five minutes, make these pies. You won't regret it!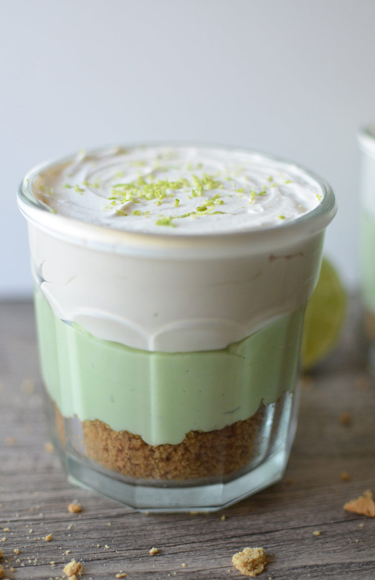 Easy Key Lime Pie
Ingredients
Graham Cracker Crust:
6 graham crackers
4 tbsp butter, melted
½ tbsp brown sugar
Pie Filling:
Juice from 5 key limes (about ½ cup—you can use regular limes if you can't find key limes)
½ cup sour cream
1 can (14oz) sweetened condensed milk
½ tbsp lime zest plus ½ tsp for garnish (optional)
Green food coloring (3–5 drops, depending on how green you want your pie)
Whipped Cream (by Blendtec):
1 cup heavy cream
1 tbsp powdered sugar
½ tsp vanilla
Directions
Crust:
Place graham crackers in WildSide+ jar and blend on medium speed for 10 seconds or until crumbs are formed.
In a small bowl mix together graham cracker crumbs, butter, and brown sugar until combined.
Place in bottom of cups.
Pie filling:
Place all ingredients in WildSide+ jar and press the Smoothies button. If your Blendtec doesn't have a Smoothies button, blend on Medium Low (speed 3 or 4) for 10 seconds, then Medium High (speed 6 or 7) for 30 seconds, or until a thick pudding-like texture is formed.
Pour on top of graham cracker crust and let chill in fridge for 30–60 minutes.
Whipped Cream (Recipe found
here
):
Place all ingredients in Twister jar and blend on low for 20–40 seconds or until desired consistency is reached (I did it for 39 seconds). Turn lid counter-clockwise while blending.
Keep in the fridge until ready to serve. Garnish with lime zest. The recipe makes 2 large cups. This can easily be divided up into 4 or even 5 smaller servings.
If you liked these Key Lime Pies and would like to see more quick and easy recipes (including a no-bake Strawberry Cheesecake), family-friendly crafts, and frugal living tips, head on over to Tastefully Frugal. You can also follow me on Facebook and Instagram.  
About the Author Sydney is a stay-at-home mom who has a passion for saving her family money without sacrificing flavor or style. She enjoys creating treats, toys and memories with her family. Join Sydney at Tastefully Frugal for recipes, crafts, tips and tricks on how to do more with the money that you have. To see what she is up to every day follow her on Facebook,Instagram and Pinterest.
---
2 comments
---
---