Crustless Veggie Quiche | Recipe of the Week
Just in time for Easter, this crustless veggie quiche makes a delicious, low-calorie breakfast! Put your own spin on it by adding your choice of veggies (such as steamed broccoli, onions, tomatoes or mushrooms).
Want more protein? Add some ham! This dish is great for breakfast, brunch or as an appetizer (especially when made in ramekins, as pictured below). As always, we want to hear your variations! Head over to the recipe page and let us know what you try!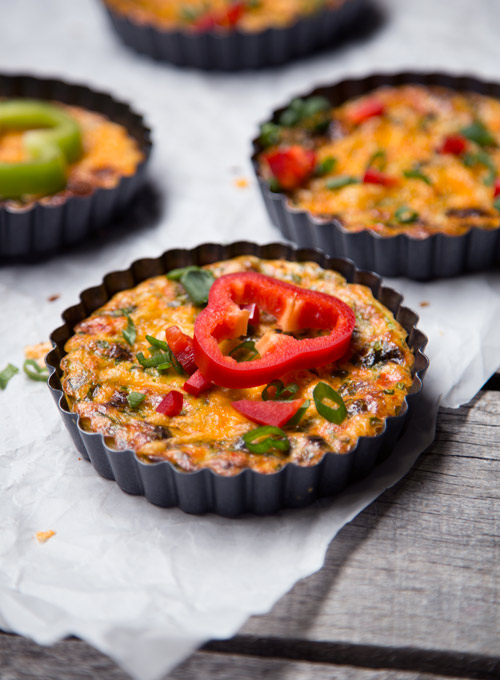 Crustless Veggie Quiche
Ingredients
¾ cup cheddar cheese, grated and divided
6 eggs
2 green onions, trimmed & halved
¼ green bell pepper
¼ red bell pepper
1½ cups low-fat milk
½ tsp sea salt
¼ tsp black pepper
½ cup fresh spinach
Instructions
Preheat oven to 350˚F degrees.
Sprinkle ½ cup of grated cheese over the bottom of a greased 9-inch pie plate.
Add eggs, green onions, green pepper, red pepper, milk, and salt to the WildSide+ Jar and secure lid. Select "Batters" or blend on a Medium-Low speed for 30 seconds.
Add spinach to jar and pulse 3-4 times.
Pour over cheese in pie plate and sprinkle remaining cheese over the top.
Bake for 35-45 minutes.
Variation
Instead of a pie plate, divide evenly among 6 ramekins and bake at 350°F for 20-25 minutes or until almost set. Get nutrition information and full recipe on the Blendtec Recipes page.
---
1 comment
---
---