Chocolate Zucchini Cake | Recipe of the Week
This moist cake is one of our favorite recipes ever! Every time our nutritionist made it, it disappeared very quickly. :) It's a great way to use up some zucchini, and the crumb topping is to die for!
Plus, it's a great way to get more veggies in your diet, without the taste. We don't think you'll be disappointed in this "guilty pleasure" recipe (which still has fewer calories than most cakes!). Enjoy!
Chocolate Zucchini Cake
Ingredients
½ cup butter
½ cup plain non-fat Greek yogurt
1 cup granulated sugar
2 large eggs
1 tsp vanilla extract
½ cup low-fat buttermilk
2 small zucchini, trimmed and quartered
2½ cups all-purpose flour
¼ cup unsweetened cocoa or cacao powder
½ tsp ground cinnamon
1 tsp kosher or sea salt
1 tsp baking soda
1 tsp baking powder
Crumb Topping
¼ cup brown sugar
¾ cup walnuts
½ cup semi-sweet chocolate chips
Instructions
Pre-heat oven to 350° F.
Add butter, yogurt, sugar, eggs, vanilla, buttermilk and zucchini to WildSide+ jar and secure lid. Select "Batters" cycle (if you don't have a "Batters" cycle, blend on a Medium to Medium-Low speed (speed 4) for 30 seconds).
Add flour, cocoa powder, cinnamon, salt, baking soda and baking powder to jar and secure lid. Press "Pulse" 8-10 times until ingredients are incorporated.
Pour batter into greased 9x13 non-stick pan.
For crumb topping, add brown sugar and walnuts to clean WildSide+ jar and secure lid. Press "Pulse" 3-5 times until nuts are chopped to desired texture.
Add brown sugar nut mix to chocolate chips and sprinkle evenly on top of cake.
Bake for 40-45 minutes until done. Allow to cool for at least one hour before cutting.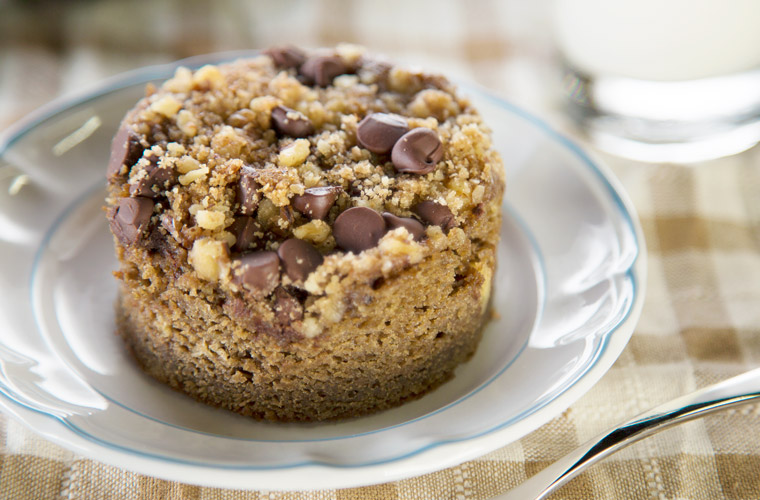 Get nutrition information and full recipe on the Blendtec Recipes page.
---