3 Easy Ways to Prepare Cauliflower Rice
Cauliflower "rice" is a great low-carb, paleo-friendly substitution for rice in your favorite recipes. It is a great recipe for many nutrition plans and diets (like Whole30). There are 3 ways you can make it - here's how:
BAKE IT
This is our favorite way. It takes the most time, however, most of it is spent baking in the oven. This gives it a nice crunch.
Preheat oven to 350°F.
Cut 1 head of cauliflower into florets.
Add half of the cauliflower florets to WildSide+ or FourSide jar and cover with water.
Secure lid and press "Pulse" 4-5 times until cauliflower is chopped into small pieces that resemble rice.
Strain cauliflower rice and repeat with remaining cauliflower florets.
If using olive oil, salt & pepper, coat evenly over cauliflower rice.
Spread a single layer on a rimmed cookie sheet and bake for 15-20 minutes until rice is soft.
FRY IT
If you want to make cheesy rice, fried rice or add sautéed veggies or garlic, this method is the way to go.
Chop florets into rice and strain, just as you do in steps 3-5 above.
Add oil of choice (olive, sesame, etc.) and cauliflower rice to pan and cook over medium-high heat for about 5 minutes.
Toss with favorite spices and serve.
STEAM IT
This is the fastest way to prepare cauliflower rice but it does leave it a bit softer than baking or frying it.
Steam cauliflower florets (you can even nuke it in the microwave).
Add to jar and "Pulse" until it is chopped into small "rice-like" pieces.
Add favorite spices and serve.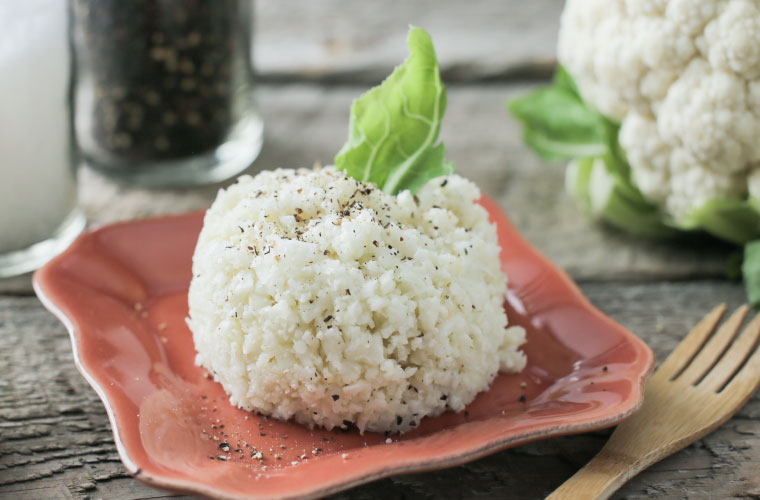 VARIATIONS
Have fun with this recipe and make it your own! You can toss it with lime, cilantro and garlic for a delicious "Cilantro Lime Cauliflower Rice" or add your favorite cheese and shallots for a "Cheesy Cauliflower Rice" (we recommend using the "fry it" method for this). You can even add eggs, peas, carrots, onions and soy sauce for a "Fried Cauliflower Rice" (also use the "fry it" method for this). Be creative and let us know what you try!
---