Roasted Garlic & White Bean Hummus
By Melissa Danielle of Holistic Honeybee 
 Cooking is a huge part of my life. My mother is an excellent home cook and would demonstrate her Southern-inspired cooking during every major holiday. She never used recipes. The only time I saw her measure anything was when she was baking, something I learned that you really shouldn't try to improvise because it's mostly chemistry and you need to have your measurements exact. In fact, the only recipe I was ever able to get her to write down was the one for her layer-cake recipe. Everything else is locked away deep in her head. Because I spent a lot of time in the kitchen with her growing up, I can recreate her signature dishes by taste, but I couldn't dictate a recipe to you. Like my mother, I also have a mental file of "no recipes" in my head.
One of my favorite cuisines is North African/Middle Eastern because of their use of whole food ingredients and freshly ground spices is. When I'm helping clients add more plant-based meals to their diet, it's the traditional foods of this region that I share most often. The ingredients can almost always be exchanged for whatever you happen to have on hand. I love hummus, and there are several brands on the market that have taken the traditional recipe up a notch with the addition of herbs, nuts, and spices. I enjoy hummus on sandwiches in place of mayonnaise (which you can make on your own in your Blendtec), as dip for raw veggies, tortilla chips, and pita bread, and with falafel.
The best thing about having a Blendtec at home is that you can make your own hummus with just a few simple ingredients in less time than it takes to go to the store. I love experimenting with new ways to eat beans, and I am excited to share this variation with you. This recipe is inspired by a traditional hummus recipe, which is a blend of chickpeas, lemon juice, tahini, and olive oil. I prefer to use dried beans, mostly because they're more cost effective and I know how they're being prepared. I soak them overnight and cook them until they're mushy for improved digestibility. Depending on what I have on hand, I may cook them with vegetable or chicken stock for added flavor in place of water. I used White Northern beans for this recipe, but any white beans you have will work.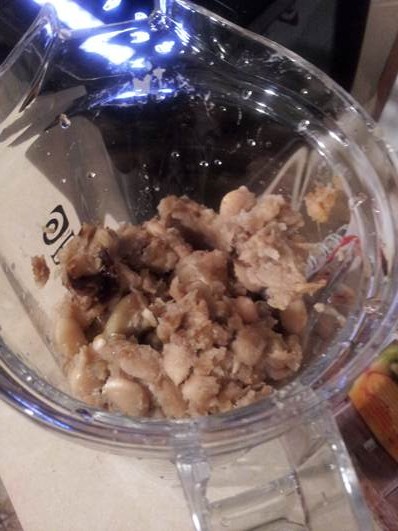 Roasted Garlic & White Bean Hummus
Ingredients 
¾ cup dried white beans soaked overnight (becomes about 2 cups) OR one 15 oz can of white beans, drained
1 head of garlic, intact
¼ cup extra-virgin olive oil
salt and pepper to taste
Directions
If using dried beans, simmer in a saucepan on medium heat until soft. Drain beans and let cool.
Preheat oven to 500 degrees Fahrenheit. Place head of garlic on cookie sheet or other oven-safe dish and roast for 20 minutes or until the garlic cloves are soft to the squeeze. Remove the garlic head from the oven and let cool.
Peel garlic, then add cloves, beans, and olive oil to your

Twister jar

. Using the Batters setting, blend until smooth. Add salt and pepper to taste, if desired.
The hummus will be thick, creamy, and smooth.
If you prefer a thinner hummus, add small amounts of water or olive oil until you reach your desired consistency.
---