By Kresha Faber of Nourishing Joy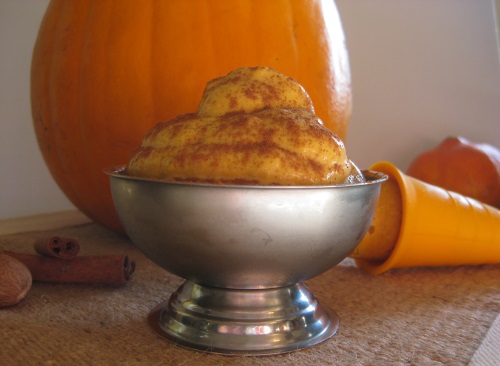 Every October my husband, kids, and I bundle up on a crisp afternoon to visit the local pumpkin patch for a family outing—and for the lure of pumpkins. We take a wagon ride to the big pumpkin field, we walk through the corn maze, we hike the field to find exactly the pumpkins we want, we drink hot chocolate, we meet the farm's animals, and we linger in the play area where the farmers have collected vintage toys for the kids to play with. When we get home we designate one or two pumpkins for jack-o-lanterns, but the rest—along with whatever pumpkins our garden has decided to produce—I process into pumpkin puree and freeze.
Not only is this easy, but it captures the flavor of fresh pumpkin, which I then use long into the autumn and winter holidays. This pumpkin pie ice cream (which can also be made as Pumpkin Pie Ice Pops that thrill my kids to no end) is one of our favorite ways to enjoy the flavors of pumpkin in a slightly unconventional manner.
We certainly love pumpkin pie, pumpkin pie pancakes, pumpkin bread, pumpkin spice lattes, pumpkin cake, and all the rest of the yummy pumpkin goodies the season brings, but this pumpkin pie ice cream is a decadent treat we especially welcome in the long dark days of winter. (I very occasionally even slip a pumpkin pie ice pop into my daughter's lunch as she's headed out the door to school! The fats in the cream are brain food for her long class days and the sweet treat is welcome soul food at lunchtime.) Enjoy!
Pumpkin Pie Ice Cream
½ cup whole milk
½ cup maple syrup
1 tsp pumpkin pie spice
½ tsp vanilla extract
3 egg yolks, optional (read this important note about using egg yolks if you plan to use them)
1 small banana, sliced into 1/2-inch coins and frozen
2 cups pumpkin puree, frozen into cubes (Pumpkin puree recipe)
1 cup heavy cream, frozen into cubes
Add ingredients to the FourSide or WildSide+ jar in the order listed. Secure lid and select "Ice Cream." This makes a soft serve ice cream that's best served immediately or poured into molds to create Pumpkin Pie Ice Pops. If you desire a firmer ice cream, freeze for 2-3 hours. This ice cream hardens completely when frozen overnight.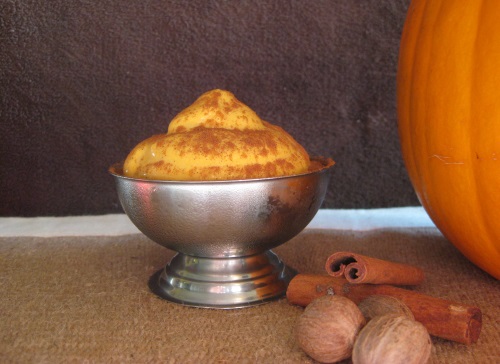 ---
1 comment
---
---