Do you often find yourself at work snacking on candy or chips just to stay awake as the afternoon drags on? Try adding a protein-rich snack to your day instead. Loading up on protein helps to give you more energy, and, as a bonus, it will help you to feel full for a longer period of time. This may encourage you to cut back on snacking and to push the candy dish away.
There are many options to try for a quick pick-up in the afternoon or between meals:
Bring some edamame to munch on as you work. Edamame are soy beans that are delicious and easy to snack on. In just half a cup of shelled edamame you will find 11 grams of protein. Toss a little sea salt on them for added flavor.
Try some Greek yogurt; it has more protein than regular yogurt. Throw in some granola for added crunch or some fruit to add sweetness.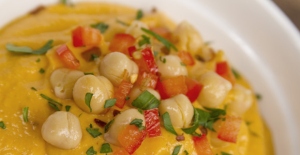 Hummus
Chickpeas (also called garbanzo beans) are another protein-rich snack. There are many ways to prepare chickpeas, so try a few recipes to decide which type is your favorite. Try this recipe: Drain and rinse two cans of garbanzo beans and lay them out to dry for about 30 minutes. Mix minced garlic, olive oil, parmesan, and salt together. Coat dried beans in mixture. Spread beans on a baking sheet. Bake for 45-60 at 400 degrees until golden and crispy. You can also make a delicious

hummus recipe

.
A little beef jerky can help to satisfy your afternoon hunger and keep you from unhealthy vending machine options. You can try making your own at home or grab a bag on the way to work.
Try tuna. Eat half of a tuna sandwich. Or spread tuna on whole wheat crackers. You can mix in some pickles for extra flavor and crunch, but remember pickles contain a lot of sodium. If you are looking to lower sodium intake, sprinkle a little cheddar cheese on top instead.
Protein-Rich Vegetarian Snacks
If you are a vegetarian or just don't eat a lot of meat, it can be hard to get enough protein in your diet. However, in addition to the first few listed above, there are many vegetarian snacks that will help to bring up your protein levels.
Eat seeds. Pumpkin seeds and sunflower seeds can be great sources of protein, plus they have healthy oils in them. These seeds are inexpensive and can be found at natural foods store. Buy them raw, then roast them in some olive oil and sprinkle with sea salt. These seeds can also be thrown in with some nuts and raisins for a healthy trail mix.
A hardboiled egg can give you plenty of protein, but limit them if you're watching your cholesterol. If a plain hardboiled egg doesn't sound appetizing, a deviled egg recipe can add some variety.
Mix fruit or nuts with cottage cheese for a quick and healthy protein snack. You can also stir in some salsa and eat with chips for a new take on regular cottage cheese.
For the Kids
Kids may not like the more unusual snacks such as chickpeas and edamame, but they can still get their protein. Try one of these sweeter and more familiar recipes for kids to snack on:
Dried fruit. Find a wide variety so your child can discover some they like. You can add different kinds into their lunch for school or have plastic bags ready to go for an after school snack they can grab when they get home.
Sliced bananas and peanut butter. This is another easy, healthy snack that your kids will love. Make these frozen banana peanut butter bites for a fun summer treat: First, slice your banana into pieces, then spread some peanut butter on one side of the banana slice. Place another banana slice on top of the peanut butter to create a sandwich. Place bites into a container and cover, then freeze the bites. When a hot summer day comes along and you are looking for a snack, grab your frozen banana peanut butter bites and enjoy!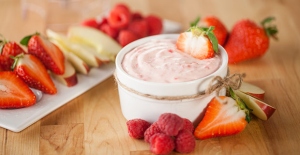 Fruit Dip
Make different nut butters or fruit dips for apples. Buying raw nuts to turn into butters or fresh fruit to make a

fruit dip

is a healthy alternative to store-bought nut butters and fruit dips. Use a

homemade nut butter

instead of peanut butter on the frozen banana bites for a new twist.
Veggies and hummus can be a fun and healthy snack . Experiment with different hummus recipes and vegetables. Also, hummus can be spread on whole wheat crackers for a more salty and crunchy experience.
For kids who don't like to eat their vegetables, top steamed vegetables with cheddar or parmesan cheese for an extra kick of protein. The added cheese may be just what it takes to get your kids to eat those vegetables. These cheeses are also low in carbs.
Grams of Protein
The Institute of Medicine recommends we consume 0.36 grams of protein per pound of our body weight. This adds up to about 56 grams per day for the average sedentary man and 46 grams per day for the average sedentary woman. 
Of course, the right amount of protein depends on a persons activity level, age, and physical goals. Since protein is used to make muscles, someone who is lifting weights and trying to gain muscle will want to increase their protein intake. 
Eating protein can also increase the number of calories you burn, helping you lose or maintain weight. 
It's important to remember that a gram of protein is not the same as a gram of a food that contains protein such as an egg. If an egg weighs 46 grams, it only contains about 6 grams of protein. 
Protein is an important part of our diets, and it is essential to our health that we get enough of it. There are many benefits to protein, and an afternoon snack that's full of protein can help to keep you alert and focused for hours on end. 
---