By Ashley Thomas of My Heart Beets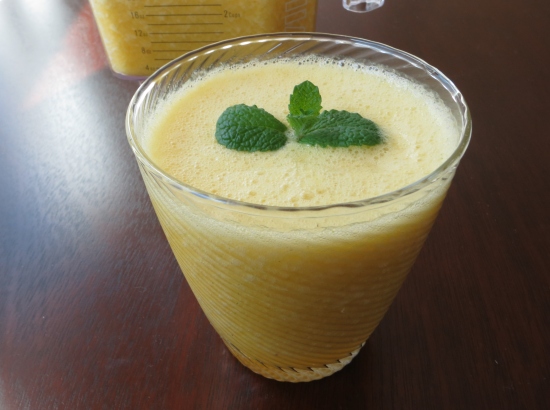 There's a reason so many of us love citrus fruits in the summertime. They help us stay nice and cool during hot weather because they're high in water content. Oranges are also high in vitamin C, and we all know that's good for us. This orange mint cooler is the perfect drink to enjoy on a hot spring or summer day. Earlier this summer, my husband spent several hours outside planting two trees in our yard. When he came inside, I handed him a glass of this orange mint cooler. He loved it! He said it was exactly what he needed—something ice cold and refreshing.
To make this drink, you need five simple ingredients: fresh oranges, a frozen banana, coconut water, ice, and fresh mint. Blend them together and you've got a delicious icy drink. If your oranges are on the sour side, you may need to add some sweetener to this icy smoothie. Mine were incredibly sweet and juicy, so the frozen banana added the perfect amount of sweetness. Hopefully you'll love this smoothie! Be sure to visit me at myheartbeets.com for other healthy recipes!
Orange Mint Cooler
Ingredients:
2 oranges
1 frozen banana
1 cup coconut water
1 cup ice pinch of fresh mint, adjust to taste
Directions:
Add all of the ingredients to your Blendtec blender jar (I used the WildSide+ Jar), secure lid, and blend using the Smoothie cycle. Pour into a tall glass and enjoy!  
About the Author
Ashley Thomas is the blogger behind My Heart Beets, a gluten-free and paleo-friendly food blog. When she's not experimenting in the kitchen, she enjoys spending time with her husband, traveling, and exploring the beautiful state of West Virginia. You can keep up with Ashley through the links below:
Facebook: https://www.facebook.com/MyHeartBeets
Instagram: http://instagram.com/ash_myheartbeets#
Twitter: https://twitter.com/myheartbeets
Pinterest: https://www.pinterest.com/myheartbeets/
Youtube: https://www.youtube.com/user/myheartbeets
---
1 comment
---
---