How to Host a Hot Chocolate Bar Party
Although summer may be the season that first comes to mind when we think about enjoying time outside, winter outdoor activities certainly have their appeal. Who doesn't love an afternoon romping through freshly fallen powder, sledding down glistening white slopes, pelting friends with hastily constructed slush balls, and building Frankensteinian snow creations? But once the snowmen have been toppled and the activities have wound themselves down, a day of open-air winter recreation has the tendency to leave participants tired, hungry, and cold.
Which is the perfect excuse for throwing a hot chocolate bar party! Hot cocoa is already a winter favorite. Why not make it even more special with a fun celebration that's perfect for kids and adults, and is a great way to get into the spirit of the season?
There are a lot of different ways to go about preparing the perfect hot chocolate bar, so we'd like to share a few of our own tips to help you get started. Here are some ideas for a hot chocolate bar party that will have your friends and family dancing for joy at the first sign of snow.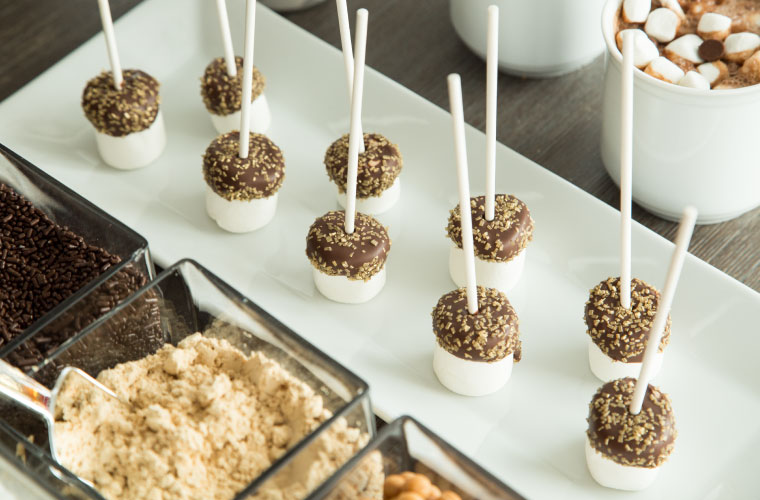 Setting up Your Hot Chocolate Bar
While the foundation of any hot chocolate bar is, of course, the hot chocolate mix, make sure that you don't overlook the importance of ambiance.
Set up a few decorations - Christmas trees, wreaths, wrapped boxes, poinsettias, pine cones, garland and ornaments are the perfect festive decor and are likely things you already have in your home.
You can also add some beauty with your ingredients, like the marshmallow stirrers in the picture above. Simply dip a large marshmallow in melted chocolate, top it off with some sprinkles, and place it on a stick. We used lollipop sticks, but you can also use popsicle sticks, candy canes, or straws!
A good hot chocolate bar is one that features a variety of snacks, ingredients, and additives to help create the perfect cup of winter delight. Of course, if you want to keep everything running smoothly, it's always nice to give your guests a bit of a heads up in regard to what you're serving. This can be done with hot chocolate bar signs and tags. By incorporating hot chocolate bar labels into your setup, you won't have to worry about anyone mixing up the peppermint powder with the peanut butter powder, or any one unknowingly consuming something that they may be allergic to. A framed sign with the phrase "Hot Chocolate Party" (or some other festive slogan) can then tie it all together.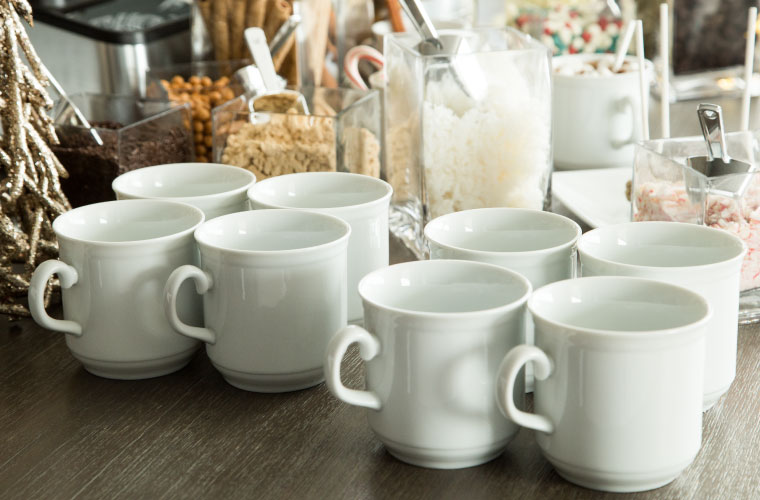 Finally, don't forget to make sure you have enough mugs for everyone! Some adorable mugs can really pull together any look that you're going for. You can go with fun, colorful mugs, classic white ones, or even chalkboard mugs that everyone can write their name on. There are many looks you can go with here - have fun with it!
Hot Chocolate Recipe
Now that you have your hot chocolate bar party decorated just the way you want it, now it's time to focus on the most important part: the hot chocolate. Even with beautiful decorations and fun add-ins, the hot cocoa is the main event. It's the reason everyone came to the party, and it should be prepared with care. 
Consider these tips to ensure that your hot chocolate party keeps flowing. The hot chocolate base that you provide will be the backbone of the entire hot chocolate bar experience. Without a good hot cocoa bar recipe, it won't much matter what other additives you provide, because you're guests will be so turned off by the steaming cup of disappointment sitting in their mugs, that they'll be heading straight for the door.
Here's our Blendtec original favorite for exceptional hot cocoa: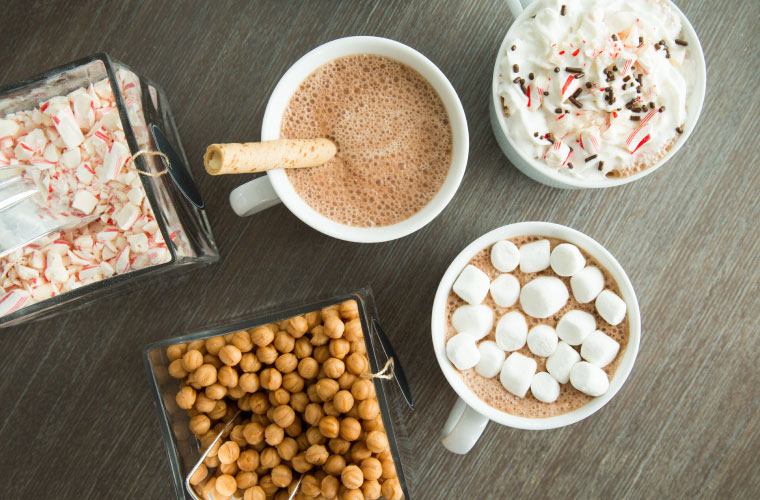 Ingredients
3 cups
almond milk, unsweetened vanilla (or your choice of milk)
11⁄2 cups chocolate chips (milk, dark, semi-sweet or white)
Instructions
Add ingredients to WildSide+ or FourSide jar in order listed and secure lid.
Run on "Hot" or "Soup" or "90" cycle twice or blend on a High speed for 180 seconds.
Make a few batches with different kinds of chocolate chips to give your guests variety, and use the milk or milks of your choice. Don't forget that some of those attending may have specific dietary restrictions.
Hot Chocolate Add-ins
Once you have your hot chocolate base (or several bases), now is the time to concentrate on the additives. Provide your guests with a variety of fun and delicious ingredients that they can drop into their mugs, and they'll have a blast mixing and matching different flavors. Provide some unique add-ins that most people wouldn't think to put in their hot cocoa and you won't only change their life, you'll have thrown a party that will be talked about for years to come. 
While you are certainly welcome to use any additives you want, we have put together a list of the ingredients that we think best suit the spirit of the hot chocolate bar: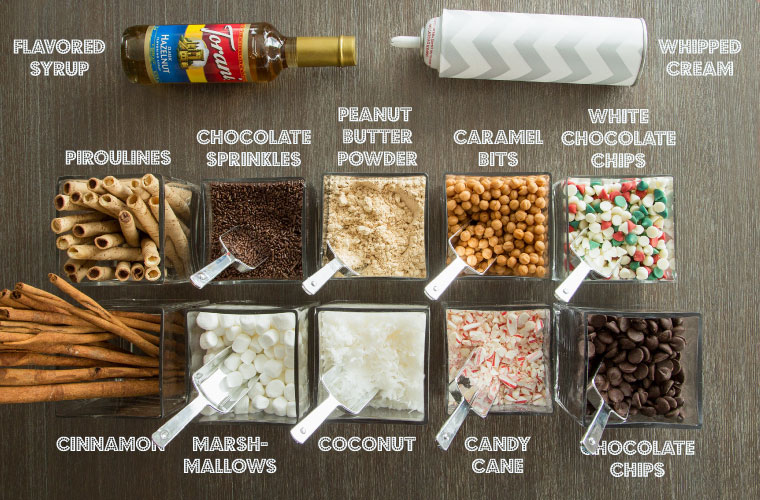 Each ingredient should be in its own decoratively-labeled bowl or container, and allow free access for guests who want to create their own hot chocolate taste sensations. Your add-in display will add to the look and feel of the entire event, and make clean-up a breeze. 
When it comes to flavored syrups, don't be afraid to let your guests get creative! We've heard some interesting additions to cocoa such as coffee, hazelnut, and peppermint flavors. You just never know what might inspire someone's taste buds. 
Hot Chocolate Bar Sides
Hot chocolate may be the most important part of your hot chocolate bar party, but it shouldn't be the only part. Including other treats and snack items will help round out your offerings, and provide the perfect finishing touches to your celebration. Cookies, cakes, donuts, and sliced fruit are all appropriate sides, and can ensure that your guests will have something solid and delicious to wash down once they've discovered a hot chocolate blend that tickles their fancy.
Since their will likely be some health-conscious guests as well as those with dietary restrictions, it never hurts to have alternative options. For those who perhaps don't even like cocoa (gasp!), you could offer some fun tea flavors that may also mix well with some of your add-ins. 
For the Adults
When gathering all of your hot chocolate bar ingredients, don't forget about all the opportunities that alcohol can bring. Many delicious spiked cocoa recipes include things like vodka, chocolate liqueur, butterscotch schnapps, rum, peppermint schnapps, and even dry red wine. If you'll have both adults and kids at your party, consider having a separate adult bar with creative alcohol add-ins. 
Fall in Love With Winter
Winter might be cold be and dark, but you can introduce a warm ray of sunshine by throwing a hot chocolate bar party for those you care about. They are perfect for baby showers, snow days, Valentine's Day, or any other winter season celebrations. 
We'd love to hear how your Hot Chocolate Bar turns out. Please share your experience in the comments below! 
---
16 comments
---
---