I know my life gets very busy. Between working 40 hours a week, taking care of my family, and finding some much needed "me" time, I don't always have the time or energy to make a nice dinner ever night. So to help make life easier, as least as far as cooking goes, I find it helps to plan out dinners for the upcoming week on the Friday or Saturday before, then go grocery shopping, and, if possible, prep as much as possible in advance.
One thing that makes for a great dinner is breakfast. Everybody loves breakfast meals, and they're super easy to make and very hard to mess up. And since I'm not the world's greatest cook, I really like recipes that are hard to mess up. So here's a list of some breakfast recipes you can make for dinner.
If you want to make these recipes for breakfast, check out these quick tips for an easy breakfast.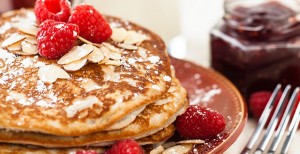 Gluten-Free Raspberry Pancakes
Monday - Gluten-Free Raspberry Pancakes Top these flavor packed pancakes with syrup or fruit.
Tuesday - Peanut Butter Bread Spread your favorite syrup on this tasty bread, then wash it down with some Almond Milk.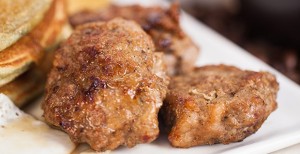 Sweet Breakfast Sausage
Wednesday - Sweet Breakfast Sausage This dish will go great with a Frozen Bloody Mary or Cantaloupe-Veggie Smoothie.
Thursday - Healthy Oatmeal Muffins Try these with your favorite jam or butter and enjoy the Peaches and Cream Green Smoothie.  
Friday - Crêpes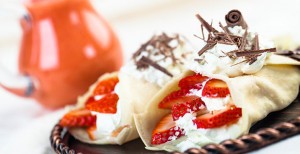 Crêpes
Have some fun with this and experiment with different toppings: strawberries, peanut butter, Nutella, bananas, blueberries, or whipped cream. The possibilities are endless!
Saturday - Five Grain Cereal* This whole grain cereal is delicious and goes well with our Total Juice.
Sunday - Berry-Infused Waffles Enjoy these sweet waffles until you can't eat anymore.
Most of these recipes can be prepared in advance. For any of the batter recipes, just prepare the batter a day or two in advance and store it in the fridge in an airtight container. As for the beverages, have everything ready in your fridge or freezer and blend it up while your waffles, bread, or muffins are cooking. What's your favorite breakfast meal to eat for dinner?  
*Five Grain Cereal Recipe
1 C oat groats
½ C millet
½ C barley
½ C brown rice
½ C cornmeal
Add all ingredients to WildSide+ or FourSide jar in order listed and secure lid. Press "Speed Up" to Speed 4, run for 10–12 seconds and press "Pulse" to stop cycle. Transfer freshly cut grains to resealable container. To prepare hot cereal, add 1 cup water per ⅓ cup serving of five grain cereal to saucepan and whisk together. Bring cereal to boil, reduce heat and simmer for 3–5 minutes until thickened.