Autumn Spice Cashew Butter
By Michelle Smith of the whole smith's
I don't know about you, but fall around here marks the beginning of football, back to school, and lots and lots of fall foods and flavors. Once October hits, it's all about pumpkin, butternut squash, sweet potatoes, and hearty soups and stews. Our kitchen is full of sweet and savory scents from rosemary to nutmeg and cinnamon. I try to put a fall twist on everything, and nobody is complaining!
One of my latest obsessions has been specialty nut butters. At the store, they can run you close to $15 a jar. I was most excited to make homemade nut butters Blendtec. They are the perfect snack for kids and adults alike. They pack up easily to go and can be added to many foods— carrots, apples, crackers, or flatbread. The food choices you can put them on are endless. Eating straight from the blender on a spoon isn't so bad either! As well, I find I've been using nut butters in a lot of the gluten free baking that I've been doing.
So what happens when two of my favorite obsessions collide? Autumn Spice Cashew Butter. My family couldn't stop eating it. Two minutes after it was made, we had already eaten through two apples! For this recipe, I used a pumpkin pie spice to season it. Pumpkin pie spice is a glorious thing. It brings together several spices that we have come to attribute to fall into one jar. I don't always have the spices found in it on hand and it's a great way to get them all packed in to one.
This pumpkin pie spice includes cinnamon, ginger, nutmeg, cloves, and cardamom. If you don't have pumpkin pie spice but you have these spices, feel free to make your own combination. I also chose to use coconut sugar because it has a nice smoky sweetness to it. Enjoy the taste of fall!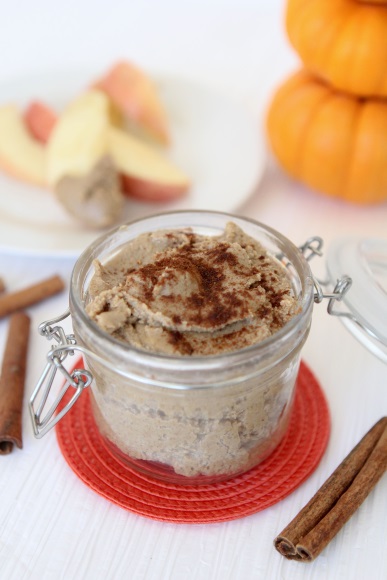 Autumn Spice Cashew Butter
Ingredients
2 cups raw cashews
2 tsp pumpkin pie spice
1 tsp cinnamon
2 tsp coconut sugar
¼ tsp salt
Directions
Add all ingredients to your Blendtec Twister jar and and place Twister lid on jar. Hold lid with one hand, and with other hand process on speed 7 or 8 for roughly 30 seconds making sure you turn lid counter-clockwise during blending. Repeat until desired consistency is met.  
About the Author Michelle is a professional food photographer and blogger at the whole smiths. She is passionate about food and serving up healthy, wholesome food for the whole family. Focusing on simple and affordable paleo dishes, the whole smiths strives to make clean eating approachable to everyone. When she's not running after her two children she enjoys running (by herself), yoga and fashion.
---
2 comments
---
---