16 Smart Snacks for the Office
When the mid-morning or afternoon lull sets in at the office, do you find yourself reaching for something unhealthy to munch on? Low blood sugar is the culprit behind sugar cravings—and eventually overeating. Healthy snacks that include fiber and protein can help normalize your blood-sugar level throughout the day, which in turn will help curb cravings and reduce mood swings. You'll also feel full longer. So stock your desk drawer or office fridge with some of these simple, healthy snacks: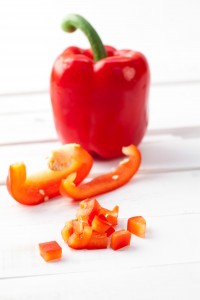 Vegetables and protein. Try celery, cucumbers, bell peppers, carrots, cauliflower, or broccoli with ¼ cup low-fat cottage cheese, ¼ cup nonfat or low-fat yogurt-and-herb dip, or 2 tablespoons natural peanut butter.
Fruit and protein. Some great combos include apples with natural peanut butter or low-fat cottage cheese, grapes with low-fat cheese, and strawberries with Greek yogurt.
Lean, reduced-sodium deli meats. Pair turkey, chicken, roast beef, or ham with low-fat, whole grain crackers or tortillas. My favorite healthy crackers/chips are Food Should Taste Good Multigrain Chips.
Part-skim mozzarella string cheese.
Sunflower seeds. Remember to stick with one serving (3 tablespoons).
Low-fat cottage cheese with salsa and whole grain chips.
Dry-roasted or boiled, ready-to-eat edamame (green soybeans).
Greek yogurt. Your best options are naturally sweetened nonfat or low fat.




Nuts. Try not to eat more than 1 or 2 serving a day; 1 serving = 15 almonds, 20 peanuts, 30 pistachios, or about ¼ cup of any other nut).
Single-serving cans of low-sodium 

tomato juice

or a

vegetable-juice

blend.
Water-packed tuna or salmon (the pouches are super handy) with whole grain crackers or vegetables.
A few whole grain crackers or some fruit with reduced-fat cheese (such as Laughing Cow Wedges and Mini Babybel Light) or reduced-fat cottage cheese.
A serving of high-fiber, whole grain cereal (a great snack without milk). Choose a higher-protein cereal like Kashi Go Lean or Special K Protein Plus.
A mix of dried fruit (with no sugar added) and nuts. Be careful with your serving size—the calories in this snack add up fast.


Low-fat yogurt mixed with ¼ cup low-fat cottage cheese and ¼ cup raw oatmeal. Trust me, it's good.
Low-calorie snack bar or

protein bar

. I like Luna protein bars and Smart For Life protein bars.
---