THE FUELING
FRONTIER WITH
NBA'S TOBIAS HARRIS
Tobias' Journey to Becoming a Better Pro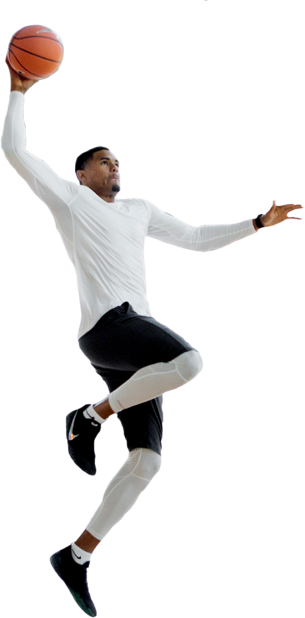 TOBIAS HARRIS
PRO BASKETBALL PLAYER

Tobias' mindset has always been to surpass other people that were in front of him until he could get to where he needed to be. For him, that place was becoming a professional basketball player.
"Training and fueling yourself the right way is how you get stronger. Nutrition is the way your body gives you energy to fuel yourself on the court and in the weight room."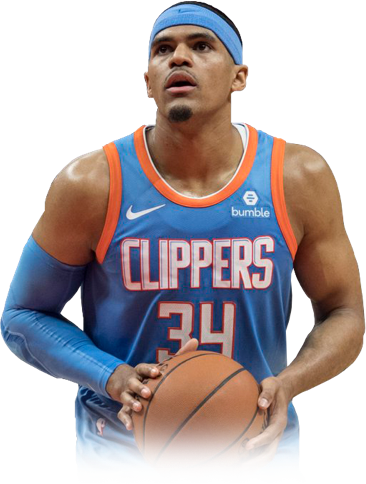 I got drafted at 18 years old. I was a young professional athlete living in Milwaukee just sticking to the basics that have led me to be successful. I would wake up at 5:45 am every day and be the first one at the gym at 6 o'clock. I was on a clean, low-carb diet thinking I was healthy. I had the perception that carbs made you fat because I was ripped – I had six percent body fat. This translated to the court. The way I played and practiced was recognized. After the first day of training camp, Drew Gooden – one of my vets at the time – said "You're the best first day rookie ever."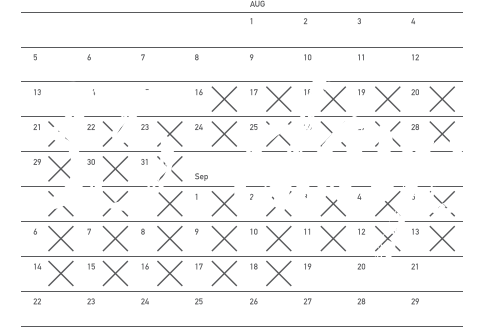 During training camp, something happened to my body. Everything started cramping up – my legs, my neck, I couldn't even swallow.
I was rushed to the hospital. I was out for the rest of training camp and for an additional 35 days – I couldn't do anything. It was a tough period for me as a rookie. I didn't know what was going on or why. I was later sent to the Gatorade testing labs for additional testing. They said "You don't have any carbs in your system. You're killing your muscle every time you work out." That's when I realized I need to be conscious of what goes into my body and how to better fuel myself.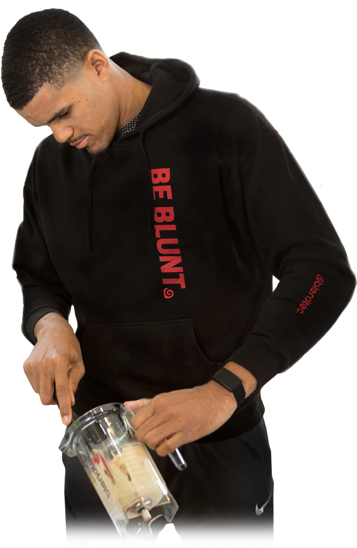 I like smoothies a lot and was going to this place that had the best smoothies ever. I decided I was spending a lot of money on smoothies and wanted to try making them myself. I went to the store, picked up a competitor's blender and tried making a smoothie but it did not come out the same.
After researching and reaching out to the Twitter world for blender suggestions, Blendtec was the clear choice.
I started looking up smoothie recipes and quickly learned I could make soups, peanut butter, juices, and lots of options to fulfill my nutrition. I was sold. I really felt like this was the greatest thing ever. When friends come over to my house I say, "Check out my blender!" not "Check out my TV. Check out my blender! Let me make you the best smoothie ever." Blendtec is something that I have in every kitchen. In every place I stay you'll see a Blendtec.

My rookie year taught me a lot about my body and nutrition, from there I've kind of got it down to a science of what I need and what fuels me the right way, what should I eat when I'm training and what should I not eat.
I think fueling is the next level of where sports and professional athletes are going. Lots of athletes are going vegan. A big reason is because they want to eat clean, want to have cleaner things in their body so they can perform well. The fuel is the most important thing during games.
Welcome to the Fueling Frontier, Use promo code TOBIAS at checkout & get free shipping!
THICK, THICKER, THICKEST
Extra thick blends have never been easier! The Twister jar tackles nut butters, hummus, sorbets & more with ease. The patented Twister lid features tines that run along the inner side of the jar. Turning the Twister lid during blends keeps ingredients from sticking to the sides and pushes them back down to the blade into the blending vortex. No more stopping and scraping the sides manually.
Must-have for hummus, nut butters, and more...
"Wasn't sure how handy this would be, but I'm a big fan of hummus and spreads, so I thought I'd try it. What I didn't realize was that its more petite size fits perfectly under counter when atop my blender, and it's just the right size for a morning smoothie for one. I put in all my fresh greens and fruits with a little ice or water, and get 16 oz of heaven without using the bigger Wildside or Standard jars. LOVE IT! Clean up is simple too. Great product for the money, and dramatically different than any other offering from Blendtec."
- Debbie, Blendtec Customer
CREATED BY TOBIAS' PERSONAL CHEF, JASON PABST

Tobias and Jason created these recipes based on two important philosophies:
Simplicity
These recipes are intended to be simple so that the everyday person can enjoy these wonderful culinary creations, reap the nutritional benefits and share them with friends and family.
Whole Foods, Plant-Based Diet
Though there is no specific definition for what a whole foods, plant-based diet is, it aims at emphasizing the following principles:
Consuming whole, minimally processed foods. Consuming foods in their most natural forms so they are not stripped of their nutritional value
Focusing on plants, including fruits, vegetables, whole grains, legumes, nuts and seeds. Excluding refined foods such as refined sugars, white flour and processed oils.
Focusing on food quality, especially in regards to consuming only organic and non-GMO foods, and sourcing ingredients locally when possible.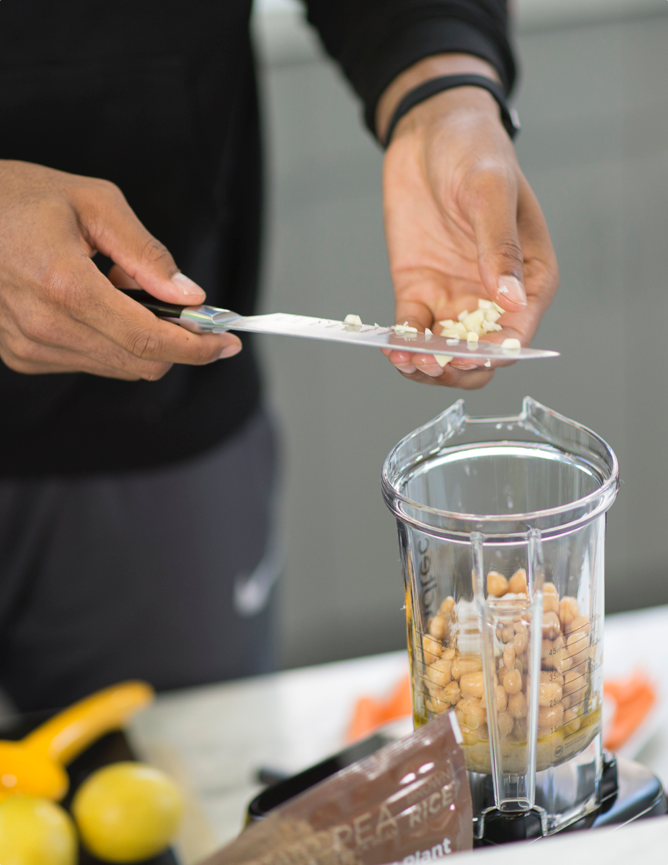 Reduce Inflammation & reach your ultimate vitality

1 cup coconut water
½ cup filtered water
2 tbsp Apple Cider Vinegar
Juice of 1 lemon
1 orange (peeled)
1 thumb sized piece Ginger (peeled)
1 pinky sized piece Turmeric Root (peeled) or 1 tsp turmeric spice Pinch of black pepper
½ tsp cinnamon
½ cup cilantro
INSTRUCTIONS
1. Put all ingredients in order listed into Blendtec jar and blend on Smoothie' cycle or until smooth.
2. Once blended, serve as is (for extra fiber!) or put through strainer for juice-like consistency.
3. Serve immediately or freeze in ice cube trays and store for up to two weeks.

Light, refreshing and rich in healthy fats

3 cups fresh basil (washed and destemmed)
1⁄2 cup raw walnuts
1⁄4 cup extra virgin olive oil
Juice and zest of 1 lemon
2 tbsp nutritional yeast
2 cloves garlic
1⁄2 tsp salt
1⁄4 cup water
1. Put all ingredients in Twister jar in order listed and blend on Medium speed until smooth. Turn Twister lid counter-clockwise while blending.
2. Toss the basil pesto with zucchini noodles or your choice of pastaor vegetable and serve immediately.
If you could have said something to your rookie self or to Tobias in high school, what would you say?

"Get a Blendtec ASAP." I would also say, "Stop worrying about what you look like on pictures and worry about how you feel. Sit down with a nutritionist ASAP and go through a plan of how you can fuel yourself to be the best basketball player that you can be as a rookie in the NBA."