Zucchini Pasta with Pesto
By Samantha Schmuck of Revived-Living
When I found out that I was gluten intolerant I remember thinking, "What kind of pasta can I make now?" I used to love creating different sauce combinations and tossing it over a bowl of fresh pasta for a quick and easy dinner. Thankfully, a friend of mine introduced me to a spiralizer, which lets you create noodles of various sizes from vegetables like sweet potatoes, beets, and zucchini. I love the versatility of these noodles since you can always eat the zucchini and beets raw, or choose to slightly sauté them.
This dish is so fun to make, extremely simple, and will be sure to impress any dinner guest you have. The noodles are incredibly adaptable, so you can really use your creativity when it comes to the sauce. Depending on the season, you can choose to make a cold and light dressing, or a heated and hearty sauce. If you really want to impress your dinner guests, use your Blendtec to easily whip up several sauces for them to choose from. In the U.S, diabetes and obesity have been exponentially increasing over the years.
This "pasta" dish is one that you can feel good about eating A LOT! Since your pasta base are vegetables, you will not get the same sugar spike and crash of traditional pastas, nor feel like you have a rock in your stomach after eating it. Though it might feel like you are eating a ton of it, you will be eating significantly fewer calories. That's why this is my go-to dish for special diets and also managing the waistline!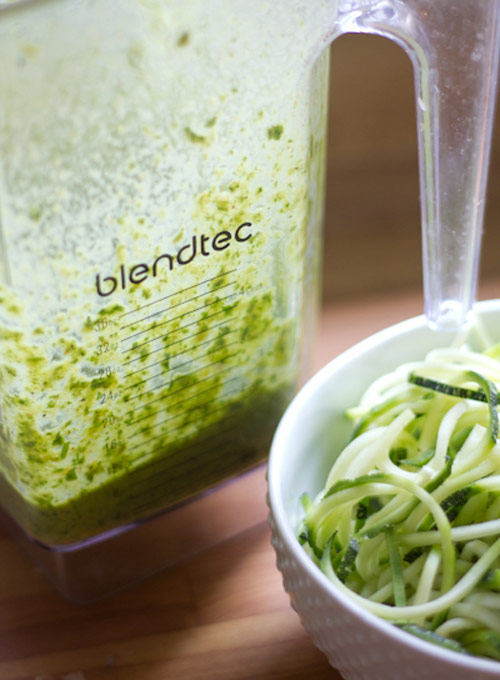 Zucchini Pasta with Pesto
Pasta Sauce
2 tbsp coconut oil
⅓ cup onion, diced
⅓ cup shiitake mushrooms, diced
Salt and pepper to taste
2 cloves garlic, minced
1 large tomato, chopped
Pasta
2 medium zucchini
Pesto
3 cups basil, loosely packed
½ cup extra virgin olive oil, more if needed
⅓ walnuts
2 lemons, juiced
2 cloves fresh garlic
⅓ cup nutritional yeast
Salt and pepper to taste
Optional Toppings
Zebra tomatoes or cherry tomatoes, quartered
Orange cauliflower, grated
Directions
In a medium sauté pan heat the coconut oil over medium heat, and add the onions, mushrooms, and salt and pepper.
Once the onions become translucent, add the garlic and continue to cook for approximately 30 seconds—just enough for it to become aromatic—then add the chopped tomato.
Using a wooden spoon, roughly break up the tomatoes to help them cook down, and continue to cook for about 5–7 minutes.
Turn off the heat and set aside.
Grab your spiralizer  and spiralize your zucchinis and divide amongst your serving bowls.
In your Blendtec, add all of your pesto ingredients, starting with only ½ cup of olive oil. Once blended, if it is too thick for your liking add another ¼ cup of olive oil and re-blend the pesto.
Rinse out your blender jar and add the sautéed onions, mushrooms, and tomatoes. Pulse briefly to a course purée.
Experiment and have fun plating and garnishing your dish. Enjoy!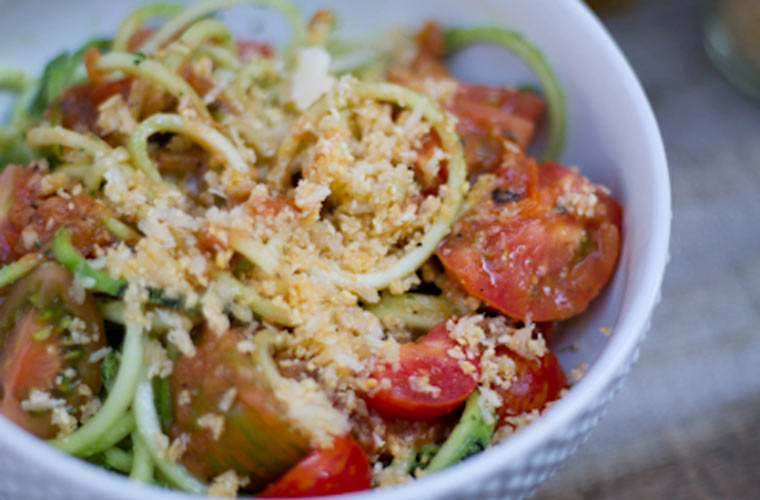 About the Author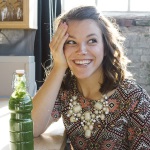 Samantha is a former competitive gymnast turned health & lifestyle coach helping elite athletes transition from sports on to their next passion! Since turning gluten and dairy free over two years ago, she has used her love of experimenting in the kitchen to find simple and delicious alternatives for the stingiest of family members. Follow her at revived-living.com, on Instagram at revived_living, or contact her directly at sschmuck@revived-living.com.
---
1 comment
---
---