Whole30: What Is

It

?
By now you've probably heard of The Whole30, but you might not be completely sure of what it's all about. Briefly explained, Whole30 is a 30-day eating plan based on the book "It Starts with Food," cutting out sugars, grains, dairy, alcohol, legumes, and other processed foods for the entire month. You eat large meals of whole foods, each consisting of protein, vegetables, and fats. Your first reaction might go something like this: That sounds hard. But I can't live without bread! I can't do it. Believe me, I thought the same things. But there are real physical and psychological reasons for the elimination of these foods, and real benefits to investing in your health in this way.
Taken directly from whole30.com: "Cut out all the psychologically unhealthy, hormone-unbalancing, gut-disrupting, inflammatory food groups for a full 30 days. Let your body heal and recover from whatever effects those foods may be causing. Push the "reset" button with your metabolism, systemic inflammation, and the downstream effects of the food choices you've been making. Learn once and for all how the foods you've been eating are actually affecting your day to day life, and your long term health." 
So what finally got me on board? I read more about it, heard the stories of other people, and a few things just seemed to set this plan apart from all the other fad diets. It's not a quick solution, just a way to jump start healthier lifestyle choices. But what tipped the scales (literally) for me, is that it isn't only about conquering the physical aspects of health, it's also about understanding the psychological aspects of eating related to our habits, emotions, and cravings. It takes the power away from your scale and returns it to you. Following Whole30 and its reintroduction plan has helped to reduce the inflammation in my joints, helped my pregnancies and recoveries be easier, empowered me to take control of my health, and allowed me to feel better than I have in years. To learn more about it, visit www.whole30.com.
Whole30 Recipes

Spicy Sausage Stuffed Portobellos with Red Pepper Pesto
Here's a great recipe for those days when you just need something a little different. Serious food boredom and aversions usually set in around week 3, but for me, it can start much earlier. I like to incorporate 1-2 new recipes every week to help fend it off and keep me motivated. This recipe is packed full of flavor and perfect for the meat lover in your house. If I'm making this for the whole family, I sometimes substitute a milder sausage – and my kids don't even realize they're eating so many extra veggies!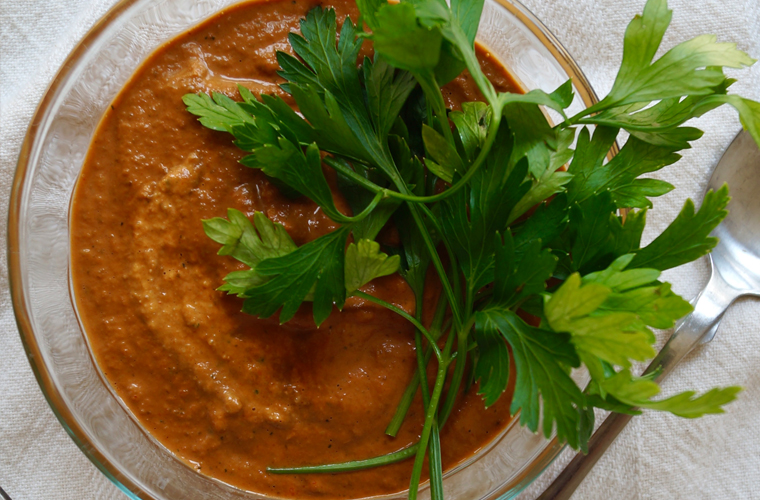 Pesto Ingredients
4 red bell peppers
2 cloves garlic
1/4 cup extra virgin olive oil
1/8 cup pine nuts
1/8 cup sunflower seeds
1 cup packed fresh basil leaves
1 tbsp. water
½ tsp salt
¼ tsp pepper
Directions
Wash and dry the bell peppers.

On your gas range, lay each pepper on top of a burner and cook directly over the flame, turning often, for 7-9 minutes. The skin will be charred and bubbly on all sides. (Note: this can also be done under a broiler or on a grill!)

Set the peppers aside, cover tightly, and allow to cool for 15 minutes.

Once cooled, remove the skin easily by gently rubbing it with your hands.

Cut the peppers in half and remove the seeds.

Add the peppers and all other ingredients to your Twister jar and "Pulse" until smooth. Season to taste and enjoy!
Mushrooms Ingredients
1 lb. spicy ground Italian sausage (check the label for sugar and nitrates to be sure it's compliant!)
4 Portobello mushroom caps
1 tsp avocado oil
½ onion
2 cloves garlic
1 stalk celery
1 small zucchini
1 tbsp. fresh chopped parsley
¼ tsp pepper
Directions
Preheat the oven to 375°F.

Roughly chop the onion, garlic, celery and zucchini and set aside.

Gently scrape the inside of each Portobello cap with a small spoon to form a cup shape, adding the bits to the vegetable mixture.

Brush each mushroom cap with avocado oil and lay on a parchment or foil lined baking sheet and set aside.

Cook the sausage in a medium skillet until browned, about 4-5 minutes, then drain the excess grease.

Transfer the sausage to a bowl and cover.

In the same skillet, sauté the vegetables over medium heat for 5-7 minutes.

Add the parsley and pepper and transfer the vegetable mixture to the Twister jar.
"Pulse" on low until the vegetables are broken down and fully combined.
Add the mixture to the bowl of sausage and stir until combined.
Fill each mushroom cap with the sausage and vegetable mixture, about 1/3 cup in each, and gently press the mixture in.
Bake for 18—20 minutes or until lightly browned on top.
Top with red pepper pesto and garnish with extra parsley.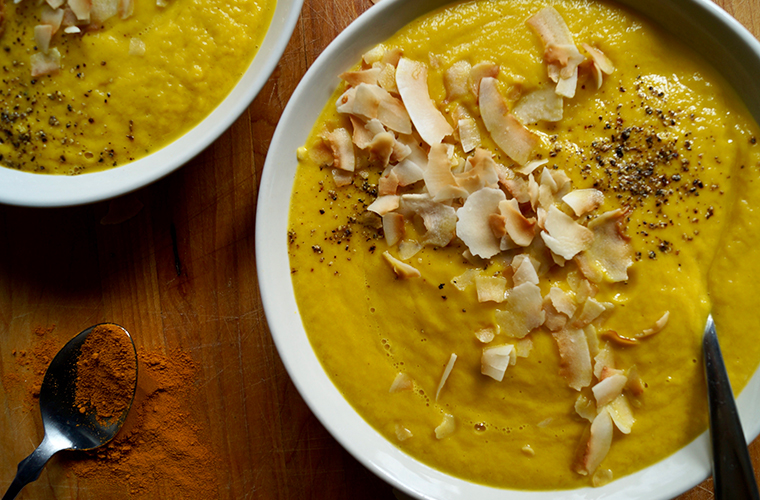 Roasted Butternut Squash and Red Pear Soup
Turmeric is one of my favorite ingredients to cook with. The light and floral taste compliments just about anything I'm making, but what I love most is the color. The bright orangey-yellow matches the mums I just picked up, and it just screams fall to me!
Ingredients
1 medium butternut squash
1 shallot
2 celery stalks
1/2 tsp grated fresh ginger
2 red pears
2 tbsp. apple cider vinegar
1 tbsp. avocado oil
1/2 tsp turmeric
1/2 c light coconut milk
3 - 3 1/2 cups compliant vegetable or chicken stock
1 tbsp. coconut or avocado oil
Directions
Preheat oven to 350°F.

Cut squash in half and scoop out the seeds.

Drizzle each half with oil, season with salt and pepper, and place face down on a cookie sheet.

Bake 40-50 minutes, until softened enough that you can easily cut through with a knife.

Allow to cool completely, then scrape the flesh into a bowl.

Roughly chop the shallot and celery, sautee with the ginger in avocado oil for about 2 minutes over medium heat. 

Stir in apple cider vinegar and cook another 2-3 minutes.

Add the squash, chopped pears (I leave skins on but feel free to remove), and turmeric and cook until fragrant, about 3 minutes.

Add the coconut milk and broth and bring to a simmer, stirring occasionally for 10-15 min.

Add the entire mixture to your Twister jar and puree for 60-70 seconds or until smooth and creamy.

Season with salt and pepper to taste and garnish with toasted coconut.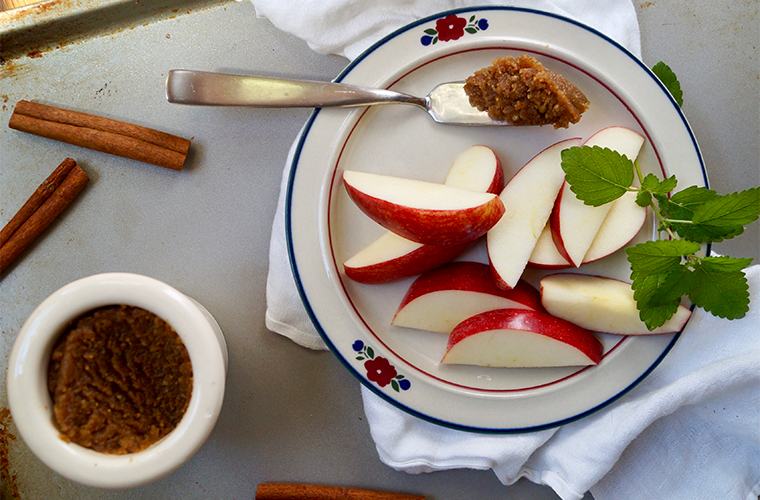 Fig Cinnamon Walnut Butter
I tend to be pretty busy around breakfast and lunch (who isn't?), so having something tasty and easy to put together is really important for me. I love the warm fall flavors of this nut butter, and incorporating spices like cinnamon into your routine will help fend off food boredom. Because the fat component of the nuts helps keep me satisfied, I like to blend up a batch of this and keep it on hand for when I'm running out the door or traveling for work.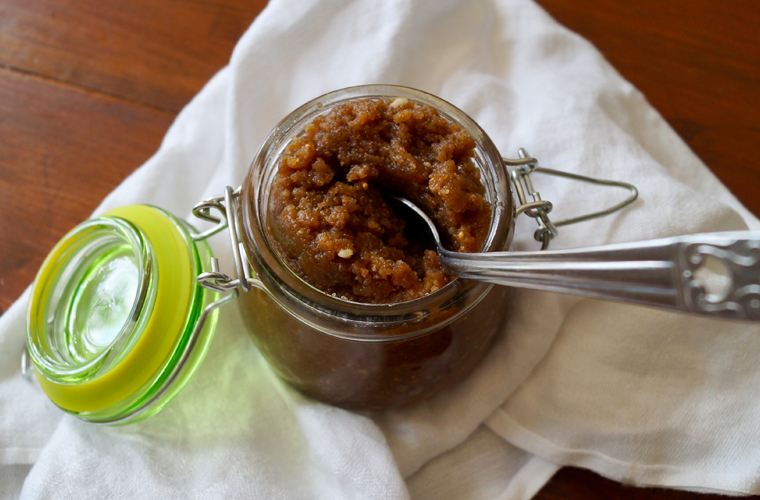 Ingredients
2 cups walnuts
8 dried figs (be sure to check the label to make sure it's compliant – no sugar added)
¼ tsp cinnamon
1/8 tsp sea salt
Directions
Preheat your oven to 350°F.

Spread the walnuts on a baking sheet and toast them in the oven for 6-8 minutes, stirring once halfway through.

Allow the nuts to cool, then add all the ingredients to the Twister jar.

Place one hand on the lid and blend on a Medium speed for 80-90 seconds while you twist the lid counter-clockwise until it's creamy.

Serve with fresh fruit as your fat component of any meal!

Sweet Potato Mini Quiches
We all talk about how important meal prep is on Whole30. There's nothing worse than waking up in the morning and realizing you don't have time to make a compliant breakfast. To help ease my crazy morning routine, I try to set aside a few hours on Saturday or Sunday afternoon to make a week's worth of breakfasts. These mini quiches store beautifully in the fridge and make my weekday morning routine a breeze!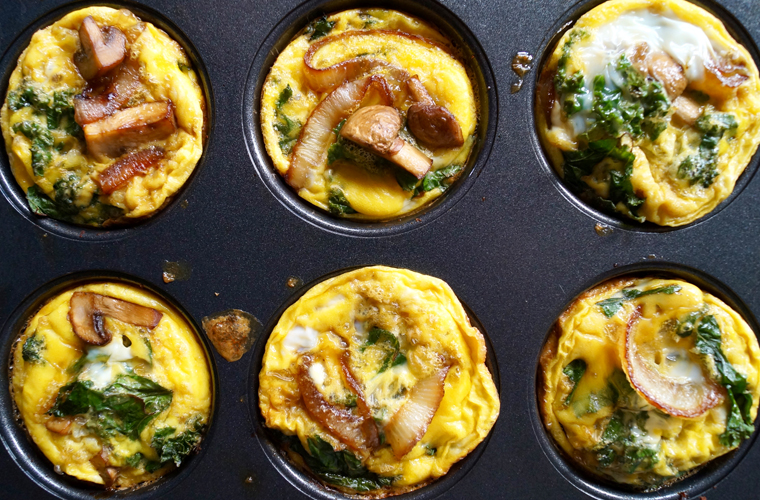 Ingredients
2 onions
1 cup baby bella mushrooms
1 small bunch kale (about 2 cups after stems are removed)
½ tsp balsamic vinegar (be sure there are no sulfites!)
1 tsp ghee or avocado oil
8 eggs
2 medium sweet potatoes, cooked and cooled
2 carrots
2 cloves garlic
1 tbsp. ghee or avocado oil
½ tsp salt
¼ tsp pepper
Directions
Slice the onions and cut the mushrooms into quarters.

In a cast iron skillet over low-medium heat, sauté the onions in the ghee for 12-15 minutes, stirring regularly.

Add the mushrooms the last 5 minutes.

Stir in the balsamic vinegar, then roughly chop the kale and sauté in the skillet for 3-4 minutes.

In a separate bowl, scramble the eggs and set aside.

Preheat the oven to 400°F.

Remove the flesh of the sweet potatoes.

Add the sweet potatoes, raw carrots, garlic, ghee, and seasonings to the Twister jar and secure lid.

Blend on a Medium speed until smooth. Turn the lid counter-clockwise while blending.

Spoon the sweet potatoes into a greased muffin tin, about ¼ cup in each.

Cook the potato/carrot mixture alone for 12-15 minutes.

Use the spatula to remove the vegetable mixture from the jar and distribute evenly into each cup, then pour the eggs on top.

Bake for 15-17 minutes.

Allow to cool slightly, then remove carefully.
About The Author
Laura is a wife and work-at-home mom of boys. She loves getting outside and hiking with her family and cooking in her free time. She's completed five rounds of Whole30 and credits the program for finally breaking her of her carb cravings and helping her to feel great year-round.
For more from Laura, visit cookathomemom.com.
---
3 comments
---
---