You may be asking yourself, "What is bok choy, and what can I use it for?"
Bok choy is a versatile member of the cabbage family and boasts great crunch and a slight bite; some call it poor man's arugula. Loaded with vitamin C, calcium, and potassium, bok choy is also low in calories and fat free. Bok choy hits its peak season during the winter months and is great in many recipes.
Storage and Preparation
Bok choy will keep for a few days unwashed in a plastic bag in the crisper drawer of your refrigerator. To prepare bok choy, pull off individual leaves and rinse them with cold water from your faucet. A sprayer-type faucet is very helpful when rinsing vegetables such as bok choy.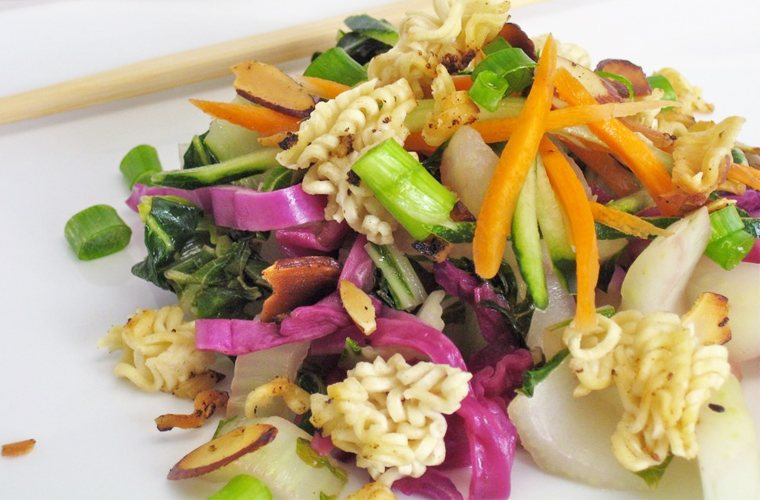 Zesty Sesame, Soy, and Bok Choy Salad
8 bok choy stalks with leaves, thinly sliced
1 c shredded carrot
3 tbsp + 4 tsp toasted sesame seeds, divided
2 cloves garlic, pressed through garlic press
2 tbsp honey
2 tbsp low-sodium soy sauce
1/3 c rice wine vinegar
2 tbsp toasted sesame oil
1/3 tbsp salad oil
Add bok choy, carrot, and 3 tablespoons sesame seeds to salad bowl. Add remaining ingredients to FourSide jar. Secure lid and select "Dressings." Pour dressing over bed of greens, and toss to coat. Garnish with 4 teaspoons toasted sesame seeds. Makes 4 servings.
Cream of Broccoli and Bok Choy Soup
As the temperatures cool down, nothing is better for dinner than a thick, rich homemade soup. Including bok choy in a creamed soup is a great way to add some healthy variety to your diet. With the following satisfying soup, you'll also benefit from nutritious fiber and lean protein.
2 c broccoli, roughly chopped
2 c bok choy, roughly chopped
16 oz extra firm tofu, roughly chopped
2 c unsweetened almond milk
2 c fat-free plain Greek yogurt
2 c chicken broth
2 tbsp onion powder
2 tbsp garlic powder
Salt and pepper, to taste
Combine all ingredients in saucepan, and simmer over medium heat for 30 minutes. Add mixture to WildSide+ jar in small batches, secure lid, and select "Soups." Pour mixture back into original saucepan, and simmer for a few minutes before serving. Makes 4 servings.
There are plenty of other recipes you can create with bok choy and your Blendtec blender. What are some recipes you like to make using bok choy?
---