By Jackie Vega of The Wellness Solution
One of our favorite nights is when we plan for movie night at home. The kids and I gather foods we love that are healthy and simple to prepare. Our menu typically consists of a variety of fruits, raw veggies and a few dips such as hummus, ranch dressing, and yogurt. Some other additions for a boost of healthy protein may include nut butter, shrimp cocktail, sushi, and edamame. My son's favorite dip is ranch, which is what inspired me to blend together this coconut avocado ranch dip. I have never really been big on dips or salad dressings. I load my salads up with so much of the water packed veggies and fruits that my salads are never dry and are always full of natural flavors.
Ah, yes, natural flavors – not what you are getting when you pick up the typical bottle of salad dressing and dip.  As a mom and a dietitian, I was determined to find a ranch dressing that I felt good about serving my son. Although I found one he liked and I approved of, I still wanted one that was just as fresh as the veggies he was dipping. I have been blessed with zero food allergies in my household, but because there are more and more people in my line of work who are allergic to dairy and nuts, I wanted to keep away from those allergens with this recipe. But what is a ranch dressing without it's milky, creamy texture? In comes some rich coconut milk and creamy avocado. 
I have to be honest with you, I really did not know what was going to come out of that Twister jar with a combination of coconut milk, avocado and seasonings, but my son and I (he's the ranch boy) LOVE it!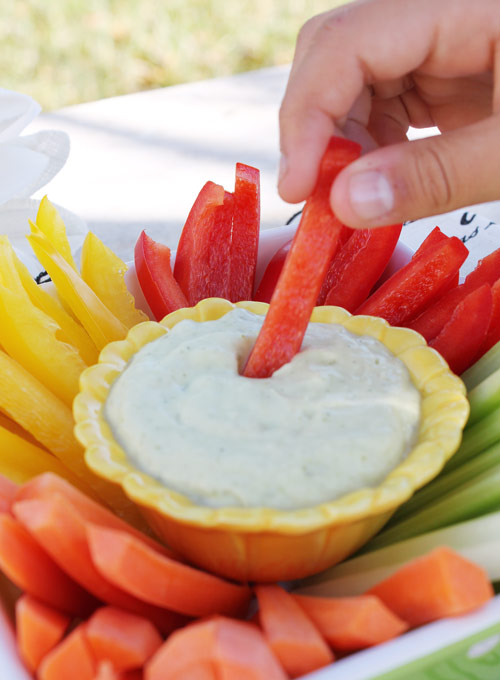 I chose full fat coconut milk because I knew it would offer a richer flavor and when dealing with healthy kiddos as my own, there is no medical or nutritional reason to look for fat reductions. The avocado is a great addition to many creamy recipes that you are looking to make healthier versions of. Did you know that avocado can also be used in desserts? Just take a look at this Fudgesicle Frosty!
We served this ranch dip with cut up raw veggies, but it can easily be tossed with your favorite salad. I love a variety of greens with a sliced pear that has been topped with hemp seeds, pumpkin seeds and finally, you could add this ranch dressing. The other kicker to this story is that through our fun movie nights of zero cooking, I have been able to get my kids to try and enjoy new foods! Some big ones are raw beans, edamame, cucumbers and all colors of bell peppers. When you make meal time enjoyable, fresh, delicious and fun, there's a sudden reduction of the picky-eater syndrome, and what mom doesn't want to see this positive turnaround?
So the next time you are in the mood for a different dip or dressing that is sugar-free, dairy-free and nut-free, try this one. I would love to know what you think too, so please comment below and share how much you, too, loved this avocado ranch dip.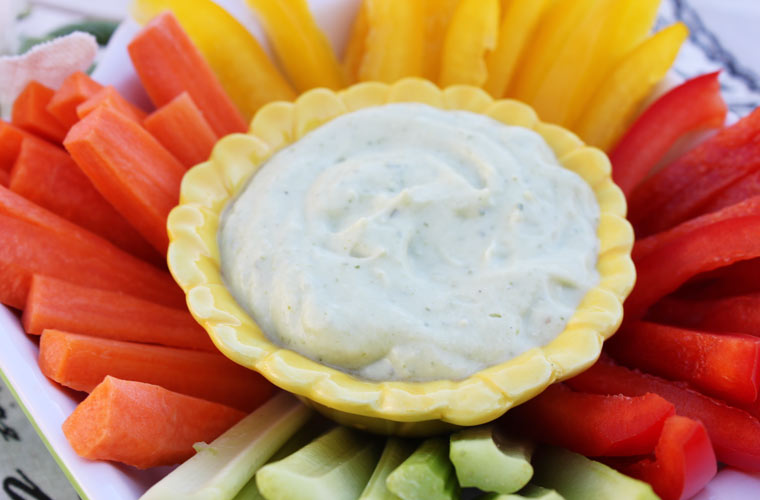 Vegan Avocado Ranch Dip
Ingredients
½ cup full fat coconut milk
1 tablespoons chopped, green onion
½ lemon, juiced
1 teaspoon apple cider vinegar
1/8 ripe avocado
2 tablespoons fresh parsley
¼ teaspoon freshly ground pepper
¼ teaspoon sea salt
Instructions
Add all ingredients to your Blendtec Twister jar and blend on medium while turning the lid counter-clockwise.
Give it a taste once it's blended together to a smooth, creamy consistency because depending on your personal taste, you may want to amp up the spices.
Enjoy! (Serve immediately or store in an airtight container in the fridge for up to one week).
About the Author
Jackie is a registered dietitian and personal trainer who blogs at The Wellness Solution. She is also the meal plan developer for Super Healthy Kids. Her focus is working with women who are totally over dieting and ready for a healthy lifestyle change that BECOMES their new lifestyle. You can follow her on Facebook and Instagram, or email her at Jackie@thewellnessolution.com
---
3 comments
---
---