As a mother of two school aged children, I am always looking for new ways to add even more greens to our plates. Not only is it a good idea for my children's health, but as a busy mom and business owner, it's important for my health as well.  My children love lemonade and they especially love it freshly squeezed, so in order to give them what they love, plus give them what I love, I decided to make, Sweet Green Lemonade.
Being a registered dietitian and mom, I am constantly asked questions about how I get my kids to eat nutritious, green foods. Ah, yes, my passion…because even I struggle with selective eaters.  My daughter, who is nearly 10, likes many of the foods I serve and my son, nearly 8, not always.  When it comes to green foods, my son loves them in smoothies and juices, and my daughter prefers them whole. So, I really cannot complain about this recipe, because not only did they both happily test about five combinations of green juices, they both loved the final product.
I chose to add parsley and kale for the greens. Parsley is great because of its nutritional profile being full of vitamin K, C and A as well as folate and iron.1 These nutrients are vital in keeping us healthy at all stages of our life. Kale, known as a super-food, adds a nutrient punch all on its own, even in small portions.2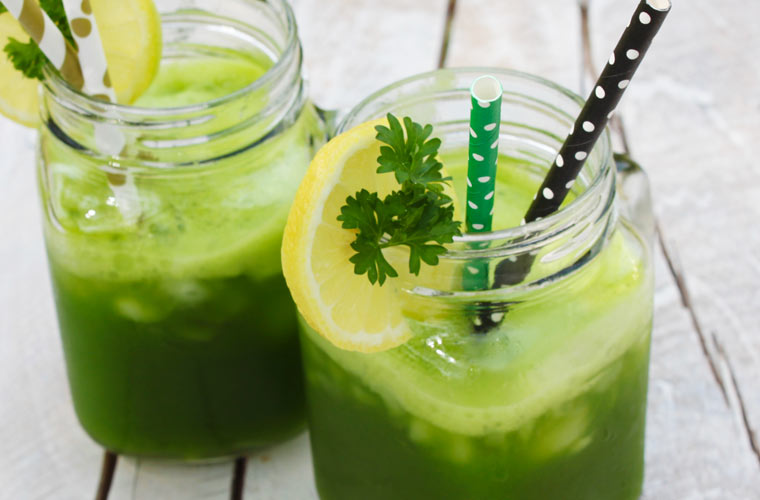 Adding greens and a tangy lemon to any recipe, will naturally add a bitter taste, especially when it comes to the sensitive taste buds of children. To offset this, I decided to add in raw, organic honey.  Adding honey will sweeten it as well as add a small amount of nutritional properties as opposed to using processed granulated sugar. If you personally desire sugar-free lemonade, simply leave this out. Remember, juices are concentrated nutrition so a large amount is not necessarily needed, especially if you are just beginning to introduce green blends to your children.
This lemonade made a total of 12 ounces and I served it in smaller, fun mugs for the kids. They did not finish them in one sitting, so we capped them off and stored what was left in the fridge; which allowed them to consume it later in the day. This is yet another great way to give your kids control over what they eat. If you offer nutritious foods, and have them readily available, those foods are what they are going to choose. Keep new foods fun! We love using multi-colored straws and cute mugs. If it doesn't work the first time, then try something different the next time. And if you feel it's the ingredients, try reducing the amount of greens added in order to gradually get them used to the taste.
I can honestly say that even as an adult, I need to scale back on the green some days. Oh, one more bit of advice; since my kids do not like to see the greens, my Blendtec was a complete charm because I was able to get it smooth and free of the leafy pieces. I hope you and your kids enjoy this as much as we did!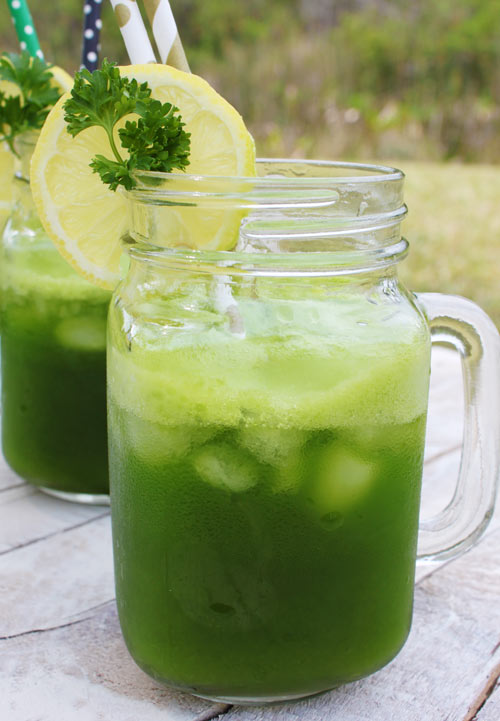 Sweet Green Lemonade
Ingredients
1 cup filtered water (may add more if a less green taste is desired)
1⁄8 cup fresh parsley (be sure to remove the stems)
1-2 large fresh kale leaves (be sure to remove the stem)
1 lemon, peeled and seeds removed
11⁄2 tablespoons raw honey (not to be served to children under the age of 2)
Directions
Add all ingredients to your Blendtec WildSide+ jar and secure lid.
Select Whole Juice, or blend on a Medium to Medium-High speed for 50-60 seconds.
Serve as is or over ice.
Sources 1 The World's Healthiest Foods 2 Academy of Nutrition and Dietetics
About the Author
Jackie is a registered dietitian and personal trainer who blogs at The Wellness Solution. She is also the meal plan developer for Super Healthy Kids. Her focus is working with women who are totally over dieting and ready for a healthy lifestyle change that BECOMES their new lifestyle. You can follow her on Facebook and Instagram, or email her at Jackie@thewellnessolution.com
---