Summer Detox Smoothie Bowl
By Kim Lee of Kim's Cravings
Summer Detox Smoothie Bowl—a lusciously creamy, satisfying, and delicious creation of goodness to be enjoyed with your favorite vitamin-rich toppings! This incredibly nutritious smoothie features the top super foods that support natural detoxification, including dark leafy greens, fresh fruit, lemon juice, beets, and ground flax seed. Don't worry! Just because this smoothie bowl is cram-packed with wholesome foods, that doesn't mean it's not amazingly scrumptious!
Smoothie bowls have become all the rage over the past couple of years and it all started with the Açaí (ah-sah-yee) bowl. With a little imagination, though, you can go wild with a myriad of ingredients and truly make the smoothie bowl your very own. Smoothies and citrus fruits go crazy well together! I absolutely love the sweet zangy flavor of orange and lemon in my smoothies and smoothie bowls. It takes away any hint of bitterness the veggies might give off.
Whip up this perfectly sweet, fruity, refreshing bowl for breakfast, snack, or even a light lunch. Enjoy nature's bounty and all of the detoxifying goodness!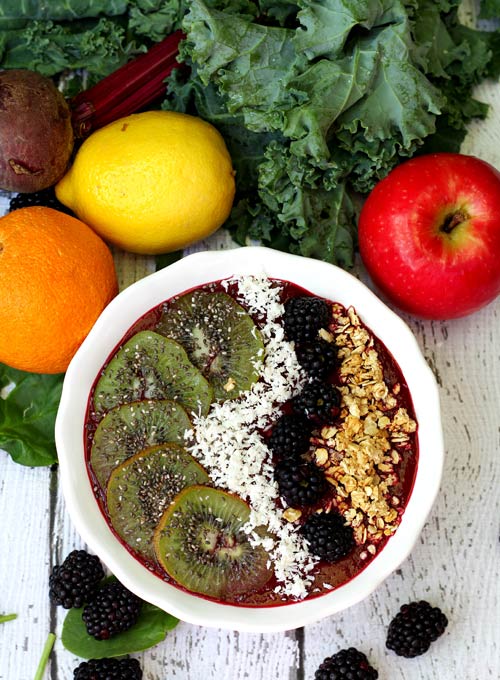 Summer Detox Smoothie Bowl
(Serves 1)
Ingredients
1 very ripe frozen banana
¾ cup frozen peaches
1 orange, peeled
Juice of 1 large lemon
1–2 heaping cups dark leafy greens, such as fresh kale and/or spinach
½ small apple
1 small raw beet, peeled
1 tbsp ground flaxseed
Dash cinnamon
1–2 Medjool dates (optional, for sweetness)
½ cup ice (optional, for a slushy smoothie)
Directions
Add ingredients to FourSide jar or WildSide+ jar and secure lid. Select "Smoothie" or blend on a Medium Low speed for 10 seconds, then on a Medium High speed for 30 seconds. Add ice (if a slushy consistency is desired) and continue to blend on Medium High speed for a few seconds. If needed, add water (1 tbsp. at a time) to get things moving. Garnish with your choice of tasty fun toppings, such as berries, fresh fruit slices, dried fruit, granola, cereal, shredded coconut, chopped nuts, chia seeds, nut or seed butter, and the list goes on. Be creative!  
About the Author

Kim is a freelance recipe developer, writer, and the author behind the healthy living blog, Kim's Cravings. Kim has a passion for sharing nutritious delicious recipes and showing others that eating right can be easy and tasty. Website - Twitter - Facebook - Pinterest - Instagram
---