Strawberry Mangorita | Recipe of the Week
Strawberry Mangorita
In honor of National Margarita Weekend, we have created this fruity cocktail! Strawberry and mango team up together in this beverage. It's perfect for your Mardis Gras celebration, National Margarita Weekend (February 20th-22nd) or any occasion!
Don't drink alcohol? No worries, we've got you covered! Just replace the alcohol with orange juice or white grape juice. You can also try this recipe with other fruit combinations. We tried the non-alcoholic version with just mango and it was tasty! Give it a shot and let us know what you think on our recipe page or on Facebook.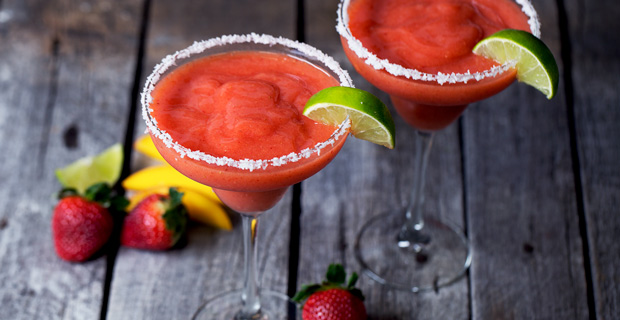 Ingredients
4 fl oz tequila
2 fl oz triple sec
2 fl oz fresh lime juice
⅓ cup granulated sugar
1 cup ripe mango chunks
2 cups frozen strawberries
2 cups ice cubes
Instructions
Add ingredients to FourSide or WildSide+ jar in order listed and secure lid. Select "Ice Crush" or blend on a Medium speed for 30-40 seconds.
Want a family-friendly version? For an alcohol-free version, replace the alcohol with 6 fl oz orange juice or white grape juice. Get nutrition information and full recipe on the Blendtec Recipes page.
---