Strawberry Lemonade Sorbet
By Rachael Yerkes of Eazy Peazy Mealz
When I think summer I think dripping popsicles, glasses of lemonade with beads of sweat running down the sides, sunglasses, and pool noodles. And of course: Ice Cream!  It just wouldn't be the dog days of summer without the cure to the heat, the little something sweet, the big old scoop of ice cream on a cone! I have a sweet tooth, and one of my favorite treats is ice cream. I grew up eating it regularly, and still do.
The problem is ice cream is usually high in fat and sugar, making it less than ideal as a treat when trying to get bathing suit ready. With summer right around the corner, swapping out high sugar treats for fresh, tasty, and low sugar treats is a must! I knew I needed to find a great substitution to my favorite summer treat, and this Strawberry Lemonade Sorbet is it.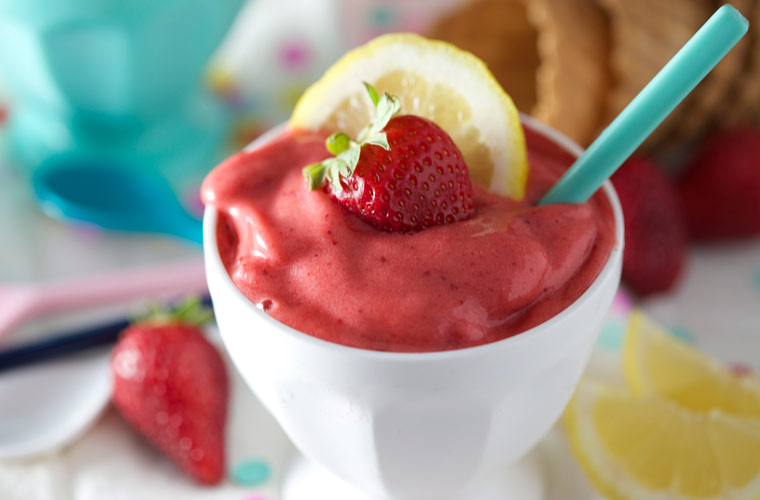 I want cold, creamy, and flavorful. And ice cream is usually the answer. However, I have found a way around that with this sorbet. You get the fresh summery flavor of strawberry lemonade, and the cold creamy goodness of ice cream. It only requires a few simple ingredients: Lemon juice (fresh), frozen strawberries, and a banana. It has no added refined sugar, and tastes amazing. Plus it takes only minutes to make with the Blendtec Twister jar.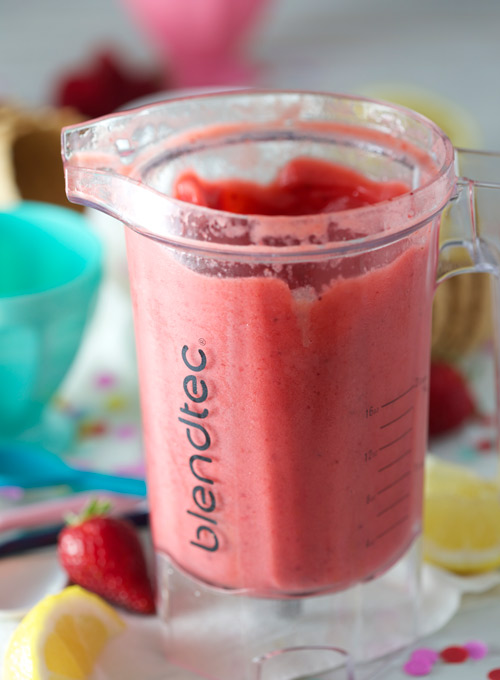 I like to eat it in a cone, but it is also great in a bowl. My kids don't even know they aren't getting the "real" thing, and love this version as much as I do. I can't help but keep a big bag of frozen strawberries on hand, and fresh lemons so that whenever my craving hits I can whip up this simple, satisfying treat in mere minutes.
Strawberry Lemonade Sorbet
Time: 5 minutes
Yield: 16 ounces
Serves: 2
Ingredients
16 oz frozen strawberries
¾ cup fresh squeezed lemon juice
1 ripe banana up to
1 tbsp raw honey (optional, only needed if berries are not sweet enough)
Instructions
Add all ingredients to a Blendtec Twister jar in the order listed, and secure the Twister lid.
Select Ice Cream or blend on a Low speed for 15 seconds, then blend on a Medium to Medium-High speed for 30 seconds. Turn Twister lid counter-clockwise during blending.
Spoon into cups or cones.
Garnish with fresh berries if desired.
Enjoy.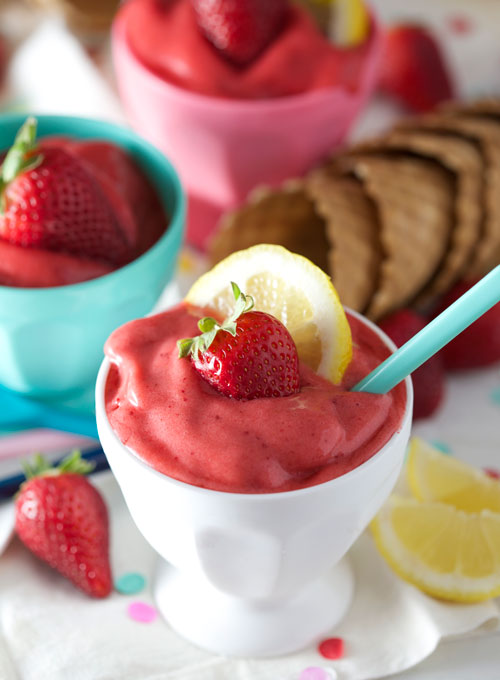 ---
2 comments
---
---