By Michelle Smith of the Whole Smiths
It's about that time of year again when everything turns "pumpkin" on us, and you'll hear no complaints from me! I just adore this time of year when the air and light starts to take on a different feel and our kitchens are filling with warm spicy scents. The wafts of BBQ are quickly becoming a distance memory.
While pumpkin had always been a fall delight, it seems that everything has turned pumpkin in the last 10 years. From pumpkin ice cream sandwiches to pumpkin protein bars, it seems that every one has our pumpkin desires covered.
I'd like to throw my own pumpkin creation into the mix. This Pumpkin Pie Dip will have you drooling every time. I can't decide if it's a good thing or a bad thing that it's so easy to make. On one hand, it's great because you can make it whenever you have a craving, on the other hand… it's bad that you can make it any time you have a craving. If you can blend and stir you can make this recipe, it's a cinch.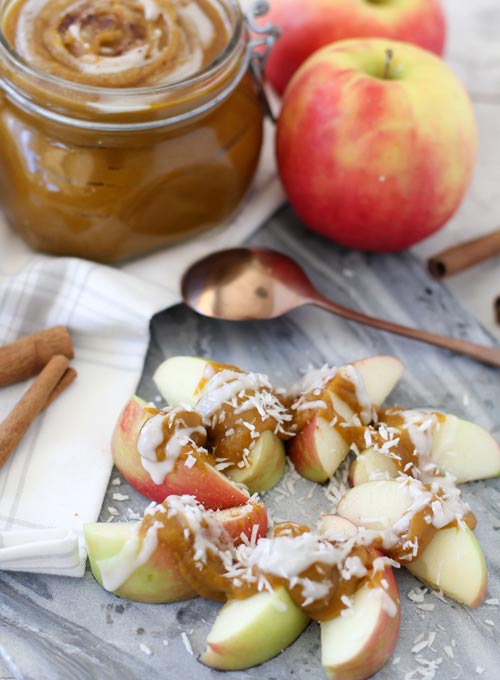 There's several different ways you can enjoy this dip. My personal favorite is with another fall favorite, apples! I'll slice up a crisp apple and dip it into the sweet, home-y Pumpkin Pie Dip for the perfect fall treat. Not to mention the kids gobble it right up making it the perfect after school snack.
Some other ways to enjoy this treat is as a dip for graham crackers (for the ultimate pumpkin pie experience), alongside a scoop of vanilla ice cream, or just scooping it up with a regular 'ol spoon.
While I was testing this recipe I sent some mason jars of it over to friends' homes and the verdict was in, grown-ups and kids alike loved it. And I can promise you will too.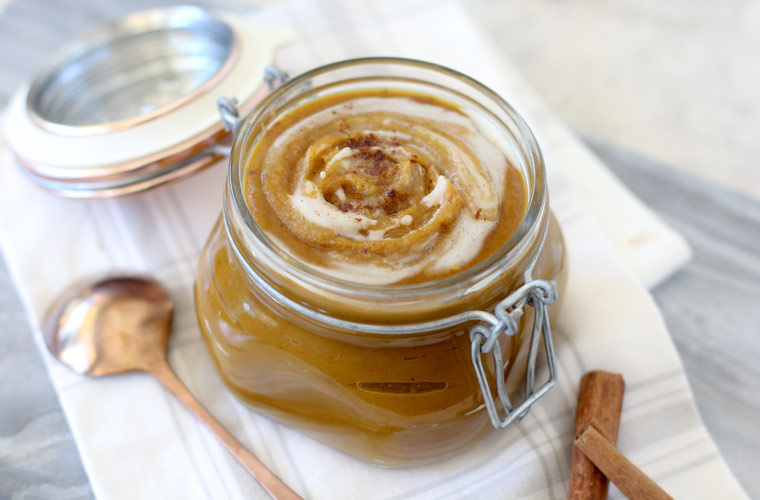 Spiced Pumpkin Pie Dip
Ingredients
1 c apple juice
15 oz pumpkin puree
1/2 cup maple syrup
1/2 cup coconut sugar
2 tbsp butter
1/2 cup coconut butter
2 tsp vanilla extract
2 tsp pumpkin pie spice
1 tsp cinnamon
Pinch of sea salt
Directions
Add all ingredients to your Blendtec WildSide+ jar and pulse until smooth.
Add pumpkin mixture from your Blendtec into a large stock pot or dutch oven.
Heat on medium heat until it starts to bubble.
Simmer for 15 minutes on low.
Pour into an airtight container and place in refrigerator to cool for several hours.
---