Soft Whole Wheat Dinner Rolls & Cinnamon Honey Butter
Thanksgiving dinner isn't complete without some warm, fresh dinner rolls. Glenda from Busy-At-Home shared her whole wheat dinner rolls recipe with us. This recipe includes grinding wheat berries into your own wheat flour using the Blendtec blender within two minutes! Cooking from scratch doesn't always mean extra time. These rolls paired with our Cinnamon Honey Butter recipe will have your guests raving! We've even included printable recipe cards so you can print 'em and add 'em to your collection.
Soft Whole Wheat Dinner Rolls
INGREDIENTS
5 cups wheat berries (or 4-5½ cups whole wheat flour)

2 tbsp yeast

½ cup warm water

½ cup butter, softened

¼ cup honey

3 eggs

1 cup buttermilk or milk

1½ tsp salt
DIRECTIONS
Add 2½ wheat berries to a FourSide or WildSide+ jar and secure lid.

Blend on High speed for 50 seconds and place in a large bowl.

Repeat with remaining wheat berries and set flour aside.

In a small bowl, add yeast to warm water. Stir and set aside.

In a mixing bowl, cream butter and honey together.

Add eggs, milk and yeast mixture, mix until incorporated.

Add salt and 1 cup of flour at a time, mixing thoroughly with each addition.

If using an electric mixer, knead for 2 minutes with dough hook. If mixing by hand, knead the dough and add more flour until the dough is no longer tacky.

Let the dough rest and rise for about 1 hour.

Form into 2" dough balls and place on a greased 9x13" pan or cookie sheet. Let rolls rise until doubled in size.

Bake at 350°F for 20-25 minutes or until golden brown. Remove from oven and brush the tops with softened butter.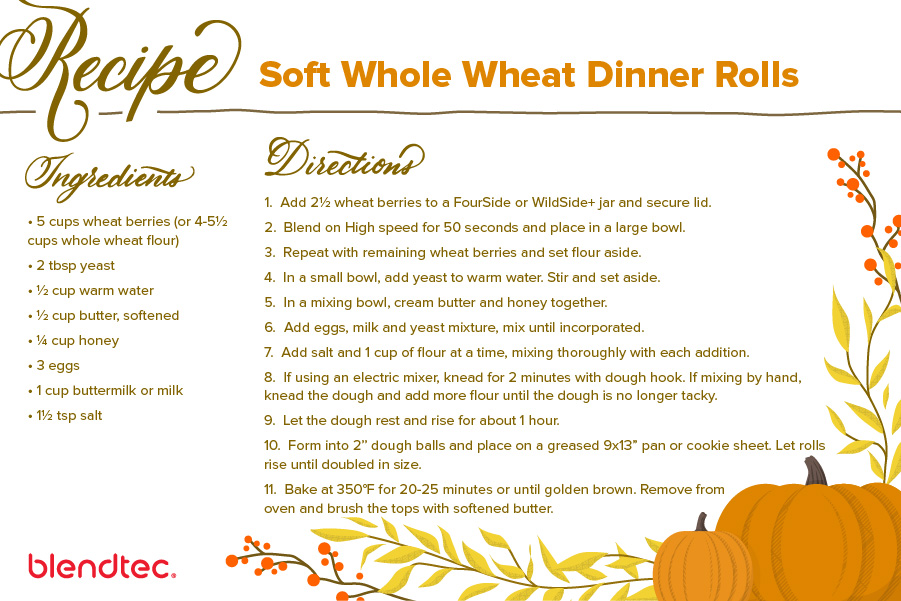 Soft Whole Wheat Dinner Rolls Recipe Card »
Cinnamon Honey Butter
INGREDIENTS
1 cup butter, softened

1

⁄

2

  cup honey

1

1

⁄

2

  tsp ground cinnamon

1

⁄

2

  cup powdered sugar
DIRECTIONS
Add all ingredients to Twister jar in order listed and place Twister lid on jar.

Blend on a Low speed for 5–7 seconds while turning Twister lid counter-clockwise.

Serve immediately or store in an airtight container in the refrigerator for up to 3 weeks.

Remove butter from refrigerator and allow to soften before serving.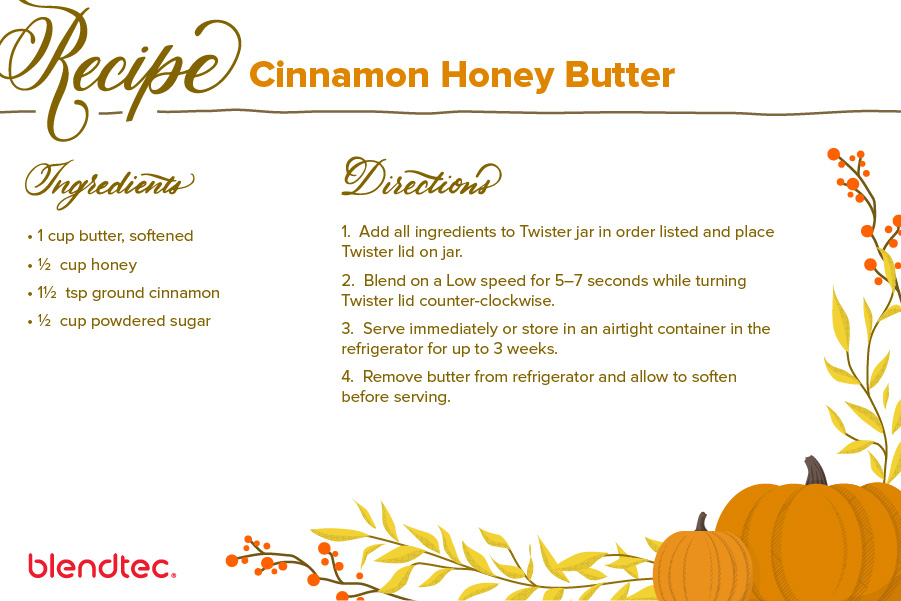 Cinnamon Honey Butter Recipe Card »
Meet the Blogger
We caught up with Glenda from Busy-At-Home to learn a little bit more about the foodie behind this yummy recipe.
Glenda is a twenty-three-year homeschool veteran with a passion for family, saving money, baking and recipes. In October 2009, she married those passions with a love of writing, and launched Busy-at-Home, a blog for busy wives and moms. She knows exactly what it means to be, just like you, "busy-at-home" and she's enthusiastic about sharing what she's learned along her journey. Reviews & giveaways of products relevant to busy moms and their families are regular features on her blog. Busy-At-Home | Facebook | Twitter | Instagram
What are your favorite holiday traditions? When our oldest girls were little, my husband received a set of ice cream soda glasses and an ice cream scoop with Hershey's syrup, as a holiday gift. That year, we went to Christmas Eve services, drove around to look at Christmas lights and then came home and made ice cream sundaes for Christmas Eve supper. The girls were 4 & 6 at the time. That tradition has carried on for 26 years, now. Christmas Eve services, drive around to look at lights and then ice cream sundaes for Christmas Eve supper. I have added to our soda glass collection over the years, picking up extras at thrift stores and garage sales. All the kids and grandkids will be here to keep the tradition alive, this year. It's one of my absolute favorite times!
Where/who do you draw inspiration from? My family is my inspiration.
What is your favorite Thanksgiving tradition? Putting up the Christmas tree together on Thanksgiving evening while my famous Thanksgiving Casserole is in the oven for a late supper!
Do you have any holiday recipes that have been passed down? No, but we have a few that have been passed down from me to my kids and they are making them for their own families. Two that come to mind are Mandarin Orange Salad and Cranberry Apple Salad. It wouldn't be Thanksgiving without both of them, for any of our kids.
How do you develop new recipes? Sometimes, they are happy accidents. Usually, though, I get an idea in my head and I start playing around with how I could alter, combine or update recipes I already know to make them come out like I am imagining. Having a good repertoire of basic recipes, i.e. basic bread, basic cookies, basic chocolate cake, etc. in my head gives me a good launching point to get creative and create something completely new.
Want to win a Blendtec blender? Follow Busy-At-Home for details on their giveaway! Already own a Blendtec? Win a jar by posting pictures of your holiday celebration and use the hashtag #PartyWithBlendtec. We'll randomly choose some lucky jar winners - it could be you!
---