Skinny Berry Cheesecake Smoothie
By Kami Watson of Sweet Charli
I love being able to blend something healthy up when I am on the go. This berry cheesecake smoothie is a favorite not only because of the taste, but also because it has fiber, protein, and calcium! It wasn't until I got my first Blendtec that I really started to enjoy coming up with new recipes.
My goal has been to create recipes that both my kids and myself can enjoy equally. This berry cheesecake smoothie does just that. The flavor of creamy vanilla, favorite berries, and graham all come together just perfectly to make you want to keep sipping it down. My kids love it! For this smoothie I use a variety of berries. I've made strawberry (pictured), blueberry, and raspberry cheesecake smoothies. All are delicious, and whichever you have on hand will be sure to please your taste buds.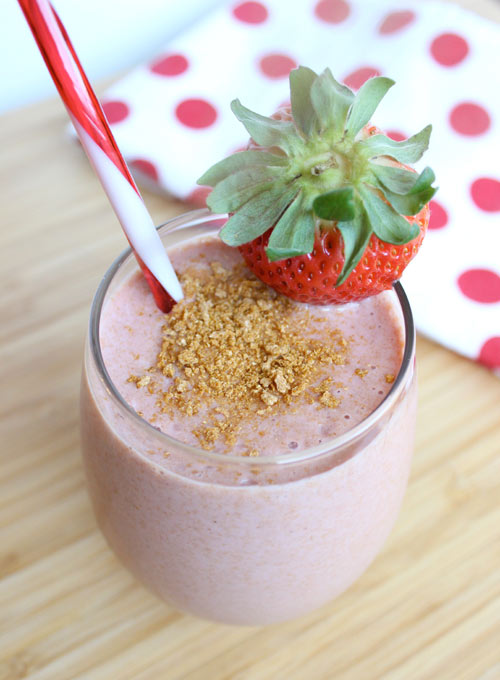 Skinny Berry Cheesecake Smoothie
Ingredients
(yields two servings)
1¼ cups almond milk
1 cup vanilla greek yogurt
1 cup Fiber One original cereal pellets
1¼ cups frozen berries (your choice)
6 ice cubes
 Directions
Place ingredients in your Blendtec in order given.
Blend on "Smoothie" setting. (If your Blendtec doesn't feature a smoothie cycle, blend on a Low speed for 10 seconds, then a Medium to Medium-Low speed for 10 seconds, then Medium to Medium-High speed for 40 seconds.)
Serve in your favorite cup with a straw and sip away.
Serving suggestion: Top with whipped cream and/or crushed cereal. Enjoy!  
About the Author Kami is a wife, mother, and lifestyle blogger over at Sweet Charli, where she shares ideas for making life sweet. She loves being in the kitchen teaching her two girls all about baking, health, and nutrition. Her recipes have been featured on many websites and local and national TV shows, including the Rachael Ray Show. Kami is noted for creating healthy recipes to match her healthy lifestyle. Find other healthy recipes on her blog or follow along with her on Instagram.
---
4 comments
---
---