By Holly Nilsson of Spend with Pennies
If you like hummus you'll love this Pumpkin Hummus recipe! We served this recipe at a recent gathering and it's been dubbed as the "best hummus we've ever had". It's deliciously flavorful and savory with just a subtle hint of pumpkin to welcome fall.
If you haven't made homemade hummus before, you're going to be amazed at how quick and easy it is (under 5 minutes including prep)! When making this recipe you're going to want to use the Twister jar to get that perfect hummus consistency. Simply add all of the ingredients in the order listed and use the Sauce button.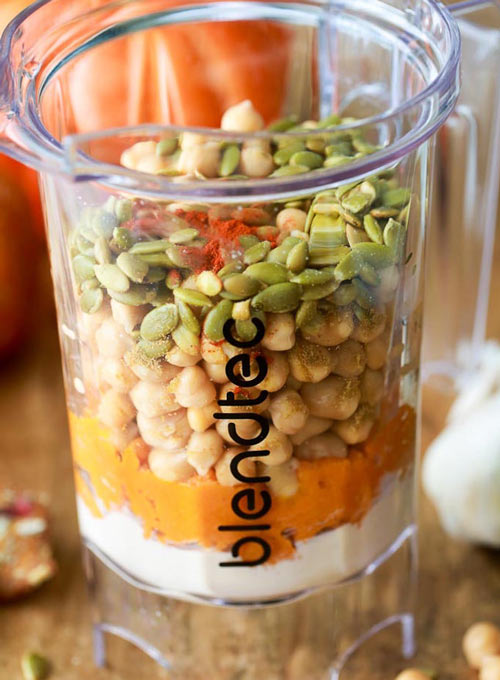 This hummus starts with a base of chickpeas (also known as garbanzo beans), which are loaded with protein and fiber. We use the canned variety, drain them and give them a quick rinse to remove some of the sodium. If you prefer you can certainly cook your own dried chickpeas.
Canned pumpkin is added to make this hummus both delicious and velvety smooth.  Fresh pumpkin will work perfectly in this recipe too, just simply boil or roast until soft and tender and add it to the mixture.
Don't skip the tahini in this recipe; a little bit goes a long way! Tahini is a paste made of sesame seeds (with a texture similar to a nut butter) and can be found in most grocery stores near the peanut butter. And finally, pumpkin seeds are added to the mixture. As with most nuts and seeds, they add a ton of extra flavor to this dish.
We serve this with our favorite gourmet crackers but it's perfect with any type of cracker, tortilla chips or as a veggie dip. Because this hummus lasts about 5 days in the refrigerator, it's perfect to prepare and pack as a dipper for veggies for lunches.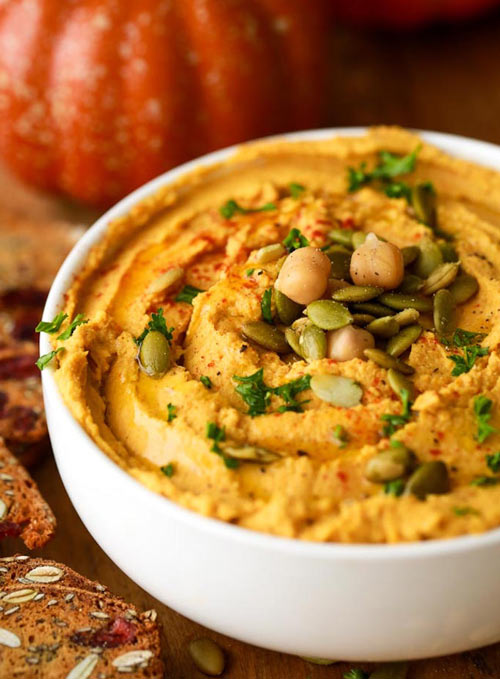 Pumpkin Hummus
12 Servings
Ingredients
4 tbsp fresh lemon juice
3 tbsp tahini
2 tbsp olive oil
1 large clove garlic
½ tsp salt
½ tsp pepper
1 (15oz can) chickpeas/garbanzo beans, drained and rinsed
1 cup canned pumpkin puree
½ tsp smoked paprika
1 tsp cumin
¼ cup pumpkin seeds
Toppings
1 tbsp olive oil
1 tbsp pumpkin seeds
paprika
Directions
Add the first 6 ingredients to the Twister jar, and place Twister lid on jar. Press pulse until smooth. Turn lid counter-clockwise while blending.
Add in remaining hummus ingredients and select Sauces/Dips/Dressings/Batters, or blend on a Medium to Medium-Low speed for 30 seconds..
Place in a serving bowl and top with olive oil, pumpkin seeds, and a sprinkle of paprika.
Serve with crackers or vegetables for dipping.
Store in an airtight container for up to 5 days in the refrigerator.
---