Savory Herbed Avocado dip
By Chelsea Lords of Chelsea's Messy Apron
This delicious herbed avocado dip is one of the quickest dips you'll make thanks to the Blendtec! All of the ingredients get thrown into the jar together and then blended. Easy as that!! To enjoy this dip: pretty much any vegetable you can think about will taste great in it. Our favorites are carrots, cucumber, celery, sweet bell peppers, and cherry tomatoes. This dip also doubles as a delicious sandwich spread or a tasty way to top your toast for an afternoon snack.
For a fun recipe variation: top a piece of toast with this herbed avocado dip, a sliced roma tomato, and some red pepper flakes for a little kick of heat! As always, feel free to adjust the herbs to your personal preference by reducing flavors you enjoy less or adding more of what you love! Enjoy!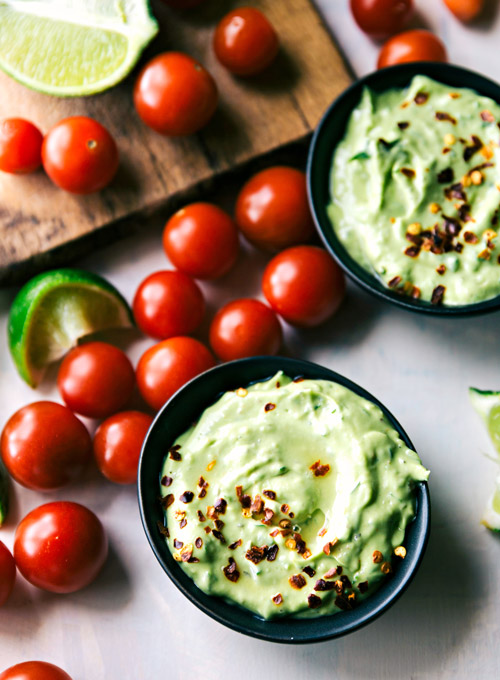 Savory Herbed Avocado Dip
Ingredients
1 very large ripe avocado
1/4 cup full fat mayo
2 teaspoons freshly squeezed lemon juice
1/2 teaspoon lemon zest
2 tablespoons tightly packed fresh Italian parsley leaves
2 tablespoons tightly packed fresh basil leaves
Salt and pepper, to taste
Optional: red pepper flakes
Serve with: fresh chopped veggies such as carrots, cucumbers, celery, tomatoes
Instructions
Remove the skin and pit of the avocado.
Combine all of the ingredients in a Blendtec Twister jar and puree until smooth. Turn lid counter-clockwise while blending.
Transfer to a serving bowl and serve with fresh veggies.
If desired, sprinkle some red pepper flakes over the dip.
Alternatively, serve this as a sandwich spread in place of traditional mayo.
Best enjoyed within the same day it is made.
---