By Yvonne Feld of Tried and Tasty
I never knew until recently just how easy it is to make your own butter. As a baker I am constantly going through butter. In fact, I've used so much of it that we bought it from Costco just about once a month. That's a LOT of butter. But it's nice to know how simple it is to whip up a batch for special occasions. And it's a savory version that's out of this world. 
Last year I posted a whole week of burgers and buns and loved every minute of it. I wanted to try something a little new and a little fresh this year. After whipping up a batch of this yummy delicious Homemade Garlic Butter I thought to myself just how tasty it would be slathered on a grilled crusty hamburger bun—complete with your favorite burger. Delicious! Here you've got the recipe for the butter. Then head on over to Tried and Tasty for the quick and easy recipe for the most delicious toasted hamburger buns that will make you want to grill every night!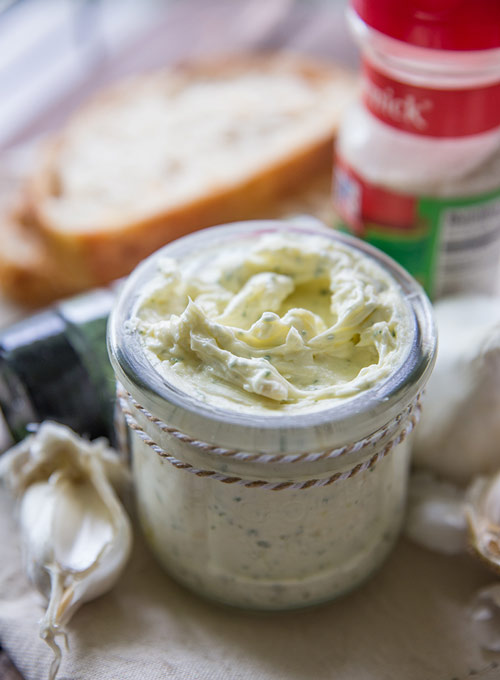 Savory Garlic Butter
Ingredients
2 cups heavy whipping cream
4 cloves garlic
1½  tsp salt
½ tbsp parsley
¼ cup grated Parmesan
Directions
Blend the heavy cream, garlic, salt, and parsley in your Blendtec Twister jar on a low speed for 3-5 minutes.
After approximately 3–5 minutes the cream will start to separate into butter and buttermilk. When you notice that happening, stop the blender and let the cream sit for a minute or two as the butter rises to the top.
Pour the buttermilk into another container, using a spoon to press as much buttermilk out of the butter as possible.
Add the grated Parmesan and blend until well combined.
About the Author
When she's not at work or spending time with family or friends, chances are you'll find Yvonne in the kitchen wearing an apron and a smile. Her passion for cooking and baking is endless and her appetite for trying out new and tasty recipes is unquenchable! In fact, that's why the name of her recipe website is
TriedandTasty.com
. Yvonne slices, dices, and sautés her way through an abundance of new recipes on a regular basis and delivers only the best to her site's treasured visitors.
---
1 comment
---
---