By Trina Holden of trinaholden.com
Savory crepes are a unique way to turn ordinary ingredients into something fancy for a brunch or just a quick meal on a busy day. Fill them with turkey and cranberry sauce or ham and cheese, nutella and strawberries, or your favorite crepe filling.
I love using my Blendtec for pancake or crepe batter because I don't have to get my grain mill or mixing bowls out: the Blendtec grinds the grains and makes a super smooth batter I can pour straight from the container right into the pan!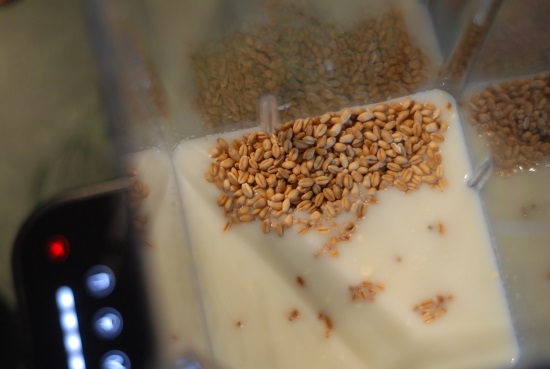 Here's a recipe for crepes that you can fill with any manner of sweet or savory fillings. Crepes are easy to make and fill ahead of time; just reheat when you're ready to serve them.
Blender Crepes
Ingredients
Makes 8 large crepes
4 tbsp butter
⅔ cup cold water
⅔ cup milk (plus more for thinning)
1 cup wheat berries (or, 1½ cups flour)
2 eggs
½ tsp salt
Instructions
1. Combine the water, milk, and grain (or flour) in the Blendtec container and mix at high speed for 1 minute.
2. When batter is smooth, add eggs and salt and blend on low speed for 5 seconds. Through the opening in the lid, carefully pour the melted butter into the batter while mixing on low.
3. Check the batter for consistency. It should be a bit thinner than traditional pancake batter, more like the consistency of pancake syrup. If it seems too thick, add a bit more milk. If too thin, blend in some unbleached white flour, one tablespoon at a time.
4. Heat an 8-10 inch pan over medium heat with just a bit of melted butter to grease the bottom. When the pan is hot, pour a few tablespoons of batter straight from the Blendtec container into the middle of the pan. Immediately lift the pan slightly by the handle and tilt it in a slow, circular motion to spread the batter in a thin layer all the way to the edges.
5. Cook crepe for about 15-25 seconds on one side, or until it starts to dry out on top. Loosen the crepe around the edges with a spatula, then gently flip it over. Cook for 15-20 more seconds till lightly browned on bottom, then transfer to a wire rack to cool.
Filling suggestions:
Leftover turkey or ham with cranberry sauce and grated cheese
Deli meats and sliced cheeses with a squirt of brown mustard
Shredded chicken, avocados, cheese and salsa
Fill crepes, roll up, and place on a baking sheet. Warm them through in a 300°F oven before serving.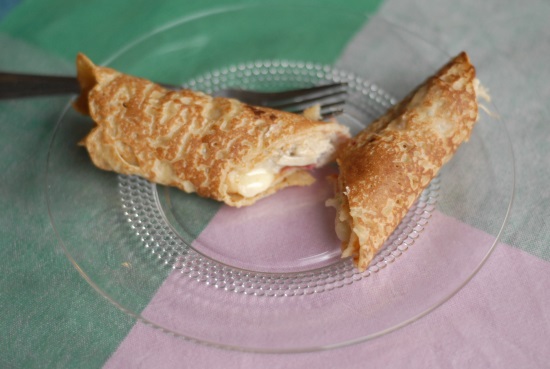 About the Author Trina is the author of two real food cookbooks and blogs at trinaholden.com. She and her husband work together to create resources for families who want to fit more real food into their busy lives. They homeschool their 4 children in Alabama, and start many mornings with a big, fat family smoothie.
---