Quinoa Chicken Bake with Black Bean Puree
There's something completely magical that happens when you flatten chicken out and stuff it with yummy goodness. This recipe is no exception! Quinoa, fresh salsa, spices, and cheese combine for the perfect ooey, gooey filling. Top it with a flavorful black bean purée and you're in Mexican rolled chicken heaven!
Mexican Quinoa Chicken Bake
Serves 4
Ingredients
4 large chicken breasts
1 cup prepared quinoa
½ cup fresh salsa or pico de gallo
1 tsp cumin
½ tsp chili powder
Salt and pepper to taste
1 cup Mexican blend cheese
Preheat oven to 375°F
Flatten chicken out between two sheets of Saran Wrap using a mallet. Pound until chicken is thin enough to roll. Repeat with all four breasts.
In a separate bowl, combine cooked quinoa, salsa, and cheese. Place approximately ¼ cup into each chicken breast and roll up. Place in pan seam side down.
Sprinkle prepared chicken with seasonings. I used cumin, chili powder, kosher salt, and pepper. I've also used ranch seasoning with awesome results!
Bake chicken in a prepared pan (sprayed with cooking spray) for 40–45 minutes or until chicken is thoroughly cooked. 
Black Bean Puree
Ingredients
1 can black beans, rinsed
Approximately ¼ cup 1% milk (enough to reach desired consistency)
1 tbsp garlic salt with parsley
1 tsp cumin Juice from one lime, freshly squeezed
Blend in your Blendtec Twister jar until you reach desired consistency. You'll want it thin enough to pour over chicken, but not so thin that it's runny. Just keep an eye on it while blending. This also makes an awesome bean dip! (Just use less liquid.)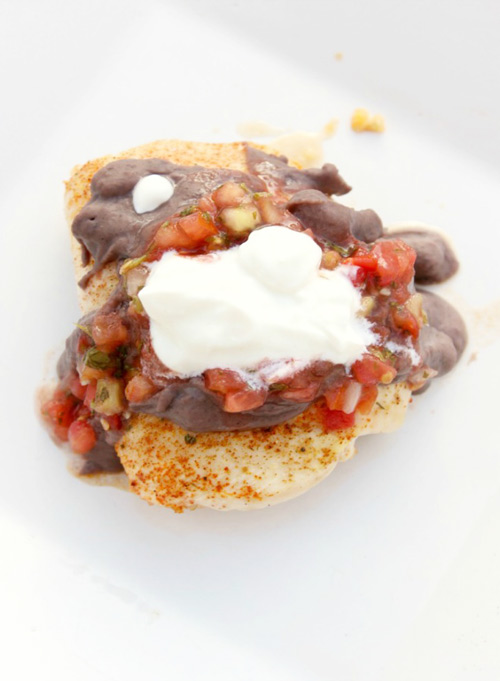 About the Author
Andie is a busy Mom and fitness enthusiast. In the midst of raising 3 adorable kiddos, she created
Maybe I Will
(her blog) to share her health and fitness tips, drool-worthy recipes, and killer workouts! All designed to help you be the best YOU possible! Find her on
Facebook
, 
Twitter
, 
Pinterest
 and 
Instagram
 for more healthy recipes and healthy living tips!
---