By Celeste Noland of Life After Wheat
This Piña Colada Nice Cream will take you away on a mini vacation to the tropics! No need to feel guilty for this little indulgence, though! There is no added sugar - just 4 simple and natural ingredients that come together to make a perfectly creamy, cool treat packed with pineapple and toasted coconut flavor! This recipe is gluten and dairy free.
Hi everyone, my name is Celeste and I'm an ice-cream-aholic. I will readily admit that if it was socially acceptable, I would eat frozen desserts for breakfast, lunch, dinner, and everything in between. I LOVE ice cream! Now as you all know, ice cream is often loaded with sugar and fat so it's not great to consume on a daily (hourly?) basis.
Well, today I'm going to share one of my all-time favorite treats with a healthy twist: Nice cream! Have you tried nice cream yet? It's simply blended frozen fruit that has the texture of ice cream. This particular recipe also adds a splash of coconut milk to give it an incredibly smooth and creamy consistency while boosting the coconut flavor. Add in juicy pineapple, fresh bananas, and some toasted coconut and you have a real winner! It's perfect for hot summer days, or those cold winter afternoons when you wish it was hot and sunny and you were sitting on the beach.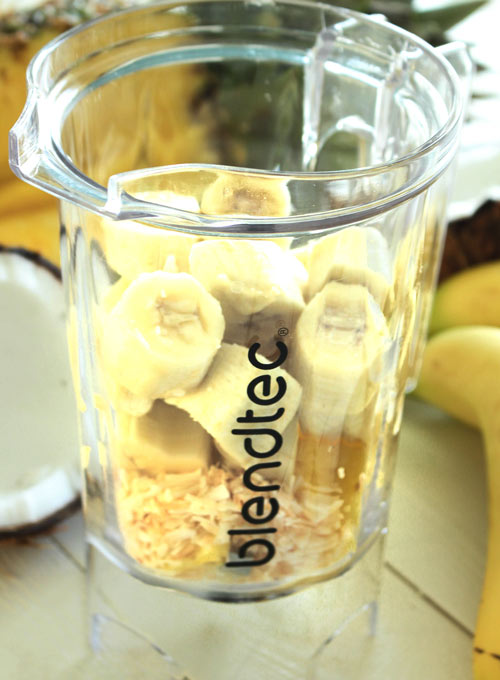 One of the best benefits of a Blendtec is that it can handle tough jobs, especially if you're using the Twister jar, which makes preparing nice cream a snap! This recipe is so easy to prep ahead of time: simply slice your fruit, arrange in a single layer on a parchment lined baking sheet, and pop in the freezer until fully frozen. It's best to do this the day before you plan to make nice cream.
Once it's frozen, you can pop that frozen fruit into freezer bags and save the extras for next time! You can also make a larger batch of toasted coconut and store leftovers in an airtight container for a few weeks. Here's a fun serving idea: dip the top edges of your favorite ice cream cones (we used gluten free) in melted dark chocolate, then roll in toasted coconut. Let them cool until the chocolate has hardened (5 minutes in the fridge will do the trick), then fill with Piña Colada Nice Cream. The kids absolutely loved it!
Recipe Notes (read before you make!):
Slice your pineapple and banana to be about the same size pieces. That way you end up with the perfect flavor ratio for your nice cream when you measure the ingredients.
Use fresh ingredients. While you can use a package of pre-frozen fruit, the fresh flavors of this nice cream really shine when you freeze them yourself and use shortly after (within a few days).
To toast coconut, spread it out in a thin layer on a baking sheet and bake at 325°F about 5 minutes. Watch it carefully and stir once or twice while it's cooking. It cooks quickly! Remove when it's a light golden brown.
Be sure your fruit is fully frozen and be ready to eat once it's made; nice cream melts a little more quickly than regular ice cream.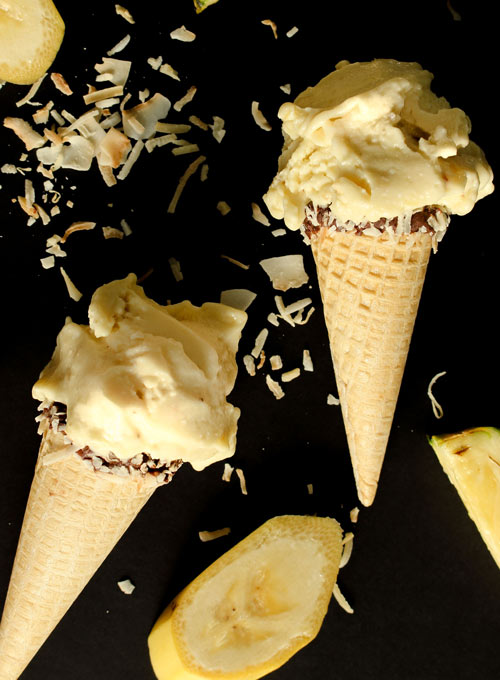 Piña Colada Nice Cream
Ingredients
¼ cup full fat canned coconut milk (you can find this in the Asian section of your grocery store. Shake the can well before opening)
2 tbsp toasted coconut, plus extra for garnish (I made 1/4 cup total)
1 cup frozen pineapple chunks (about the size of canned pineapple chunks)
1 cup frozen banana slices
Instructions
In your Blendtec Twister jar, layer the ingredients in order listed above.
Pulse a few times to incorporate the ingredients, then select the Ice Cream setting, or blend on a Low speed for 15 seconds, then blend on a Medium to Medium-High speed for 30 seconds..
Scoop into serving bowls or ice cream cones and enjoy immediately.
For more tasty gluten free recipes the whole family will love, visit my site 
Life After Wheat
. You can also connect with me on 
Facebook
, 
Twitter
, 
Pinterest
, and 
Instagram
. Thanks for reading!
---
10 comments
---
---