Peanut Butter and Jelly Smoothie
By Amy Anderson of DIY Candy
When the weather is warm, I definitely go into smoothie mode for meal replacement. Last summer I found myself frequenting a well-known smoothie establishment and spending quite a bit of money. One of my favorites was a lower sugar protein smoothie that tasted like a Peanut Butter and Jelly sandwich. It was delicious!
This summer I got my Blendtec and decided to start making my own versions of my favorite smoothies – the "PB&J" (as I called it) was my first to tackle. I spent some time perfecting the recipe and I believe I've come up with the perfect version of the peanut butter and jelly smoothie that had stolen my heart.
What I love about this recipe is that you have some substitutions depending on how sweet you'd like your smoothie to be. You can use real peanut butter instead of the PB2 powder, and you can even swap out the almond milk for coconut milk or water if you like. I hope you'll give this recipe a try and let me know how much you love it in the comments – and what substitutions you used, if any!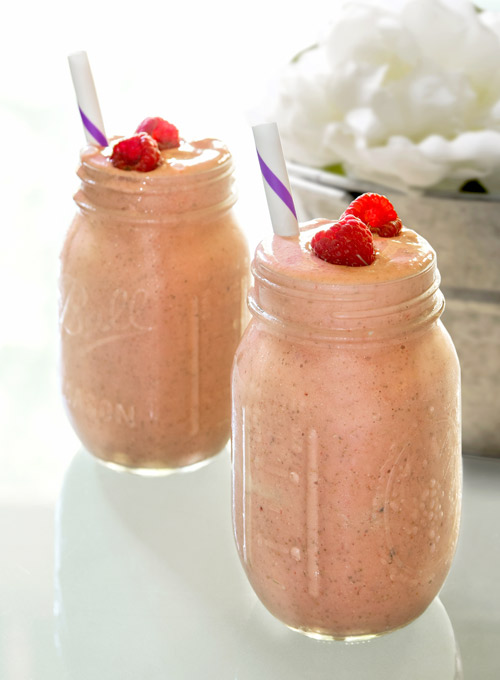 Peanut Butter and Jelly Smoothie
Ingredients
10 – 12 frozen strawberries (you can also use fresh if you like)
2 1/4 cups vanilla almond milk (you can use unsweetened to reduce sugars)
1 tbsp chocolate protein powder
2 tbsp PB2 peanut butter powder
1 tbsp chia seeds
Ice
Directions
Add ingredients to WildSide+ jar and secure lid.
Select "Smoothie."
Add more almond milk if needed.
Makes two 12-ounce smoothies. Pour into glasses and garnish with fruit.
Enjoy!
About the Author
Amy lives in Atlanta, Georgia with her boyfriend and two dogs. She shares all sorts of recipes from desserts to clean eating delicacies on her blog DIY Candy. Follow her on Facebook, Twitter, and Pinterest for more yummy inspiration.
---