By Sarah Randall of Cook.Can.Read.
Parsnips are often overlooked. They are not as familiar as carrots, nor as beautiful as beets. In fact, they tend to be drab-white and funny shaped. They don't do well raw, like turnips, and they're not restaurant darlings like celery root. (It seems every restaurant we went to this winter had celery root mash on the menu.)
Many people don't quite know what to do with parsnips. I recently discovered that they are great to roast, alone or in combination with other root vegetables. They turn a lovely golden brown and become sweet and tender. You can eat roast parsnips as is, or take them one step further and make soup. I'm still finding really nice parsnips at the farmers market, so I encourage you to pick up a pound and give this soup a try.
Today I'm sharing a recipe that transforms humble parsnips into a creamy (without the help of any dairy products), sweet and sour soup. It is naturally gluten-free, low in fat, and flavorful: apples accentuate the natural sweetness of the parsnips, curry powder adds warmth and just a little spice, and cider vinegar adds brightness and depth of flavor. I try to find parsnips that are firm, not at all soft, uniformly white with as few brown spots as possible, and as "round" as possible. Long, thin roots can burn when you try to roast them and are nearly impossible to peel, so try not to buy them.
For the apple, chose a variety that is crisp when you take a bite and is more sweet than tart; my favorite choices are McIntosh, Pink Lady and Honeycrisp. As a bonus, I'll tell you how to use all the same ingredients to make a delicious substitute for mashed potatoes. This parsnip soup, or purée, is so delicious you'll be looking for an excuse to make another batch.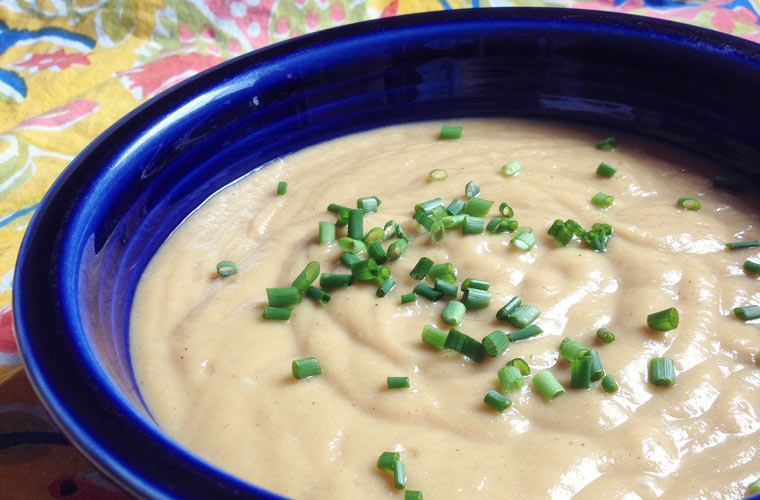 Parsnip Soup
(vegan, gluten-free, paleo friendly)
Ingredients
1 lb parsnips, peeled and cut into 1" chunks
1 apple, cored and cut into 1"chunks
2 tbsp olive oil
1 tsp curry powder
½ tsp kosher salt
3 cups vegetable stock*
1 tbsp apple cider vinegar
Freshly cut chives to garnish
Directions
Preheat the oven to 375 degrees. Cover a baking sheet with aluminum foil.
Combine the parsnips and apples in a large bowl. Add the olive oil, curry powder, and salt and toss to coat. Spread the mixture on your foil-lined pan in a single, even layer. Roast for 40 minutes. After 20 minutes, rotate the pan 180 degrees and use a spatula or wooden spoon to turn the parsnips and apples.
Pour the stock into Your Blendtec's Wildside+ jar. Add the vinegar and roasted vegetables. Press the Soups/Syrups/Fondues button to blend your mixture to a creamy, thick soup. If your Blendtec doesn't feature those buttons, blend on a High speed for 90-180 seconds, blending longer for hotter soup. Taste and add salt if needed. Serve immediately, garnished with chives.
The soup will keep in a tightly covered container for up to four days.
*For a really interesting twist on mashed potatoes, use only 2 cups of stock when you blend and only 1 tsp. vinegar. You'll get a velvety, thick puree that is wonderful served with roasted chicken, pork chops, grilled steak or braised greens.  
About the Author
Sarah Randall writes Cook.Can.Read, exploring international cuisines and flavors against a backdrop of locally-sourced ingredients. She grew up baking cookies with mom, watching Nana make Swedish dishes for the extended family, and picking strawberries on her grandfather's farm in Maine. Sarah loves to find new dishes to make for her husband and friends in Seattle and is an avid reader and maker of pickles and jams.
---