It's the last day of February, and in case any of you didn't know, it is National Heart Health Month. So to finish the month out, I wanted to share some tips along with a heart healthy recipe.
5 Healthy Heart Tips
1. Strengthen your heart health with weights.
Strength training a couple of times a week will help burn fat and keep the weight down around your mid-section, which is directly associated with your heart health. You should see an improvement in your HDL (good cholesterol) after establishing a regular weight training routine.
2. In bed by 10 PM and aim for 7+ hours of sleep per night.
If you are not getting a good night's rest you are increasing cortisol (the stress hormone), which makes arteries more vulnerable to plaque buildup. To make going to bed easier, stop any caffeine drinks by noon and limit TV, computers, mobile devices, and other electronics an hour or so before bedtime.
3. Eat more fruits and vegetables.
Fruits and vegetables are high in vitamins and minerals but low in calories, which makes it easier to stay at a weight that's ideal for heart health. Fruits and vegetables also contain nutrients that prevent cardiovascular disease. Enjoy at least five servings a day.
4. Kick stress to the curb.
Stress is something that affects all of us daily and takes a toll on our heart health. You can manage your stress and make huge improvements on the impact it has on your body. Reserve time each day to improve your stress level. There are so many options, including spending a few minutes in nature, journaling, reading a few pages of a good book, listening to music that makes you happy, calling a friend that makes you laugh, or practicing meditation.
5. Drink more H2O.
According to a six-year study published in the American Journal of Epidemiology, increasing your water intake to 5+ glasses a day decreases your chances of dying from a heart attack by 41%. A great way to drink more water is to use it as the base for your smoothies.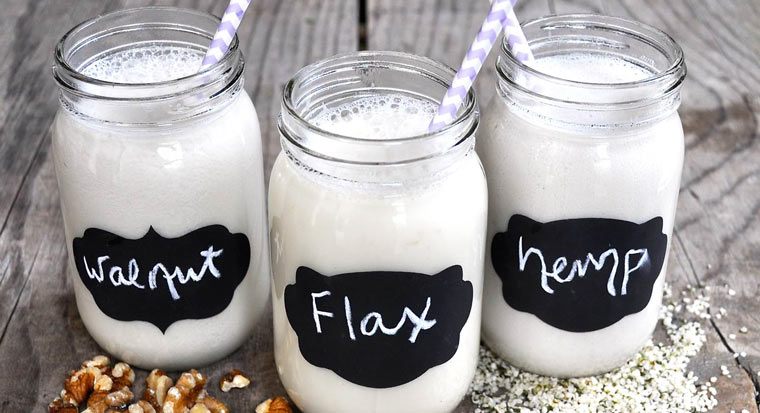 Super Omega-3 Milk
Ingredients
1 cup flaxseeds, hemp seeds, or walnuts soaked in water 4–6 hours
4 cups water
¼ tsp Himalayan salt
2 dates, pitted
Vanilla extract to taste
Directions
Combine ingredients in your Blendtec and press the Whole Juice button. If your Blendtec doesn't have a Juicing button, blend on Medium or Medium High for 50-60 seconds.
Using a nut milk bag, cheesecloth or pantyhose leg (new ones that you don't mind cutting up), strain the milk.
Milk can be stored in a glass jar for up to five days.   
You can learn more about Monica Parodi and her story here.
Follow Monica for more great recipes and tips:
www.monicaparodi.com
Facebook.com/thenutritionista
https://www.pinterest.com/monica_parodi
http://instagram.com/monica_parodi
https://twitter.com/monica_parodi
---