Nutty No Bake Energy Bites
Let's talk snacking. I'm a huge snacker. Always looking for something to chomp on. Beware though, your choice of snacks can either help or hinder you. The way I like to plan my day is with a filling breakfast – something like overnight oats for example. Between breakfast and lunch I'll have a mid-morning snack. After lunch rolls by, before dinner I'll have a mid-afternoon snack. Then after dinner
if
I have enough calories leftover at the end of all of that, I'll have an after-dinner snack to finish out the day. I try to a) plan ahead so that I'm scavenging the break room of unhealthy madness and b) prepare healthy options to grab and eat whenever I need them. Energy bites are all the rage, as I'm sure you've seen. They are everywhere on the internet. How come? Because they are awesome bites of deliciousness. The perfect snack, mid-afternoon pick me up, or after dinner treat. Best part about them is they are ready in no time! These particular Nutty No-Bake Energy Bites are not your typical. While I love peanut butter something fierce, I did the ole switcheroo and decided to go with almond butter! Kicked up the nuttiness with sliced almonds, which were perfect! Let's talk about the ingredient lineup some more shall we? Flaxseeds are a rich source of micro-nutrients, dietary fiber, manganese, vitamin B1, and the essential fatty acid alpha-linolenic acid, also known as ALA or omega-3. As far as chia seeds go, 1 ounce of the powerful little seeds have 11 grams of fiber, 4 grams of protein, 9 grams of fat (5 being Omega-3's), 18% of the RDA of Calcium, 30% of the RDA of Manganese, 30% of the RDA of Magnesium AND as if that isn't enough, 27% of the RDA of Phosphorous. Those two superheroes alone make this recipe worth it!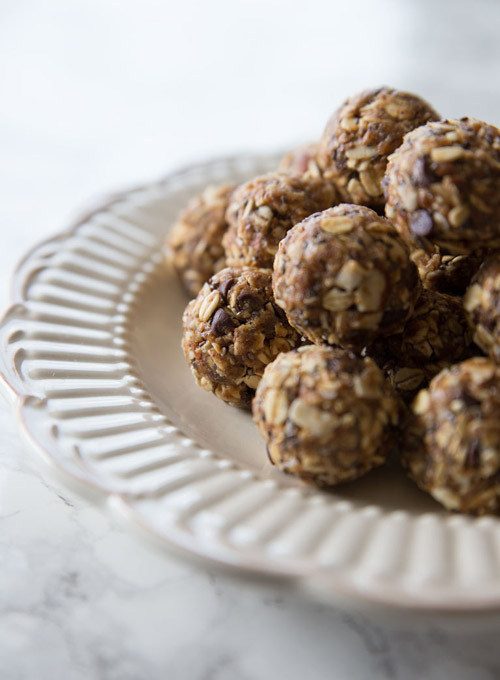 Nutty No Bake Energy Bites
Ingredients 1 cup rolled oats ¼ cup mini semi-sweet chocolate chips ¼ cup ground flaxseed ¼ cup sliced almonds ¼ cup almond butter 2 tbsp honey 1 tbsp chia seeds Directions Combine all ingredients into your WildSide+ jar. Pulse blender 10-12 times until mixture becomes well incorporated, yet not completely blended. Mini chocolate chips should still be intact. Form into 1-inch sized balls. Arrange on a baking sheet and refrigerate until set; about 10 minutes.  
About the Author
When she's not at work or spending time with family or friends, chances are you'll find Yvonne in the kitchen wearing an apron and a smile. Her passion for cooking and baking is endless and her appetite for trying out new and tasty recipes is unquenchable! In fact, that's why the name of her recipe website is TriedandTasty.com. Yvonne slices, dices, and sautes her way through an abundance of new recipes on a regular basis and delivers only the best to her site's treasured visitors.
---