The crêpe is a staple in France and can be filled with anything from sweet to savory flavors. Though crêpes are great any time of year, it's a tradition in France to serve them on February 2, which was originally known as Virgin Mary's Blessing day and then became known as avec Crêpe Day, referring to the ritual of offering crêpes. According to the tradition, if you toss a crepe in the air and catch it with a pan in your left hand while holding a gold coin in your right hand, you will become rich that year*.
Because crêpes are so delicious, I embrace any reason to celebrate and enjoy them. These versatile thin pancakes can be easily made with just a few ingredients. The best batter is thin and can be poured easily. Combine all the ingredients in your
Blendtec blender
, and within seconds you'll have a perfect batter for delectable crêpes. Fill your crêpes with some of your favorite foods. Crêpes can be eaten for breakfast, lunch, dinner, or even dessert.
Breakfast: Fill with fruit and yogurt or eggs, veggies, and cheese
Lunch/dinner: Fill with sliced turkey or cooked beans, salsa, and sliced cheese
Dessert: Fill with your favorite pie filling or whipped cream, drizzling the top with chocolate or berry sauce
Try the recipes below and enjoy crêpes on National Crêpe Day!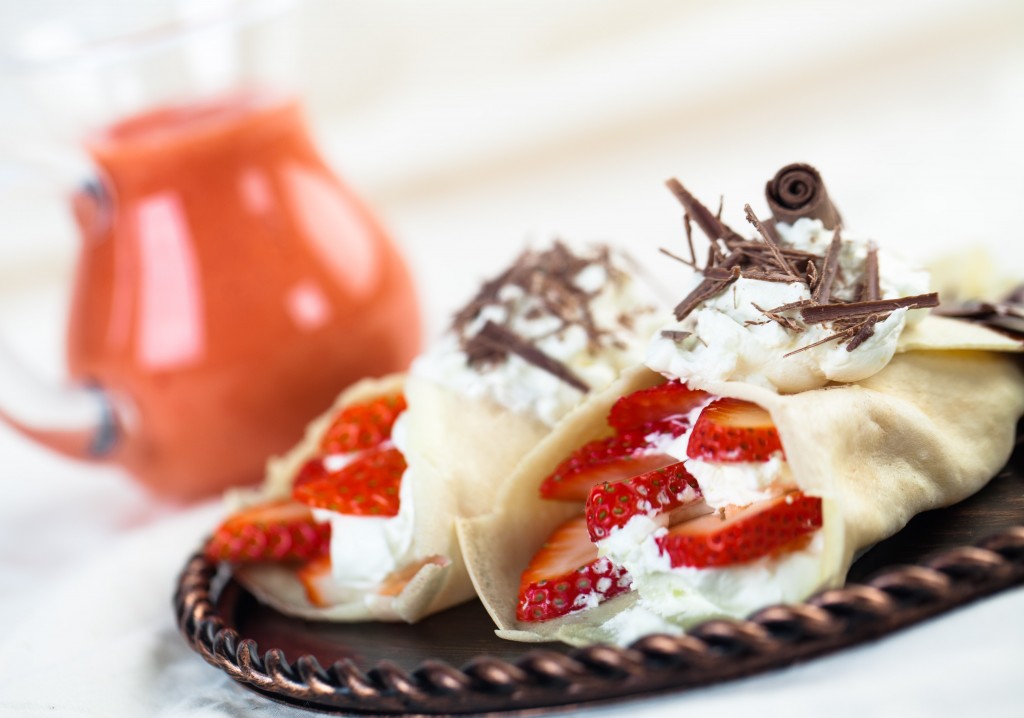 Basic Crêpes
2 large eggs 1 tbsp butter, melted 1½ c milk 1 c all-purpose flour Add ingredients to
FourSide jar
in order listed and secure lid. Press "Batters." Allow batter to rest for up to 1 hour in refrigerator. Heat skillet or crêpe pan over medium heat, and lightly coat with oil or cooking spray. For each crêpe, pour ¼ cup batter into center of pan and swirl pan gently to distribute batter in thin layer. Cook for 1 minute or until top begins to dry out and underneath is lightly golden. Flip and cook an additional 30 seconds or until done. Repeat with remaining batter. Stack completed crêpes on plate, placing wax paper between each crêpe to prevent sticking. Then, fill each crêpe with desired fillings and add any desired toppings. For a sweet variation, follow directions above and add 2 tablespoons sugar and 1 teaspoon vanilla extract to
FourSide jar
before blending. For a savory variation, follow directions above and add ¼ teaspoon salt to jar before blending. After "Batters" cycle is complete, add 2–4 tablespoons fresh herbs and secure lid. Press "Pulse" 4–6 times to chop and incorporate herbs. To prepare in
WildSide+ jar
, during "Batters" cycle, press "Pulse" to stop cycle with 5 seconds remaining. To prepare double recipe, use
WildSide+ jar
, following general recipe instructions above. Servings 5 Serving Size 2 crêpes Calories 170 Fat 5 g Sat Fat 2.5 g Cholesterol 95 mg Sodium 75 mg Carbohydrates 23 g Fiber 0 g Sugar 4 g Protein 8 g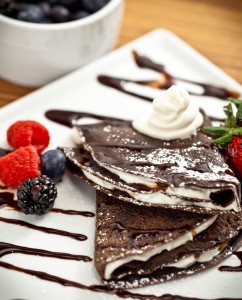 Cocoa Crêpes
1¼ c milk 2 large eggs 1 tbsp butter, melted ¾ c all-purpose flour ¼ c powdered sugar 3–4 tbsp natural cocoa powder ⅛ tsp sea or kosher salt Add ingredients to
FourSide Jar
in order listed and secure lid. Select "Batters." Allow batter to rest for up to 1 hour in refrigerator. Heat skillet or crêpe pan over low-medium heat, and lightly coat with oil or cooking spray. For each crêpe, pour approximately ¼ cup batter onto center of pan and swirl pan gently to distribute batter in thin layer. Cook for 1 minute or until top begins to dry out. Flip and cook 30 seconds or until done. Repeat with remaining batter. Stack completed crêpes on plate, placing wax paper between each crêpe to prevent sticking. Add fillings and/or toppings, if desired. To prepare in
WildSide+ jar
, during "Batters" cycle, press "Pulse" to stop cycle with 5 seconds remaining. To prepare double recipe, use 
WildSide+ jar
, following general recipe instructions above. Optional fillings and toppings:
Fresh berries
Sautéed apples
Sliced bananas
Fruit preserves
Chocolate hazelnut spread
Nut butter
Chocolate sauce
Sweetened whipped cream cheese
Whipped cream
Powdered sugar
For a dairy-free version, substitute coconut butter for the butter and use coconut milk for the milk. Servings 4 Serving Size 2 crêpes Calories 210 Fat 7 g Saturated Fat 3.5 g Cholesterol 115 mg Sodium 130 mg Carbohydrates 31 g Fiber 2 g Sugar 12 g Protein 9 g
Whole Wheat Crêpes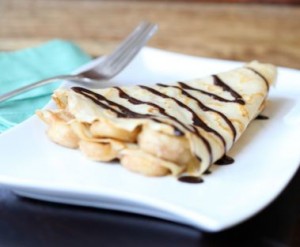 2 large eggs 1 tbsp butter, melted ¼ tsp kosher or sea salt 1½ c milk 1 c whole wheat Add ingredients to
FourSide jar
in order listed and secure lid. Press "Batters." Allow batter to rest for up to 1 hour in refrigerator. Heat skillet or crêpe pan over low-medium heat, and lightly coat with oil or cooking spray. For each crêpe, pour approximately ¼ cup batter onto center of pan and swirl pan gently to distribute batter in thin layer. Cook for 1 minute or until top begins to dry out. Flip and cook 30 seconds or until done. Repeat with remaining batter. Stack completed crêpes on plate, placing wax paper between each crêpe to prevent sticking. Add fillings and/or toppings, if desired. To prepare in
WildSide+ jar
, during "Batters" cycle, press "Pulse" to stop cycle with 5 seconds remaining. To prepare double recipe, use 
WildSide+ jar
, following general recipe instructions above. Servings 5 Serving Size 2 crêpes Calories 161 Fat 5.5 g Sat Fat 2.5 g Cholesterol 95 mg Sodium 194 mg Carbohydrates 21 g Fiber 3 g Sugar 4 g Protein 8 g How do you like to dress up your crêpes?   * http://365foods.wordpress.com/2010/02/02/national-crepe-day/
---
1 comment
---
---