Mediterranean Hummus with Zatar
By Jennifer Thompson of healthybliss
This is Jennifer from healthybliss.net, and I've got a healthy Mediterranean hummus dish to share with you! For this recipe, I'm using the Blendtec Total Blender Classic with WildSide+ jar to make a perfectly smooth restaurant quality hummus that you're going to love.
Did you know that hummus is Arabic for "chickpeas?" Hummus spread—mashed chickpeas blended with tahini, olive oil, lemon juice, salt and garlic—is a popular dish from Northern Africa and the Middle East. In fact, it's been around for a few hundred years! There are many different recipes for hummus depending on what region of the Middle East you visit, and what family's secret recipe you get to try. In this version, I'm going to share a classic Mediterranean Hummus using a super yummy spice blend called Zatar, or Za'atar.
Chickpeas (aka garbanzo beans) are a member of the legume family. They're a great vegan source of fiber and protein. Lemon juice adds a nice alkaline ingredient to the recipe, while garlic and cayenne pepper are great immunity-boosting foods. The sesame seeds in tahini contain both calcium and zinc, making it great for kids with growing bones. The main spice in Zatar is thyme, a healing herb known to help with respiratory ailments like chronic cough, asthma and bronchitis.
Chickpeas are a nice gluten-free option and can help make a salad feel more like a meal because they fill you up and keep your blood sugar levels stable for several hours after eating. That means less snacking later, which is a good thing! I love to serve hummus as a dip with fresh cut organic veggies like carrot, celery, and red or yellow pepper strips. Sometimes I make a huge green veggie salad and add a dollop of homemade hummus on top.
Plan to make your hummus in the morning and have it for lunch or dinner because it will not keep overnight. Remember, a fresh version doesn't contain any nasty preservatives, but won't last as long either. The biggest benefit to making hummus at home is that it's fresh, organic, and free of artificial flavors and preservatives. It also tastes a million times better than the store-bought containers. Try it and see for yourself!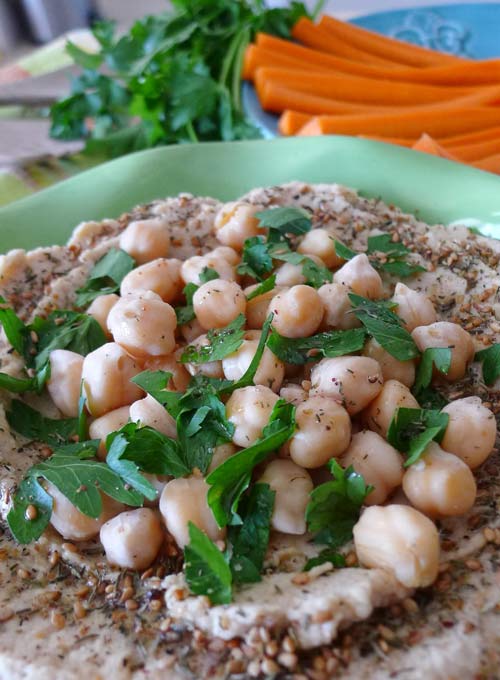 Mediterranean Hummus with Zatar
This recipe requires some advanced preparation, because the chickpeas need to soak overnight before cooking.
Ingredients 
16 oz dried chickpeas (approx 2 ¼ cups dried or 4 cups cooked)
2 cloves garlic
1 tbsp extra virgin olive oil
4 tbsp tahini (sesame seed paste)
Juice of 1½ lemons (or ⅓ cup), freshly squeezed
1 cup warm water (can use the water from cooking the chickpeas)
1 tsp cumin powder
1 tsp Himalayan salt
½ tsp sumac (Middle Eastern spice), optional
¼ tsp cayenne pepper
For garnish
1 tbsp Zatar spice (a blend of thyme, sumac, sesame seeds, salt)
¼ cup cooked whole chickpeas
6–7 freshly chopped parsley leaves, optional
Directions
Make this a day ahead
Place the dried chickpeas in a medium-size bowl and cover with water.
Allow the chickpeas to soak in water overnight or at least for 12 hours.
The next day
Rinse chickpeas with fresh water and drain. Place into a cooking pot with water and bring to a boil, then simmer for 2–4 hours.
Scoop 1 cup of cooking water from the chickpeas and set aside. Then scoop ¼ cup cooked chickpeas; drain and set aside for garnish later.
Drain all of the remaining cooked chickpeas and add to the blender with 1½ cups of cooking water.
Add the other ingredients (except for Zatar and parsley). Blend for about 90 seconds or until the hummus is smooth and creamy.
To serve, transfer the hummus into a bowl. Add the ¼ cup whole cooked chickpeas on top for nice presentation. Then drizzle a small amount of extra virgin olive oil and sprinkle with Zatar spice. You can also add some freshly chopped parsley leaves for additional garnish. Serve with fresh veggies such as carrots, celery, and red or yellow pepper strips.
Tip: You can find sumac and Zatar at any specialty spice store. Look for tahini at any healthy food store or Middle Eastern supermarket.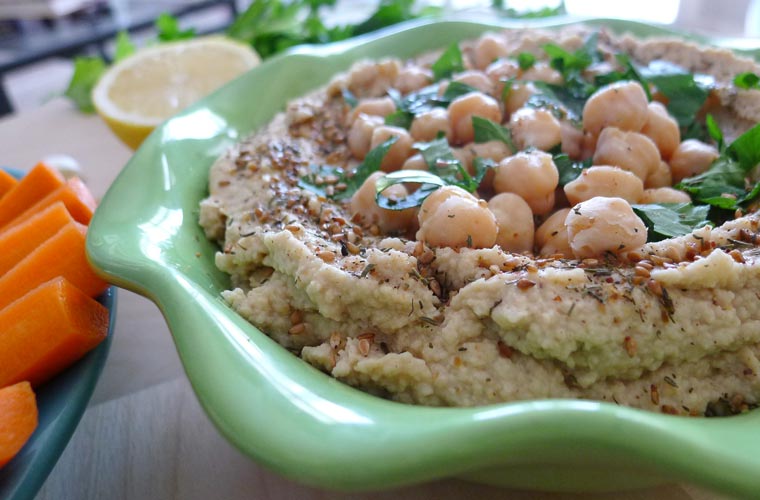 About the Author
I'm Jennifer, aka rawfoodbliss! I healed myself of a nasty chronic skin rash by changing to an additive-free plant-based diet and doing natural detox and cleansing. You might wonder why I'm sharing a cooked food recipe here. I actually eat 80% raw foods + 20% cooked, and this is a great example of something I would eat in cooked version. Chickpeas digest much better when cooked. You can also sprout your chickpeas for 2–3 days before cooking your hummus–which I often do–but that just takes a bit of extra time.
For more awesome health tips and lots of information about detox and healthy living, check out my blog at http://www.healthybliss.net.
Join me on social media:
Facebook: https://www.facebook.com/healthybliss
Instagram: http://www.instagram.com/rawfoodbliss
Pinterest: http://pinterest.com/rawfoodbliss
Twitter: http://twitter.com/rawfoobliss
YouTube: http://www.youtube.com/findyourhealthybliss
---