Stop spending money on fruit leather at the grocery store and make your own! Don't have a dehydrator? No problem! We'll teach you how to make it without one. Most fruit leather recipes can be made with just three of four ingredients - how easy is that?! The part that takes the longest, is dehydrating it. So be sure to make this ahead of time so you can have fruit leather to enjoy when you're ready for it.
It's also a good idea to make as much as you can at once, that way you don't run out of this healthy treat when you're craving it! So let's get started.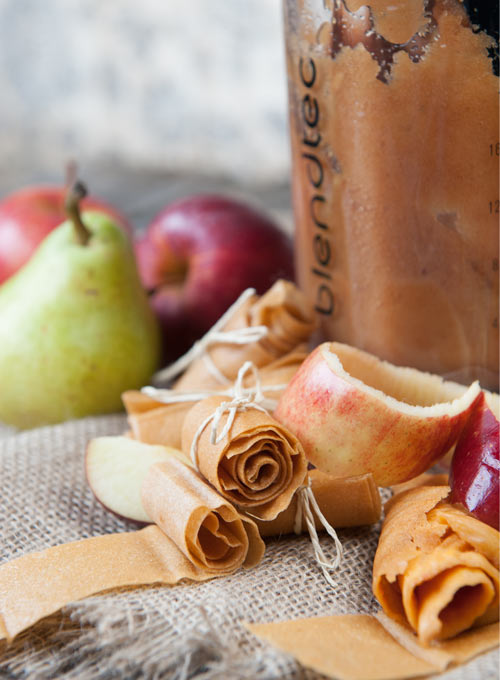 Ingredients
3 apples (or pears)
1 tbsp lemon juice
2 tbsp granulated sugar (or sweetener of choice)
Instructions
First, heat your oven to 200° F (unless using a dehydrator).
Second, choose your fruit. We've tried both apples and pears with this recipe and they're divine! This recipe calls for 3 apples or 3 pears.
Next, peel, core and quarter your fruit and put them in your jar (WildSide+ jar is best but FourSide and Twister jars will work as well).
Add 1 tbsp lemon juice and 2 tbsp granulated sugar (or sweetener of choice) to jar. You may also add 1-2 tsp cinnamon, if you'd like.
Blend on "Smoothie" cycle (or blend on a Medium speed for 50-60 seconds).
While blending, cover a 13x15-inch pan with parchment paper.
Pour fruit purée into pan and dehydrate in oven for 8-12 hours or in a food dehydrator until top is no longer sticky.
When the fruit leather is ready, you can peel it from the parchment paper and cut or rip the fruit leather into smaller pieces. We recommend separating pieces with parchment paper, wax paper or plastic wrap and either rolling or stacking them. Store in zip-top bags if eaten within 1 week. They can also be stored in an air-tight container in the refrigerator or freezer.
To see recipe with nutrition information,
click here for Apple
 or
here for Pear
. Looking to expand your horizons? Want to combine flavors? Check out our delicious
Peach & Strawberry Fruit Leather
recipe.