By Michelle Smith of the Whole Smiths
I think it's a well-known fact that kids love to dip their food in things. In our house, it's a great way to get the kiddos to eat extra veggies. And when I say kiddos, I actually mean me. Let's be honest, we ALL love dipping food into other foods. It's just so fun!
So when I can sneak in additional healthy foods or vegetables into their (ok, ok, MY) dips, it's a real win. Like these beets for example. Not everyone is crazy about beets but they're packed with nutrients and easy to add into things without overpowering the entire dish or recipe. The earthiness of the beets also pairs perfectly with the earthiness of the chickpeas and tahini. To balance that out I also decided to add goat cheese, to give it a tart creaminess and some garlic to punch up the flavor.
That combination of ingredients and flavors created the perfect dip that pairs well with almost any vegetable, cracker or bread. I can't begin to tell you how incredibly easy it is to make hummus in your Blendtec; I couldn't imagine making it any other way at this point. All you need to do is add all of the ingredients, blend, and less than a minute later you have the creamiest, richest hummus that you can imagine. No lumps, no unevenness, just pure creaminess. It tastes so much better than what you get at the store and your hummus won't be loaded up with any of the artificial preservatives or dyes so you can feel extra good about eating it. In lieu of beets, I've also used olives, artichokes, sun dried tomatoes and more to make different varieties of hummus.
Feel free to get creative with your Blendtec and hummus recipes, you can't go wrong!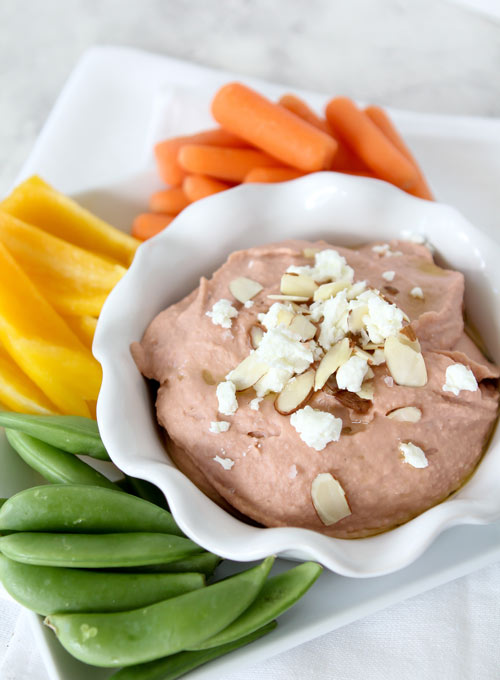 Beet Hummus
Ingredients
15 oz can of chickpeas
1 roasted beet
1 clove garlic
1 tbsp tahini
2 tbsp goat cheese + some for garnish
1/3 cup olive oil
Large pinch of salt and pepper
Instructions
Add all ingredients to your Bendtec and blend until smooth 
Serve with a small drizzle of olive oil on top, sprinkle with additional goat cheese and some finishing salt if desired.
---