Heavy Metal Detox Green Smoothie
By Jennifer Thompson of healthybliss
This is Jennifer from healthybliss.net, and I'm sharing a powerful detox smoothie recipe with you today using the awesome Blendtec blender. Before we start, here's some quick 411 on green smoothies:
They're made from fresh fruits and leafy greens.
They're blended in a blender (think Blendtec!), not a juicer. A blender keeps the fiber intact, making it a whole food.
They keep in the fridge for up to 2 days. This makes them super convenient for preparing in advance. You can also drink your smoothie immediately after blending!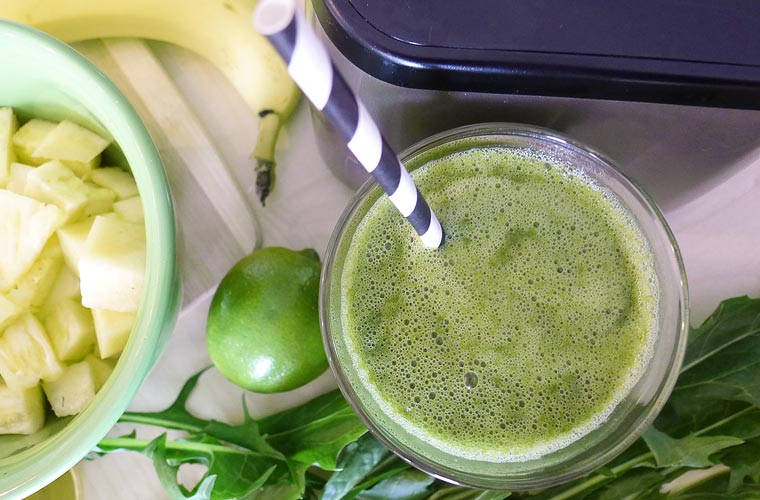 This recipe is designed to help the body gently detox from heavy metals, naturally. Where and what kind of heavy metal buildup might someone have? The most common types of heavy metal toxicity come from arsenic, lead, cadmium and mercury. Arsenic can be found in pesticides, certain chemicals, and also in some foods like red wine and beer due to certain materials used in the filtration process. Paints can contain lead or cadmium—especially in some children's toys. Mercury buildup can occur in certain large fish like tuna (especially lower quality tuna in a can) and also from vaccines and amalgam dental fillings. The reality is that we live in a pretty toxic world.
Drinking this smoothie even one time a week can help your body detoxify and catch up on its internal housework. The result: a cleaner liver, cleaner blood and better mental clarity. Sounds like a winner to me!
This smoothie contains 2 key ingredients that are natural chelators of heavy metals: chlorella powder and fresh cilantro. (A chelator is something that naturally binds to heavy metals to safely carry them out of the body. That's a good thing!). Both of these foods can bind to heavy metals and help them be released without causing damage to other organs. Still, it's always good to add high antioxidants in a heavy metal detox, mainly to protect the liver. That's why we add 2 high Vitamin C fruits—pineapple and kiwi—to make this special blend.
Turmeric is very cleansing for the liver and is also a natural anti-inflammatory food. Dandelion greens are a powerful liver cleanser; if they're in season you should definitely use them. If you can't find dandelion greens at your local farmer's market, use baby spinach leaves instead.
This recipe is just one of several detox green smoothies I created for my book Green Smoothies for Dummies (Wiley, 2014). In the book, I have a section on how to do a complete 3-day detoxification program with only green smoothies. You'll find recipes for skin, hair, nails, liver, kidneys, and colon in addition to this heavy metal detox smoothie. Doing a regular detox program every 6 months can help you stay healthy, avoiding illness and maintaining high energy levels all year long.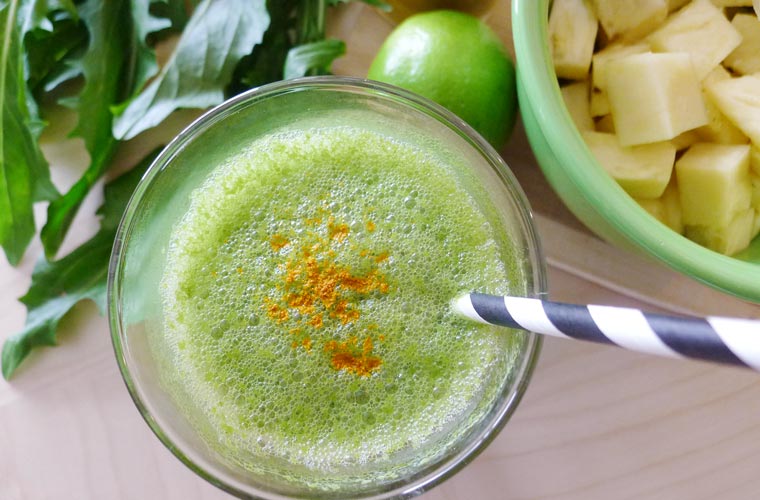 Heavy Metal Detox Green Smoothie
Ingredients
1½ cups fresh pineapple chunks
1 kiwi fruit, peeled and chopped
1 banana, peeled
1 tbsp fresh lime juice
¼ tsp turmeric powder
1 tsp chlorella powder
1½ cups water
1 cup fresh cilantro leaves
2 cups fresh dandelion greens
Directions
Combine the pineapple, kiwi, banana, lime juice, turmeric, chlorella, and water in your Blendtec and secure the lid.
Starting at low speed and gradually increasing toward high, blend the ingredients for 30–45 seconds or until the mixture contains no visible pieces of fruit. Or, press the Smoothie button on your Blendtec.
Remove and discard the dandelion green stems. Add the cilantro and dandelion greens and blend again at medium speed for 30 seconds, gradually increasing the speed to high. Blend on high speed for another 15–30 seconds or until the entire mixture is smooth.
Pour the smoothie into two glasses and enjoy!
Tip: If you don't have chlorella powder, use spirulina powder instead. If you want some variety, try 1 cup of fresh mango instead of kiwi.  
About the Author
I'm Jennifer, aka rawfoodbliss! I healed myself of a nasty chronic skin rash by changing to an additive-free plant-based diet and doing natural detox and cleansing. For more awesome health tips and lots of information about detox and healthy living, check out my blog at http://www.healthybliss.net.
Join me on social media:
Facebook: https://www.facebook.com/healthybliss
Instagram: http://www.instagram.com/rawfoodbliss
Pinterest: http://pinterest.com/rawfoodbliss
Twitter: http://twitter.com/rawfoobliss
YouTube: http://www.youtube.com/findyourhealthybliss
---
1 comment
---
---