Green Goddess Pistachio Pesto
By Sarah Menanix of Snixy Kitchen
Sometimes I make delicious party plans and then swiftly crush those plans by eating all the pesto hours before the party. When weighing the options of serving bite-sized pesto-topped appetizers at your graduation party against devouring all of the pesto with your mom in the kitchen while you make ice cream and cupcakes for said party, sharing the pesto with guests is a tough sell. Especially when it comes to this green goddess pistachio pesto.
Usually pesto isn't something you sneak by the spoonful, but this one is a different story. After it became clear we weren't saving this pesto for the party, we pulled out crackers and creamy goat cheese to pretend like we hadn't just been eating pesto straight from the jar. (No judgments if you do though—it's tough to resist). We dolloped the last little bit over pasta topped with early tomatoes for dinner and swore to keep our appetizer destruction to ourselves. Oops. From filing my dissertation last week, to a quick trip to Denver, to hosting the whole family for a long weekend, to prepping about a billion pounds of potato salad for a celebration, and finally, to sniffling my way through the graduation ceremony, I've been pushing my body to its limit. As the head cold that erupted the next day can prove, I'm in serious need of some refreshing greens.
The inspiration for this green goddess pistachio pesto came from this little gem spring salad—I want to infuse those flavors into everything forever. This good-for-you springy green pesto does just that. Just like traditional green goddess dressing, it pulls in spring's finest fresh herbs. Rather than mixing in mayonnaise though, this pesto binds the bright green herbs together with a bit of olive oil and some toasty pistachios for a pesto that tastes like spring renewal.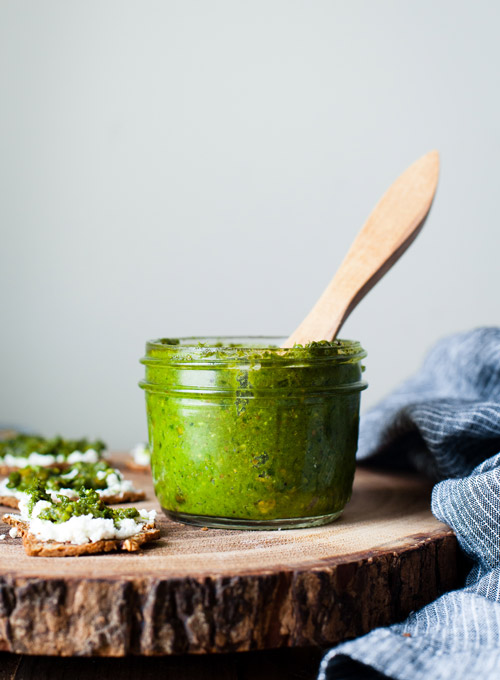 Green Goddess Pistachio Pesto
Ingredients
5 tbsp extra virgin olive oil
2 medium garlic cloves, peeled
½ cup fresh basil leaves, packed
½ cup freshly chopped chives
⅓ cup fresh tarragon leaves, packed
¼ cup freshly grated Parmesan cheese
¼ cup pistachios, toasted
¼ tsp salt
¼ tsp pepper
Goat cheese & crackers (optional, for serving)
Directions
In order, layer olive oil, garlic, basil, chives, tarragon, and Parmesan cheese in your Blendtec. Pulse on medium-high speed until smooth, about 15 seconds.
Add pistachios, salt, and pepper, and pulse until desired consistency. (I prefer mine to have a few pieces of nuts throughout.)
Spread goat cheese on crackers and drizzle with green goddess pesto, or serve over fresh pasta!
Store topped with a drizzle of olive oil in an airtight container in fridge for up to a week, or in freezer for up to two months.
About the Author
Sarah is a gluten-free Bay Area food blogger. She blogs over at
Snixy Kitchen
where she shares recipes and the stories that go along with them. She cooks from scratch, makes up rules, uses seasonal ingredients as much as possible, and reinvents classics to create special occasion sweets and everyday staples. Connect with her on
Facebook
or Instagram!
---