By Chrystal Carver of Gluten Free Palate
I'm excited to show you how easy donuts are to make and share this super simple gluten-free cinnamon sugar donuts recipe with you. Once you make these donuts you may never go back to store bought donuts again.
At our house we enjoy donuts every Friday. It's an extra special treat that helps us wind down from the week and rewards us for getting up and getting ready each day on time. With my husband and I working full time (and me developing recipes on the weekends) it can be difficult to find time to bake our weekly donuts. Making donuts each week became so much easier once I started using my Blendtec to whip up the batter. Now, in less than five minutes I can have a batch in the oven.
Before using my Blendtec blender I used to double the donut batches and freeze them for future consumption. Now that I can have baked donuts on the table in less than 30 minutes I prefer to make them fresh on Friday. There's nothing like waking up to fresh-baked cinnamon sugar donuts, especially when those donuts are easy to make and only take 10 minutes to bake.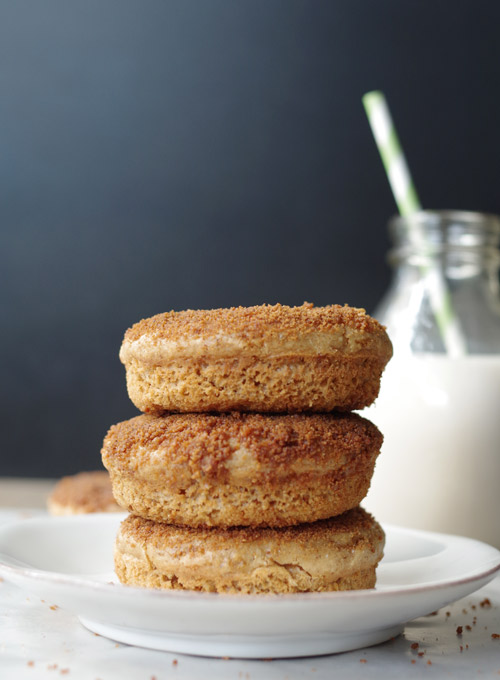 Cleanup is easy with only the WildSide+ jar, a spatula, and a couple of measuring cups and spoons to wash. Making donuts has never been easier, and we love our fresh baked donuts every week. These donuts are tender, flavorful, and they hit your donut-loving taste buds in all the right places.
Each donut is lightly coated in a cinnamon and coconut sugar mixture, lending just the right amount of sweetness. Just a warning in advance, they are quite addicting. After you polish off the first one, you may find yourself inadvertently reaching for a second. It's best to share these delightful donuts.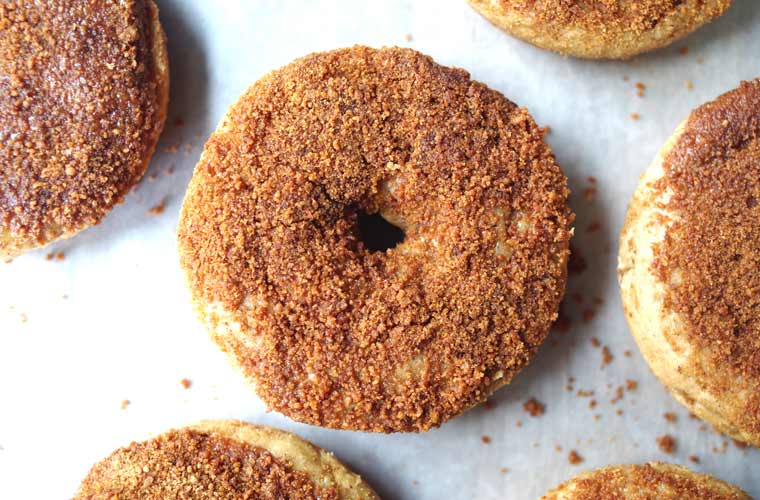 Gluten-Free Cinnamon Sugar Donuts
Prep time: 5 minutes
Bake time: 10 minutes
Servings: 6 full sized donuts
Ingredients
Donuts:
1/2 cup rice flour
1/4 cup tapioca starch
1/4 cup potato starch
1 tsp gluten-free baking powder
1/4 tsp baking soda
1/2 tsp salt
1 tsp ground cinnamon
1 large egg, at room temperature
1/3 cup coconut sugar
1/2 cup sour cream
2 tbsp unsalted butter, melted
1 tsp gluten-free vanilla extract
Cinnamon sugar topping:
1/2 cup coconut sugar
1 tsp ground cinnamon
1/4 cup (4 tablespoons) unsalted butter, melted
Directions
Preheat oven to 350°F (177°C). Spray a six serving donut pan with non-stick spray; set aside.
For the donuts – Add rice flour, tapioca starch, potato starch, baking powder, baking soda, salt, and 1 tsp cinnamon to WildSide+ jar and secure lid. Pulse 10 times. Tap the sides of the jar to release flour. Pulse 10 times.
Scrape the flour mixture from the sides of the jar with a rubber spatula and add the egg, coconut sugar, sour cream, melted butter, and vanilla. Secure the lid and pulse 15 times or until smooth. Scrape sides of the jar with a rubber spatula and pulse 5 times.
Scrape the batter from the sides of the WildSide+ jar and pour the batter evenly into each donut cup, filling about 2/3 the way full. If you don't want to pour directly from the WildSide+ jar, you can scrape the batter into a large zipped-lock bag, cut one corner off the bottom of the bag and pipe the batter into each donut cup.
Bake for 10 minutes or until the centers are set. Remove from the oven and allow donuts to cool for 5 minutes.
Transfer donuts to a wire rack set on a large piece of parchment paper or wax paper. Cool for an additional 3-5 minutes.
For the topping - Combine ½ cup coconut sugar and 1 tsp cinnamon in a small mixing bowl. Dip the tops of each donut in the melted butter, then into the cinnamon sugar mixture.
Serve warm.
Store in an airtight container for up to three days.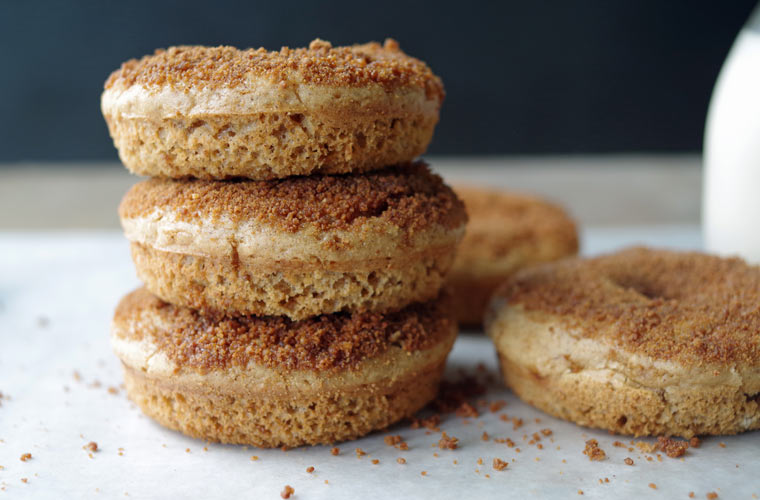 About the Author
Chrystal Carver, Author of "Sweet & Simple Gluten-Free Baking; Irresistible Classics in 10 ingredients or less!" is the recipe developer and writer behind glutenfreepalate.com. Chrystal believes that baking gluten-free shouldn't require extravagant ingredients or complicated steps. With her background in problem solving and design for usability, she started converting everyday gluten-containing classics to easy family friendly gluten-free recipes. You can connect with Chrystal on Facebook, Twitter, Instagram, and at http://www.glutenfreepalate.com.