Gluten-Free Blueberry Cheesecake Bites
By Michelle Smith of the Whole Smiths
I don't know about you, but I love desserts. Pretty much any type of dessert. However, the fact that I'm unable to eat gluten anymore can make having my favorite treats a little more difficult. I mean, it's never been polled but my guess is that 99.999% of desserts have gluten in it. Or maybe I'm just sad seeing all of the deliciousness that I've grossly inflated that number in my head; but you get the point.
My whole life, I've been a cheesecake girl. It's always been my go-to dessert. Some people love chocolate cake or ice cream but my weakness has always been cheesecake. The creamy, velvety, sweet filling has always done me in. With that being said, if I were to make a giant cake of it every time I was craving it I'd be spending way more hours in the gym the following week than I care to think about. Cheesecake also freezes perfectly so you can always pack your extras away for another day. I decided I needed a solution for my over-eating cheesecake issue. These Blueberry Cheesecake Bites are just that, the perfect solution. Small enough to satisfy my craving but not large enough that I can freely gorge on it for the entire week.
I also created a gluten and grain free nut-based crust that gives you that homey flavor that a traditional graham cracker crust will give you. If you've ever made a traditional cheesecake before, you know that the secret to a smooth, no lump batter is in using room temperature ingredients. Well, I've left ingredients out on the counter until they are most definitely room temperature and I've still had lumps in my batter.
That is until I started using my Blendtec. Since I've started using my Blendtec I haven't had any lumpy batter. The secret is blending the ingredients on the lowest possible speed until the ingredients are just mixed and smooth, being careful not to over mix it. I usually use the Pulse feature on my Blendtec on the lowest setting to ensure perfect results. Once you make a cheesecake in your Blendtec, I'm pretty sure you won't go back to your stand mixer and lumpy batter again.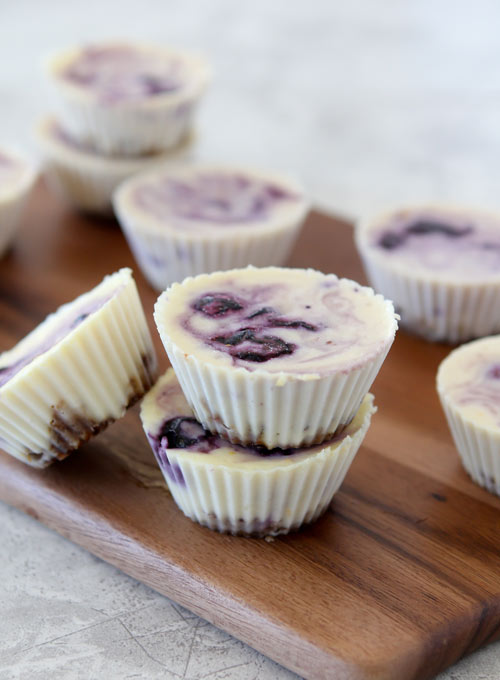 Gluten-Free Blueberry Cheesecake Bites
Ingredients
Crust:
1 cup crushed pecans
2 tbsp almond flour
4 tbsp coconut or brown sugar
4 tbsp melted coconut oil
Filling:
8 oz cream cheese, room temperature
1 cup sour cream, room temperature
2 tbsp goat cheese, room temperature
1⁄2  cup sugar
1 tsp lemon
2 eggs
1⁄4 tsp vanilla
1 cup of frozen blueberries defrosted
Instructions
Preheat oven to 350°.
In a bowl, add all crust ingredients and combine thoroughly.
Scoop a small amount of crust (approximately 1 tbsp) and press into the bottom of 12 silicon cupcake baking molds.
Add cream cheese, sour cream and goat cheese to Blendtec's WildSide+ jar and blend on low until smooth.
Add in sugar, lemon, eggs and vanilla then blend on low until combined.
Add in 1⁄2 cup of blueberries and Pulse until lightly combined and some of the berries burst.
Pour mixture ¾ full into silicon cupcake molds.
Bake in oven for 17-20 minutes.
Remove and let set in the refrigerator until cooled, roughly one hour.
Once set, place cheesecake bites into freezer and let harden for several hours, preferably overnight (this will let you easily remove silicon molds).
Remove and let thaw 30 minutes prior to eating.
---