Fully Raw & Vegan Cranberry Sauce
Cranberry sauce is a Thanksgiving dinner staple. Have you ever made it yourself? Kristina from Fully Raw shared her recipe with us and it's so easy to make! This raw recipe lets you take control of what you and your loved ones are eating. Forget the can this year and click on the recipe card below to print or save to your collection.
Fully Raw & Vegan Cranberry Sauce
INGREDIENTS
1 cup of fresh cranberries (red as possible)

1 cup of freshly pitted dates

1 honeycrisp or fuji apple, cored and quartered

1-2 cups freshly squeezed orange juice

1 sprig herb of choice like rosemary or basil

1 handful of dried raisins to sweeten, optional
DIRECTIONS
Add all ingredients to WildSide+ or FourSide jar in order listed and secure lid.

Blend on "Batters" or on a Medium speed for 30 seconds. If too chunky, Pulse until desired texture is reached.

Store in refrigerator overnight.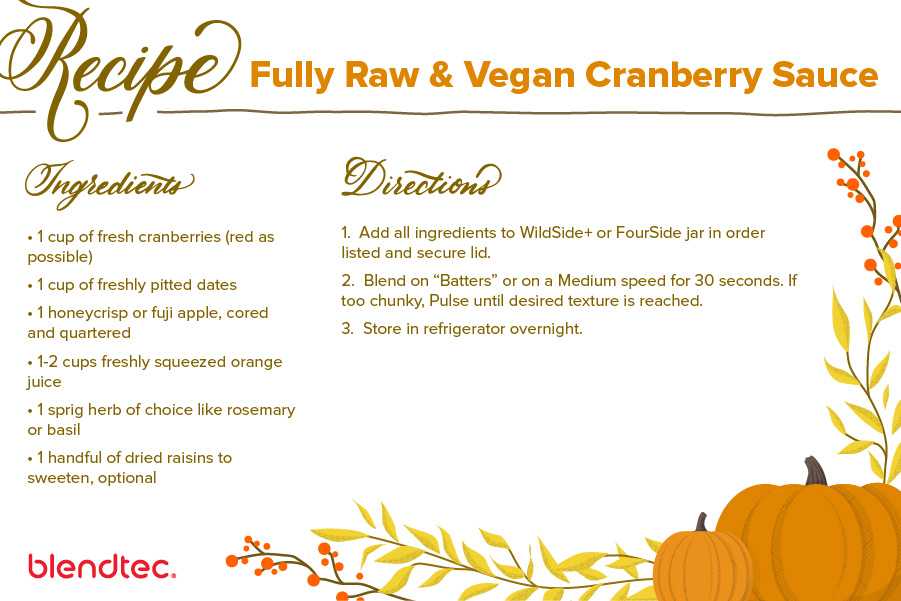 Fully Raw & Vegan Cranberry Sauce »
Meet The Blogger
Get to know the gal behind Fully Raw who was happy to share her delicious recipe with us. We were able to chat with Kristina and learn a little bit more about her and her love of food.

FullyRaw is the creation of Kristina Carrillo-Bucaram, a pioneer in not only the raw food movement, but also in the local, organic food co-operative movement in the United States. The founder of the largest raw, organic produce co-operative in the U.S., she has been 100% raw for almost 7 years. An exemplification of all that she wishes to create, she is a leading visionary in the raw movement, especially in Houston, TX. Fully Raw | Facebook | Twitter | Instagram
What are your favorite holiday traditions? My favorite holiday traditions are spending time with my family, decorating our Christmas tree, singing carols, visiting with my grandparents, making delicious raw vegan recipes to share with people I love, and snuggling.
What sparked your love of food? When I was 16, I was diagnosed with hyperglycemia, and by the time I was 18, I had completely lost my health. I was approached by a stranger in a grocery store who started talking to me about healing via raw foods and juicing. I went raw vegan in one night and never went back. At first, I fell in love with FEELING GOOD, having good health. Then, I fell in love with the lifestyle--taking care of my mind, body, and spirit. I fell in love with fruits and veggies because they saved my life. I fell in love with organic produce, fruits and veggies, permaculture, and more. I started my own organic produce co-op in Houston called Rawfully Organic, and it grew to be the largest in the country. It wasn't until I started playing with food more than I began to develop a passion for recipes. Having good health sparked my love for food. Food changed my life.
Do you have any holiday recipes that have been passed down in your family? Some of the traditional recipes that have been handed down in my family are dishes like potato salad, tabouli, pumpkin pie, and other Lebanese dishes. One of my goals in going FullyRaw has been to take the traditional recipes and make the raw vegan versions of these recipes. I love to share these healthier versions with my family and friends. I have found them to be even better at times!
What influences your love of food and success on your blog? What influences my love of food and success is reaching people and helping others change their lives. I know how impactful it is to have a life change, or to find a saving grace. Changing our diets can greatly impact our society. It changes the environment and our bodies, ultimately effecting our greater community.
Follow
Fully Raw
for details on how to win a Blendtec Designer 725! And post pictures of your holiday celebration with the hashtag #PartyWithBlendtec for a chance to win a Blendtec jar of your choice.
---