By Linda Tambunan of Brunch with Joy
There's a sentence that's been circling around in my mind currently: "Just Blendtec it." Ever since I got my Blendtec, I feel that my kitchen life has been so much fun! I use it every day, from making smoothies or pancakes for breakfast, to mixing dips for lunch or dinner. And today, I'm taking it to another level by sharing this frozen berry soufflé with you.
My husband regularly prefers having vegetables over meat, and generally turns down unhealthy foods. However, there's one thing that he can't say 'no' to: frozen treats. From classic vanilla to berry, he loves them all and not a week goes by without ice cream on his mind. So I learned how to make ice cream from scratch. That way, my husband can keep enjoying ice cream and I can control his sugar intake.
Anyhow, today's recipe is super easy to make and you need only three ingredients for this frozen soufflé. The best part is that you can serve it as a soufflé and you will look like a pro—even when you're new to ice cream making.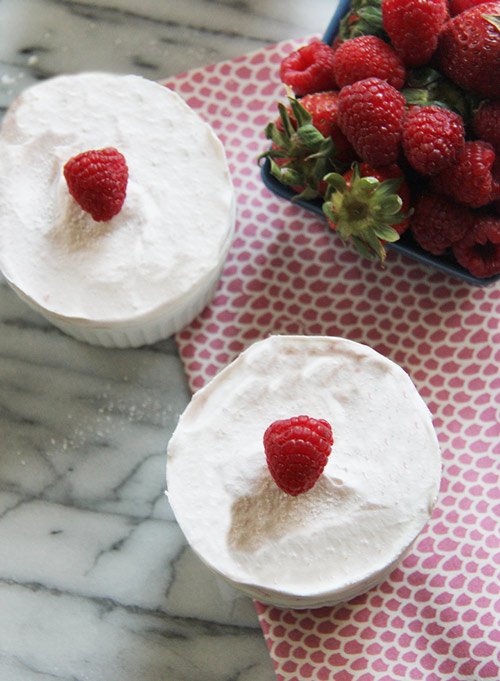 Frozen Berry Souffle
Ingredients
1 cup fresh strawberry
½ cup condensed milk
2 cups heavy cream
Directions
Puree strawberries and condensed milk in your Blendtec blender.
Whip the heavy cream to stiff peaks, and fold into strawberry mixture.
Cut parchment paper into 4 strips, 2 inches higher than ramekin (small bowl) size. Tape each strip around a 3-ounce ramekin so it extends above the rim. Fill each ramekin with strawberry mixture. Freeze until set, about 3 hours.
Remove from freezer 20 minutes before serving; remove parchment collars. Serve soufflés with your favorite fruits on top.
---
2 comments
---
---