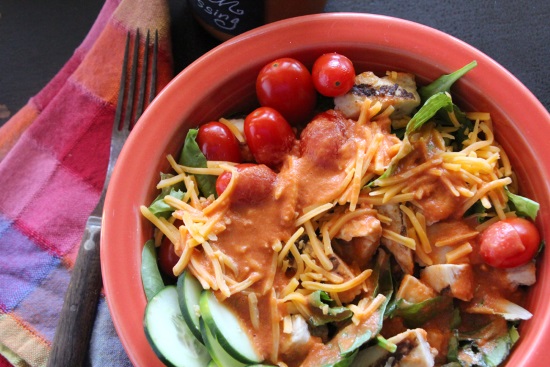 This perfect French dressing recipe is tangy, with a good balance between savory and sweet. It brings back childhood memories of my first perfect salad, but with more grown up flavors. Though you'll find many brands at your local grocer, they won't be memorable or excite your taste buds like this fantastic and simple homemade version. My love affair with French dressing goes back to the early 80's. When I was about seven years old, my family went out to dinner with some friends who had an older daughter. She took pity on my lacking salad bar enthusiasm and introduced me to her favorite salad: lettuce, tomatoes, cucumber, cheddar cheese, bacon bits, and French dressing. It was a party in my mouth right there at the Pizza Inn.
I've been a fan of French dressing since then, but as I've grown my tastes have matured beyond bottled salad dressings and fake-o-baco bits. Enter this lovely grown up homemade version that's deliciously sophisticated, and light enough to enjoy without guilt! Or you can make a meal of it and add crisp, hot, real bacon. And sharp cheddar cheese. I could eat this for lunch every day and not get tired of it! Unlike other recipes out there, this one does not start with ketchup or contain lots of oil. This light dressing recipe takes its gorgeous hue and rich tomato flavor from tomato paste, which allows you to better adjust the sweetness ratio perfectly to your liking. The Blendtec blender makes the process so easy. You'll be enjoying fresh, tangy French dressing in less than a minute, and you don't even have to slice and dice your ingredients. So grab the following items from your pantry and head for your Blendtec…we're going to make a little party in your mouth!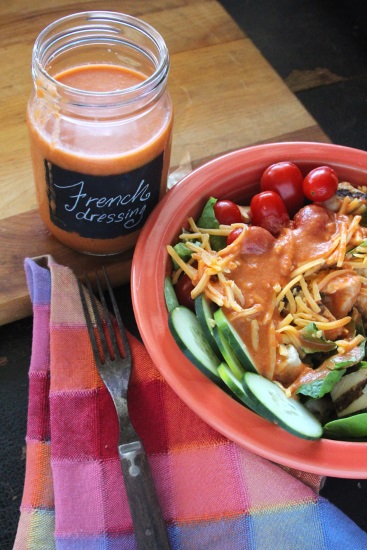 French Dressing Recipe
Ingredients
¼ large onion
1 clove garlic
1½ tsp salt
3 oz tomato paste
¾ cup water
¼ cup oil
⅓ cup apple cider vinegar
1 tbsp fresh squeezed lemon juice
1 tsp yellow prepared mustard
2 tbsp to ¼ cup honey or sugar (adjust sweetness to taste)
1 pinch cayenne pepper or smoked paprika (optional)
Instructions
Add all ingredients to blender in the order listed. Start with the smaller amount of sugar if you don't care for super sweet.
Press the "Smoothie" button, or blend Medium High (speed 6 or 7) for 30 seconds, or until completely smooth.
Taste and adjust the sweetness and spice to your personal taste.
Store in the fridge for up to 2 weeks.
French Dressing Recipe courtesy of Gwen's Nest blog. Visit Gwen's Nest to find more great recipes, natural remedies, anecdotes, and tips for creative living. Follow Gwen's Nest on Facebook, Pinterest, or Twitter.
---
3 comments
---
---