By Debra Clark of Bowl Me Over
Hello everyone this is Debra Clark from Bowl Me Over. Today I'm sharing an easy and delicious Chorizo Black Bean Soup!
This soup is full of big bold flavors, but only takes minutes to prepare. By saving out some of the black beans it offers great texture. Authentic flavors and spices like chorizo, cumin, coriander and jalapeño give it great warmth and heat. Chorizo Black Bean Soup celebrates the flavors of central California. It's a delicious meal to enjoy, easy to make, rich thick and satisfying!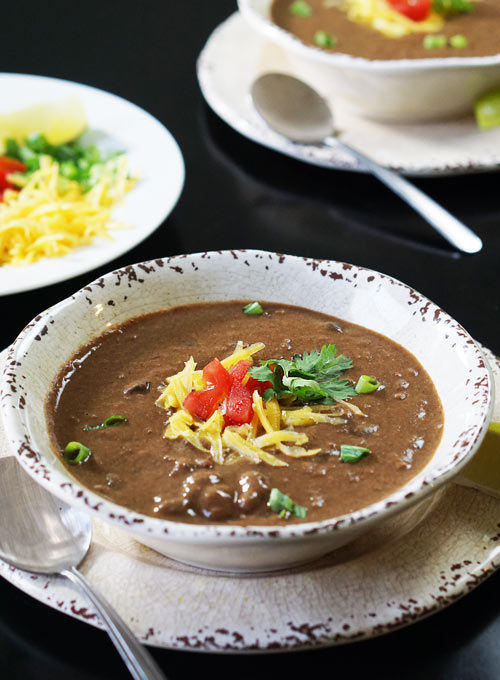 Chorizo Black Bean Soup
Ingredients
9 oz package chorizo
1 onion
½ green pepper
½ jalapeño
1 clove garlic
3 cans black beans, drained but do not rinse
1½ cups chicken stock
1 oz cream cheese
½ teaspoon cumin
½ teaspoon coriander
1 teaspoon salt
Directions
Add the chorizo into a large stockpot over medium heat.  Break up with spoon and sauté until cooked thru, about 5 minutes.  Remove from pan and set aside.
While the chorizo is cooking, dice the onion, green pepper and mince the garlic. Slice the jalapeño in half and remove the ribs and seeds.  When the chorizo is cooked, add the onion, green pepper & jalapeño to the sauté pan along with the cumin, coriander & salt and sauté over medium heat for 5 minutes.  Add the garlic and cook for an additional minute.
Remove from heat and pour into the WildSide+ jar. Add two cans of black beans, cream cheese and chicken stock.  Secure lid and select "Soup" or blend on a High speed for 90-180
Add the chorizo and remaining can of black beans back in the stock pot over medium heat. When the soup process is complete add back to the stock pot and stir to combine and heat thru.
Serve with your favorite toppings - cheese, chopped onion, cilantro, sour cream. Top it off with a squeeze of lime.
Nutritional Information
Servings 8
Serving size 1 cup
Calories 326
Total Fat 14.5 g
Cholesterol 33.3 mg
Sodium 990.1 mg
Total Carbohydrate 30.3 g
Sugars 1.4 g
Protein 19.1 g
---
1 comment
---
---