Chocolate Raspberry Milkshake
By Karine of Double The Batch
Calling all chocolate fanatics and sweet-tooth enthusiasts! Boy, do I have a treat for you! My sister and I concocted the following recipe during one of our many chocolate fits. (The sweet tooth struggle is very real in this family.) We were together at our mom's house trying to come up with some way to satisfy this chocolatey craving. Ice cream and chocolate were an obvious must, but we wanted something a little different than just an ordinary chocolate milkshake. 
Raspberries have always been my favorite kind of berry, and I thought it would be a fun, fruity addition. So we began experimenting using different combinations of ingredients until we created the consistency and flavor we were looking for. The result was a creamy, delicious chocolate raspberry milkshake, a satisfied sweet tooth, and a recipe for the books. We weren't exactly going for healthy here, but you can easily make it healthier by substituting the ice cream with frozen bananas, using almond or soy milk, and replacing the chocolate syrup with cocoa.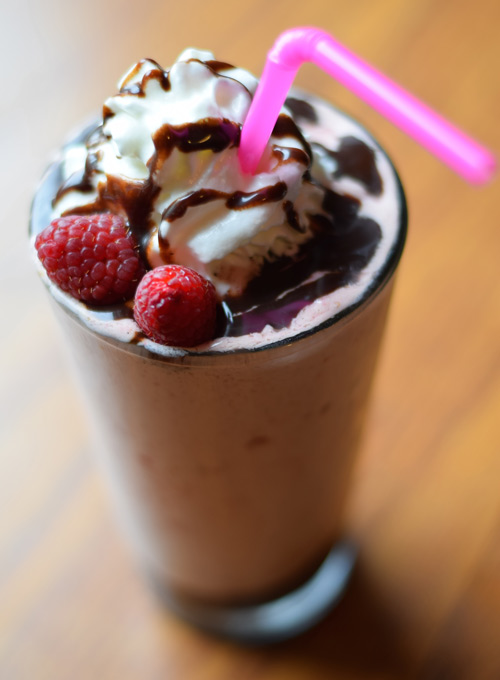 Chocolate Raspberry Milkshake
Ingredients
2 cups vanilla ice cream
2 tbsp milk
½ cup fresh raspberries
3 tbsp chocolate syrup
½ cup ice
Directions
Add all the ingredients to your Blendtec jar and secure the lid.
Press the Ice Cream button (If your Blendtec doesn't feature an Ice Cream/Frozen Yogurt button, blend on a Low speed for 15 seconds, then blend on a Medium to Medium-High speed for 30 seconds.)
You'll want this nice and creamy. If it's coming out a little thick, add small splashes of milk until you get a consistency you like. My sister and I went a little further and topped ours off with whipped cream and drizzled chocolate syrup. We couldn't help ourselves.  
About the Author
If you want some more yummy recipes from my sisters and me, check out our blog, Double The Batch. You'll also find life tips, DIY projects, and a lot of good quality fun. You can also connect with us on Facebook, Pinterest, and Twitter to get in on the fun!
---