Crunchy rich buttery pecans and creamy chocolate, but good for you? With a plant-based diet, you can enjoy decedent desserts with all of the flavor but none of the guilt! Your Blendtec makes creating raw vegan desserts a breeze.
Enjoy!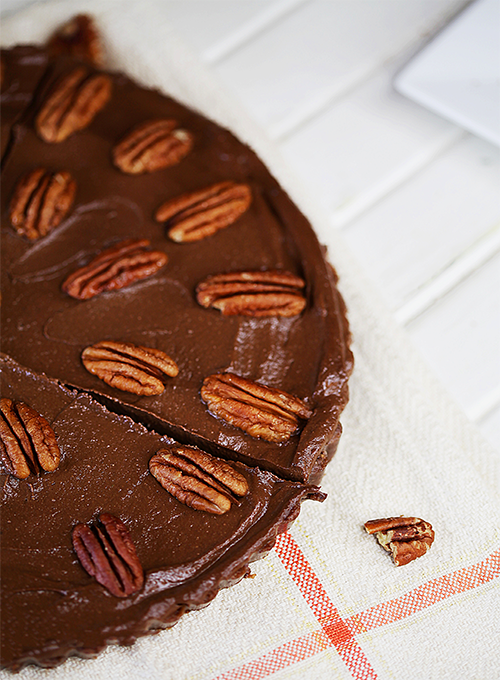 Raw Vegan Chocolate Pecan Tart
Ingredients 
Crust
2 cups of raw pecans
2½ tbsp coconut butter
½ cup cacao nibs
3 tbsp raw coconut crystal sugar
1 tbsp vanilla powder or liquid
1 pinch of pink salt (optional)
Filling
2 super ripe bananas (skin covered with brown spots/freckles)
1 cup ripe avocado
1 cup raw pecans
4 tbsp raw coconut crystal sugar
5 tbsp raw cocoa powder
1 tbsp vanilla powder or liquid
Directions
Add pecans to WildSide+ jar and Pulse until you reach desired consistency.
Add butter, nibs, sugar, vanilla, salt. Pulse until you get a coarse consistency and ingredients begin to bond.  If your mixture is too dry, you may slowly drizzle in around 1-2 tablespoons of water to get it going.
Once the crust mixture is done, scoop it out and press it into a 9-inch tart pan with a removable bottom if you have one. You can also make this into a simple pie if you don't have a tart pan. Just use what you have in your kitchen.
Once the tart crust is pressed into the pan, cover it with tin foil and place it into the freezer as you move on to make the filling.
Blend filling ingredients in Blendtec blender until a thick chocolate pudding-like consistency is achieved. Do not overblend, or the avocado and banana might become too watery and the fats might separate. You may also stop, taste, and adjust the amount of cocoa powder and coconut sugar to your liking. Just be careful, as you don't want to make it too bitter or sweet!
Once blended, spoon the filling into tart crust, top with pecans for decoration, cover with tin foil, and return to the freezer. Freeze until solid. May be served frozen, or thawed for 10-15 minutes if you prefer a softer texture.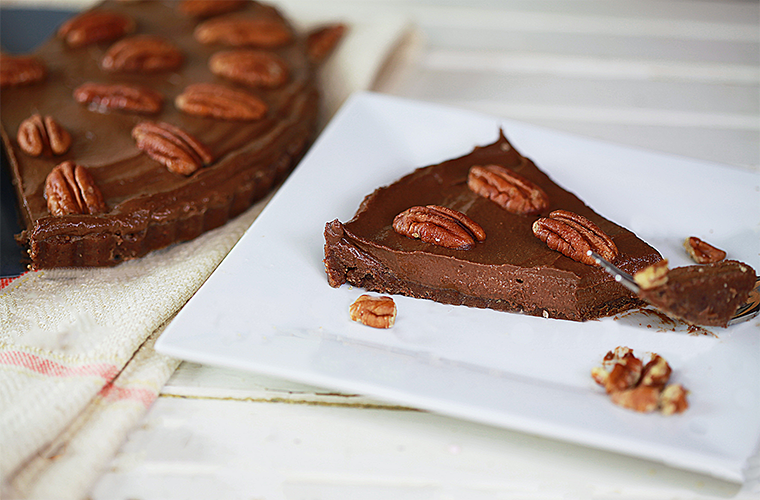 About the Author
Natalie Norman is a certified advanced raw vegan educator and plant-based lifestyle expert who shed half her body weight by adopting a raw food diet. She then founded
www.natalienorman.com
, a multiple award-winning website where she shares easy raw food recipes, weight loss tips, support, a free newsletter, and much more. Connect with Natalie Norman on her
official Twitter account
@natalienorman, on
Instagram
and
Pinterest
@rawnatalie, and on Facebook at
https://www.facebook.com/RawFoodRecipes
.
---