Brazilian Cornmeal Cake with Guava Sauce
By Olivia Mesquita of Olivia's Cuisine
Hi, everyone! This is Olivia from Olivia's Cuisine with a delicious and EASY cake recipe. The cake is mixed up in the Blendtec, which means it's pretty much effortless with minimum cleanup. I don't know about you, but for me this is a dream come true!
Cornmeal cake is really popular during June festivities ("Festa Junina") in Brazil. "Festa Junina", also known as "festa de São João" are the annual winter Brazilian celebrations that commemorate Saint Anthony, Saint John, and Saint Peter, and marks the end of summer and the beginning of the harvest.
Since June is the month when corn crops are harvested, the majority of Festa Junina dishes (both sweet and savory) are made of corn, including the classic Cornmeal Cake (Bolo de Fubá).
I thought I would make this classic cake even more delicious by adding some guava paste (also really popular in Brazil) and, forgive my lack of modesty, I knocked the ball out of the park! I even went ahead and did a guava sauce that I poured all over the cake, but that is totally optional and you can just dust some powdered sugar if you're not too keen on going overboard with guava-ness!
The cake is dense and crumby and goes amazing with a cup of coffee. You can even have it for breakfast, like I did.
I hope you guys enjoy it!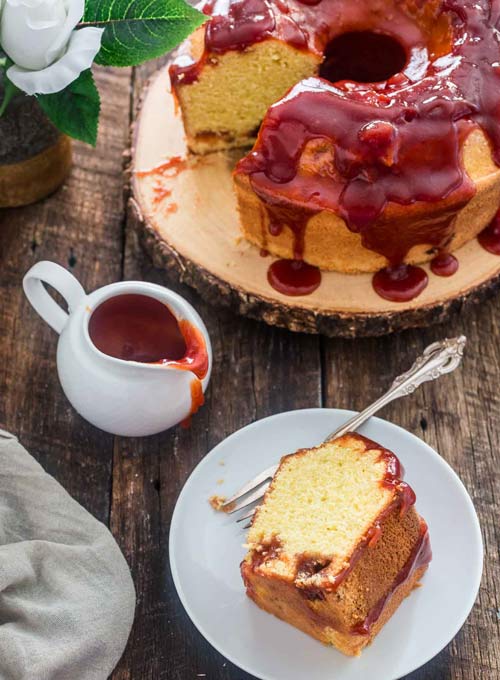 Brazilian Cornmeal Cake
Servings: 10 Cooking time: 50 minutes Prep time: 5 minutes
Ingredients
Cornmeal Cake
5 eggs
4 tablespoons unsalted butter
1 cup milk
1½ cup coconut milk
2 cups sugar
Pinch of salt
1 cup shredded coconut, unsweetened
1 tablespoon fennel seeds
2 cups fine corn meal
1½ cups all-purpose flour
1 tablespoon baking powder
7 oz solid guava paste, cut into small cubes
Guava Sauce (optional)
7 oz solid guava paste, cut into small cubes
1/3 cup water, plus more if needed
Directions
Preheat your oven to 350°F degrees.
Prepare a bundt cake pan by greasing with butter and dusting with cornmeal.
Add the eggs, butter, milk, coconut milk, sugar, salt, coconut, and fennel seeds to your Blendtec WildSide+ jar. Pulse a few times to combine.
Next, add the corn meal, all-purpose flour, and baking powder. Press Pulse again until everything is smooth and incorporated. Do not overmix!
Transfer the batter to your prepared bundt pan.
Toss the guava paste cubes into a little bit of flour (to prevent them from sinking to the bottom of the cake) and add to the batter.
Bake the cake in the preheated oven for 50 to 60 minutes until your whole home smells amazing and a toothpick inserted in the cake comes out clean.
Transfer pan to a wire rack to cool completely.
Then, loosen the sides with a small sharp knife and place onto a cake stand or serving dish. Dust with powdered sugar or pour the guava sauce over the cake and serve!
Making the sauce
Add the guava paste and water to a small saucepan and cook on medium low heat until the guava paste has dissolved and the sauce has thickened. You can add more water if necessary.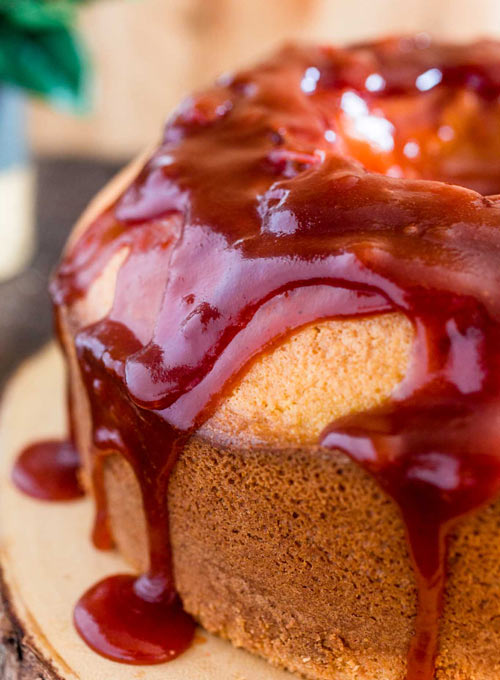 About the Author
For more delicious recipes, head over to my blog, Olivia's Cuisine, where I share dishes from all over the world. You can also follow me on Instagram, Pinterest, Facebook, and/or Twitter to keep up with my food creations.
---