By Alanna Taylor-Tobin of The Bojon Gourmet
I'm a sucker for agua fresca in any flavor, but mango always steals my heart at taquerías around San Francisco. I don't indulge too often, however, since most are usually loaded with tons of sugar and conventionally-grown produce.
But when organic Ataulfo mangos tumble into season each spring, I can be found sipping a tall glass of this not-too-sweet boozy version kissed with fresh ginger. It gets natural sweetness and a flavor boost from coconut water – the liquid inside young coconuts – which is naturally sweet and full of electrolytes to help rehydrate on hot days (source).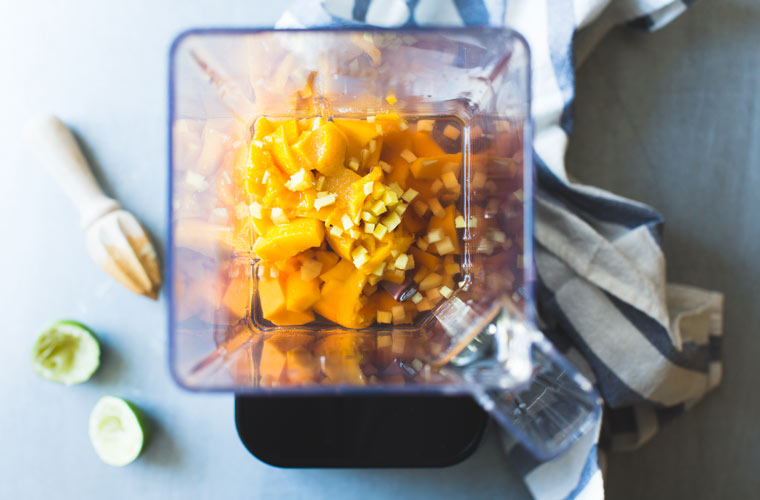 Fresh ginger gets effortlessly pureed into oblivion, adding spice and acidity to contrast the mild sweetness of mango and coconut. A touch of lime sharpens the flavors. The agua fresca is delicious as is, but you can booze it up with a slug of white rum; the cane liquor adds another layer of flavor to this refreshing drink.
Notes
 Feel free to leave off the booze for a more kid-friendly version, add sparkling water if you like a bit of fizz, and adjust the sweetness to your taste with more or less sugar and lime; the amount you add will depend on the natural sweetness of your mangos.
Look for mangos that are fragrant, slightly soft to the touch, and feel heavy for their size; you'll need 1 large or 2 small Ataulfo mangos. Other varieties of mango will work, too. To prepare, peel the mangos thoroughly with a vegetable peeler, slice the flesh off the pit, and cut into chunks. Frozen mango chunks are usually less sweet and flavorful than fresh, ripe fruit, but they will work in a pinch. Look for refrigerated coconut water that doesn't contain any additives.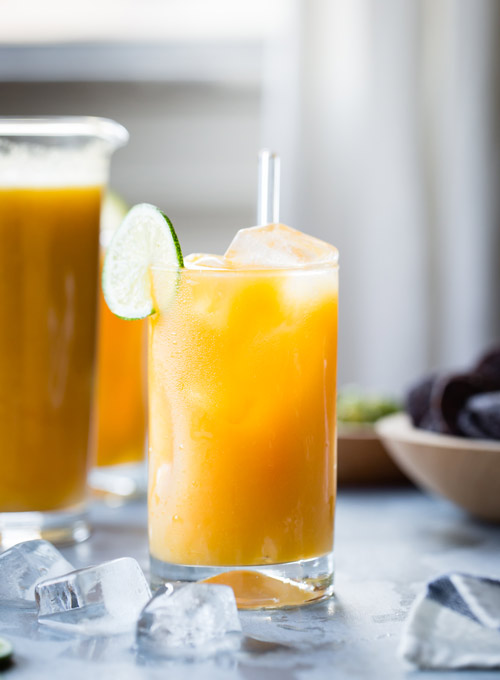 Boozy Mango Agua Fresca
Makes 4 servings
Ingredients
2 cups (475 ml) coconut water (preferably fresh or refrigerated, such as Harmless Harvest)
1 cup (180 g) ripe mango chunks (I use Ataulfo)
2 tbsp (30 ml) fresh lime juice
2 tbsp (15 g) peeled, chopped ginger root
1-2 tbsp sugar, to taste
1 cup (235 ml) filtered water
½ - ¾ cup white rum (optional, to taste)
Ice
Limes, for garnish
Directions
Add mango chunks, coconut water, lime juice, ginger root, and 1 tablespoon sugar to WildSide+ jar and secure lid.
Blend on high until smooth, about 60 seconds.
Blend in the water and rum, if using.
Taste, adding more lime or sugar if you feel the drink needs it.
Chill until cold, 1 hour, then pour into ice-filled glasses, garnish with lime rounds, and serve.
About the Author
Alanna Taylor-Tobin is a pastry chef, food stylist and photographer, and author of Alternative Baker: Reinventing Dessert with Gluten-Free Grains and Flours. She shares seasonal, vegetarian, and mostly gluten-free recipes over at The Bojon Gourmet. Follow her foodie adventures on Instagram: @The_Bojon_Gourmet.
---